McCarthy Slammed for Being Harsher on Cawthorn Than Marjorie Taylor Greene
Republican House Minority Leader Kevin McCarthy is being criticized for appearing to come down harder on Rep. Madison Cawthorn than Rep. Marjorie Taylor Greene.
McCarthy said Wednesday he met with Cawthorn after the freshman lawmaker from North Carolina said he's been invited by his colleagues in Washington, D.C., to orgies and witnessed some politicians doing cocaine.
"He's lost my trust. He's going to have to earn it back," McCarthy told reporters, adding that he laid out during the conversation everything he found "unbecoming."
Axios reported that McCarthy also threatened further action against Cawthorn. "There's a lot of different things that can happen," he said.
The House minority leader's remarks were met with backlash on social media as users quickly noted that he was less severe in his response to Greene's attendance at a white nationalist event in late February. Arizona Republican Paul Gosar was also at the America First Political Action Conference (AFPAC) in Florida. AFPAC was founded by Nick Fuentes, who the anti-defamation league describes as a "white supremacist.
McCarthy said at the time he had spoken with Greene and that "she will not go again" to the conference, but he declined to punish her further.
"McCarthy laying down the law against Cawthorn—in a way he's resisted doing against MTG or Gosar," National Journal columnist Josh Kraushaar wrote on Twitter.
Jon Favreau, co-host of the podcast Pod Save America, had a similar reaction. Favreau tweeted, "Note that Kevin McCarthy did not say Marjorie Taylor Greene lost his trust after she attended a white nationalist rally where they cheered Putin."
"I reaaaally don't want to sound like I'm defending Cawthorn here, but does anyone find it weird how much angrier McCarthy sounds about a backbencher mouthing off about some blow than he ever did about Marjorie Taylor Greene publicly embracing a neo-Nazi??" Tiana Lowe, a commentary writer at the Washington Examiner, posted online.
Newsweek reached out to McCarthy's office for comment but didn't immediately receive a response.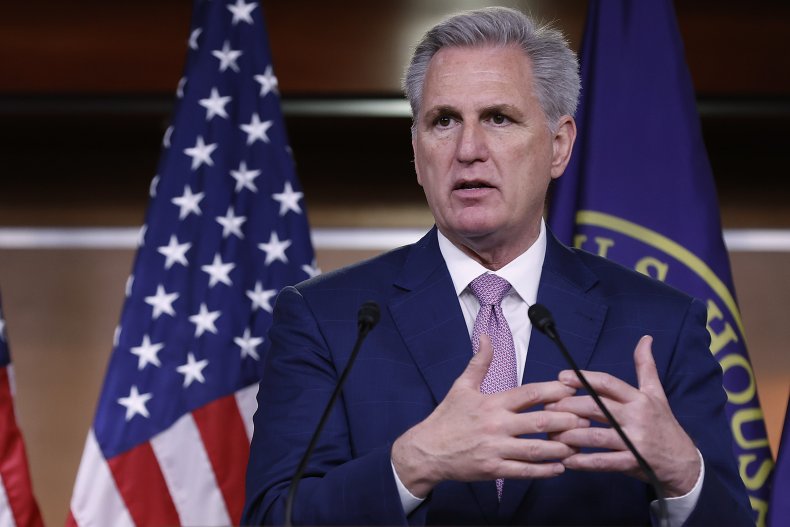 Cawthorn made the controversial claims during an appearance on the Warrior Poet Society podcast, describing Capitol Hill as similar to the television drama series House of Cards.
"I mean, being kind of a young guy in Washington, where the average age is probably 60 or 70—you know, I look at all these people, a lot of them that I've always looked up to through my life, always paid attention to politics, guys that, you know. Then all of the sudden you get invited to, like, 'Oh hey, we're going to have kind of a sexual get-together at one of our homes. You should come,'" Cawthorn said.
The remarks reportedly "upset" members of the GOP.
McCarthy also told reporters Wednesday that Cawthorn admitted to exaggerating some of his claims about orgies and cocaine use.
"You can't make statements like that as a member of Congress, it affects everybody else and the country as a whole," McCarthy said, per Politico's Olivia Beavers.
Update 03/30/22, 4:50 p.m. ET: This story was updated with more information and background.