McConnell Backs Murkowski for 2022, Defying Trump's Demand to Expel 'RINOs' Opposing Him
Senate Minority Leader Mitch McConnell confirmed that Republican Congresswoman Lisa Murkowski will have his support, and that of the National Republican Senatorial Committee, during Alaska's upcoming midterm elections.
The longstanding Kentucky senator confidently made note of this while speaking to reporters amid Monday's congressional session at the Capitol, where lawmakers confirmed President Joe Biden's education secretary nominee, Miguel Cardona, during a hearing.
Responding to an inquiry that asked whether the GOP intends to back Murkowski—one of just seven Republican senators who voted to convict Trump during February's impeachment trial—in 2022, McConnell told CNN, "Absolutely." He went on to reject any suggestions that Donald Trump's demands to oust GOP congressional leaders who supported impeachment would pose challenges for Murkowski as she pursues a fourth term in the Senate, according to the news outlet.
Murkowski voted to convict Trump of inciting the January 6 Capitol insurrection alongside Senate Democrats, as well as Republican Sens. Bill Cassidy, of Louisiana, Susan Collins, of Maine, Mitt Romney, of Utah, Ben Sasse of Nebraska, Pat Toomey, of Pennsylvania, and Richard Burr, of North Carolina. The former president was ultimately acquitted of the impeachment charge, since securing a conviction would have required 17 Republicans to vote in the affirmative. Of the seven Republicans who did, Murkowski is the only senator whose seat is up for reelection in 2022.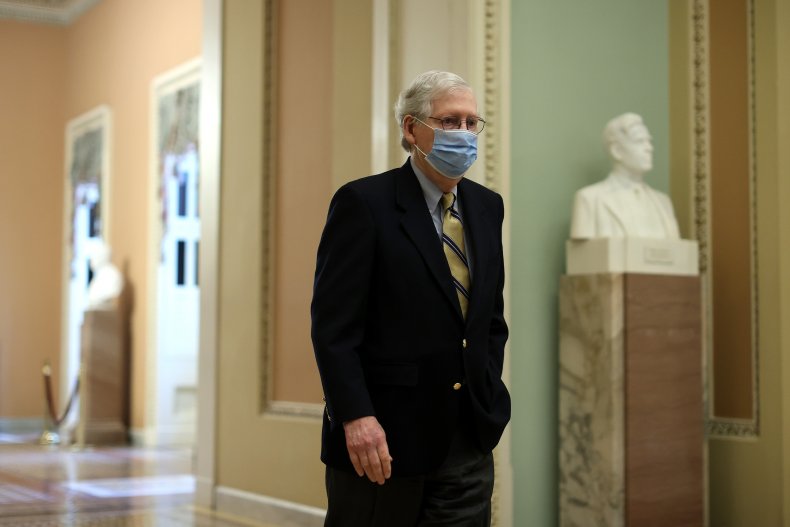 During his speech at Sunday's final Conservative Political Action Conference (CPAC) event, Trump openly denounced GOP Congress members who backed his impeachment during the House and Senate trials that took place earlier this year. After referring to them as "RINOs," an acronym meaning "Republican In Name Only," which the former president used throughout his time in office to describe a GOP figures who criticized him or expressed views that differed from his, Trump urged the conference's attendees and viewers to "get rid of them all."
"The Republicans do not stick together. The RINOs that we're surrounded with will destroy the Republican Party and the American worker and will destroy our country itself," he said, before going on to list Republicans who voted to impeach him by name.
Trump also credited himself for McConnell's reelection win during November's general contest. His mention of the Kentucky senator elicited boos from the CPAC crowd. McConnell, once a prominent Trump ally, clashed with the former president after acknowledging that he was "practically and morally" responsible for the Capitol riot, despite voting for his acquittal.
Newsweek reached out to McConnell's office for further comment but did not receive a reply in time for publication.