Lisa Murkowski Will Be First GOP Senator to Test Loyalty of Base After Convicting Trump
Members of the U.S. Senate voted to acquit Donald Trump on Saturday, concluding the former president's second impeachment trial in less than two years' time. The acquittal passed after a 57-43 floor vote, which largely unfolded along party lines. The House of Representatives impeached Trump on a single charge of "incitement of insurrection" before the end of his term in office, for his role in the January 6 Capitol riot. A conviction required two-thirds of the senate, including 17 Republicans, to support the impeachment.
Seven Republican lawmakers—Sens. Bill Cassidy, of Louisiana; Susan Collins, of Maine; Lisa Murkowski, of Alaska; Mitt Romney, of Utah; Ben Sasse, of Nebraska; and Pat Toomey, of Pennsylvania and Richard Burr of North Carolina—joined Democratic counterparts in their push to impeach.
The group's decision to cast votes across the aisle distinguished them from the vast majority of senators within the chamber's Republican caucus, and potentially paved the way for oncoming backlash from conservatives. Whether criticisms from federal colleagues, voters or legislators from their home states will hurt these seven politically remains to be seen.
Some, like Collins and Murkowski, are well-known moderates among their respective electorates. While the extent of Romney's political conservatism has been subject to debate, he was the only Republican senator who voted in favor of Trump's initial impeachment last year. Romney was elected to Congress at the end of 2018, and Cassidy, Collins and Sasse returned for new terms after the most recent general election this past November.
Murkowski is the only Republican lawmaker, of the group that supported Trump's conviction during the past week's trial, whose congressional future could be impacted by her impeachment vote. The longtime Alaska senator, who originally assumed her place in Congress in 2002, will be up for reelection again in 2022. Toomey's current term will end at the same time, although the Pennsylvania senator has already announced his plans to retire once it does. Burr also announced his plans for retirement shortly after being elected in 2016.
That Cassidy, Collins, Romney and Sasse will face repercussions for their impeachment votes during possible reelection campaigns ahead of the 2024 and 2026 congressional turnovers is unlikely, suggested Antoine Yoshinaka, an associate professor of political science at the University of Buffalo. Speaking to Newsweek, Yoshinaka said the duration of time between now and those distant election seasons "might play in their favor...in terms of letting time, perhaps, heal some of these wounds."
While the nearer expiration of Murkowski's current term could indicate potential challenges ahead in terms of support from Alaska's voter base, a slight majority of which sided with Trump over President Joe Biden in November, the senator's enduring success during past elections, coupled with Alaska's new voting system, might act as a safeguard against fallout.
Murkowski is the daughter of Frank Murkowski, a former senator and governor of Alaska, and served as majority leader in the Alaska House of Representatives before assuming her role in the U.S. Senate in 2002. First appointed to the seat by her father, when he resigned to become Alaska's governor, Murkowski went on to win subsequent elections in 2004, 2010 and 2016. When she lost the Republican primary in 2010 to opposing candidate Joe Miller, a Tea Party member, Murkowski continued her campaign as a write-in candidate and ultimately resumed her Senate seat during that year's general contest.
"So, she has faced an uphill election battle before," said Yoshinaka in reference to the 2010 election, adding that "the name Murkowski in Alaska goes a long way."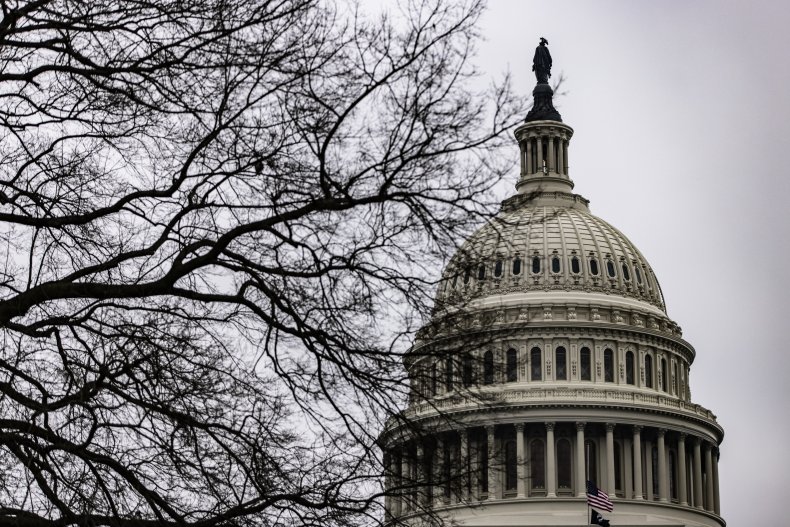 Voting in favor of Trump's conviction could still open Murkowski's future campaigns to certain vulnerabilities, as could also be the case for her Republican colleagues who did the same. Republican Rep. Liz Cheney, one of just 10 members of the caucus who voted for the former president's impeachment in the U.S. House of Representatives in January, confronted significant backlash from GOP lawmakers, who introduced a motion to demote the high-ranking member from her current leadership position after the impeachment. More recently, the Republican Party of Wyoming, voted to censure her in retaliation. Congressman Adam Kinzinger, also among the 10 House Republicans who voted for Trump's impeachment, faced a similar censure motion from a GOP committee in Illinois.
Outside of calls to step down via censure introductions, which Yoshinaka described as primarily "symbolic" gestures from state-level Republican forces, the seven senators could ostensibly come up against more robust opposition during primaries, and general elections, should they choose to run again. In addition to possible consequences in terms of conservative voters' support, he noted that backing Trump's impeachment could give more influential Republicans reason to pour resources into their opponents' campaigns.
"[The recent pattern of censure votes against House members who voted for impeachment] does suggest there is an undercurrent of a desire to see them lose reelection," proposed Yoshinaka. "So, it starts with that, and then we can imagine, should Donald Tump decide to get involved in individual races, either by publicizing his support for an opponent, or potentially campaigning in favor of the opposition to these various senators or even House members."
In Murkowski's case, efforts to strengthen opposing Republican campaigns during forthcoming elections might not wield much impact, since Alaska recently adopted an instant-runoff voting system wherein voters rank four candidates from any political party on their ballots, and whoever earns a majority is named the winner. The system could ostensibly help Murkowski, should a vote for Trump's impeachment garner support from independents or Democrats in Alaska.
Murkowski was unavailable for comment on Newsweek's story.
Voting for Trump's conviction could also work to the Republican senators' advantages during the remainder of their terms in Congress, especially given Biden's public stance on increased bipartisanship and Democrats' majorities in the Senate and House.
"If anything, a vote to convict Donald Trump might give them a tiny bit of capital with Democrats and the White House," said Yoshinaka. "As potential partners, if you will, on legislation, as senators who you can work with."
Correction 2/17/21, 2:12 PM ET, to clarify that Mitt Romney was elected to Congress at the end of 2018, and Bill Cassidy, Susan Collins and Ben Sasse returned for new terms after the most recent general election this past November.