As time rapidly dwindles for Congress to approve more coronavirus relief before the holidays, Senate Majority Leader Mitch McConnell isn't backing down from his roughly $500 billion stimulus that lacks bipartisan approval.
The Kentucky Republican's steadfast position is despite growing support for a bipartisan proposal worth nearly twice as much at $908 billion, a potential remedy that Republicans have urged McConnell to endorse.
"We just need both sides to finally do what members of Congress do when they're serious about wanting an outcome," McConnell said on the Senate floor Monday. "Drop the all-or-nothing tactics, drop the hostage-taking and make law in the many places where we have common ground."
McConnell cast doubt on the bipartisan proposal's viability to become law, displaying little-to-no confidence that Congress could use the package to reach a final deal because it included too many provisions opposed by Republicans. Certain bipartisan provisions, such as small-business aid and jobless benefits, McConnell suggested, should be stripped out and advanced separately.
It was McConnell's way of laying out the case for his scaled-down measure over the bipartisan proposal gaining steam among even Senate Republicans. To no avail, GOP senators involved in the crafting of the proposition have pushed McConnell to negotiate a deal based on their framework, something House Speaker Nancy Pelosi (D-Calif.) and Senate Minority Leader Chuck Schumer (D-N.Y.) have said they're willing to do.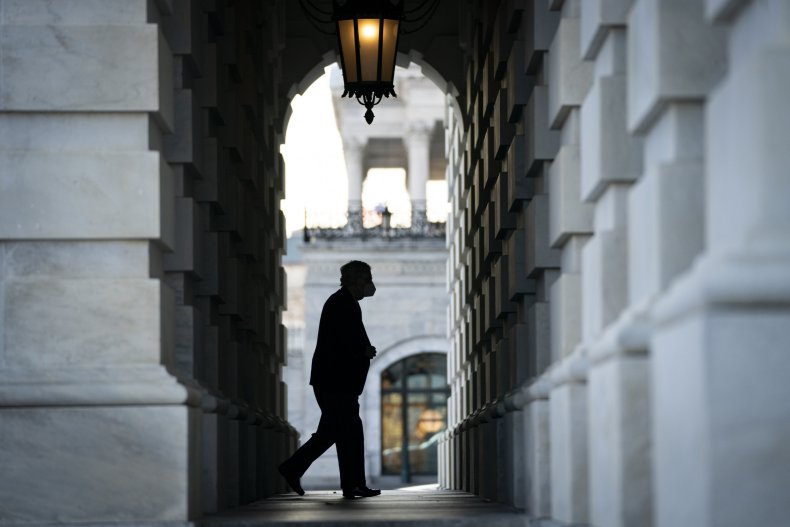 "We have no reason to think the underlying disagreements about policy are going to evaporate overnight," McConnell said.
He remained firmly behind his own measure, despite a nearly identical version of it previously failing twice due to Democratic opposition and with millions of Americans set to lose their unemployment benefits the day after Christmas.
"Senate Democrats are simply asking the Republican leader to do one thing: sit down and negotiate," Schumer said in his own floor remarks. "The Republican leader has constantly refused to sit down with Republicans and negotiate a bipartisan solution. He puts his bill with no Democratic input on the floor and says, 'take it or leave it.' That is no way—no way—to get things done."
The major hinderances still causing a logjam remain are state and local aid—which Democrats say must be included—and liability protections for places like schools and businesses—which Republicans say must be included.
A potential workaround, suggested Sen. John Cornyn (R-Texas), would be nix both of them.
"I think [McConnell] had made clear that state and local money is tied to liability protection, so there's either gonna be none for both of those or both of those that are going to be provided for," Cornyn said. "My hope is we'll do both."
However, the idea was quickly quashed during a private meeting with top senators from both sides of the aisle, in additional to lawmakers from the dozens of bipartisan members who have worked on the $908 billion proposal. Cornyn said the suggestion went over like a "lead balloon."
"Ultimately," added Senate Majority Whip John Thune (R-S.D.), "it's going to have to satisfy Senator McConnell because [liability protections] been one of his lead priorities since the beginning of this."
McConnell's bill includes more than $300 billion for small businesses, including the Paycheck Protection Program; $105 billion for schools; and testing, tracing and vaccine money, among other things.
The bipartisan proposal, though it's still in the works, would include $180 billion in unemployment insurance; $288 billion for the Paycheck Protection Program; $160 billion for state and local governments; rental relief; student loan deferments; school aid; and money for vaccines, testing and tracing.
The one aspect that no potential stimulus includes that's being considered by Congress is a second stimulus check. The omission has irked Sen. Josh Hawley (R-Mo.) to the point that he's urged President Donald Trump to veto any legislation that fails to include more direct payments.
"Everybody supported this in March," Hawley said, emphasizing his refusal to support any measure that does not include a second check. "It's the most useful, helpful and, frankly, popular aspect."
This story was updated to include quotes and information from Sens. Cornyn and Thune.