McConnell's Kentucky Lead Suffers Amid Struggle to Agree Stimulus Deal: Poll
Senate Majority Leader Mitch McConnell's lead over Democrat Amy McGrath has narrowed in Kentucky as he has faced blame for stalling stimulus package talks.
The latest survey from Quinnipiac University found McConnell lead McGrath by five percentage points in the Kentucky Senate race, with 49 percent of state voters backing the incumbent. By comparison, the Democratic challenger was backed by 44 percent of Kentucky voters.
A further 5 percent of locals said they were undecided on who to vote for in November, while 2 percent told pollsters that they planned to either back a third party candidate or avoid voting altogether.
Eleven percent of voters said they were also open to changing their mind before election day, opening up room for McGrath to overtake McConnell, or for the incumbent to cement his lead.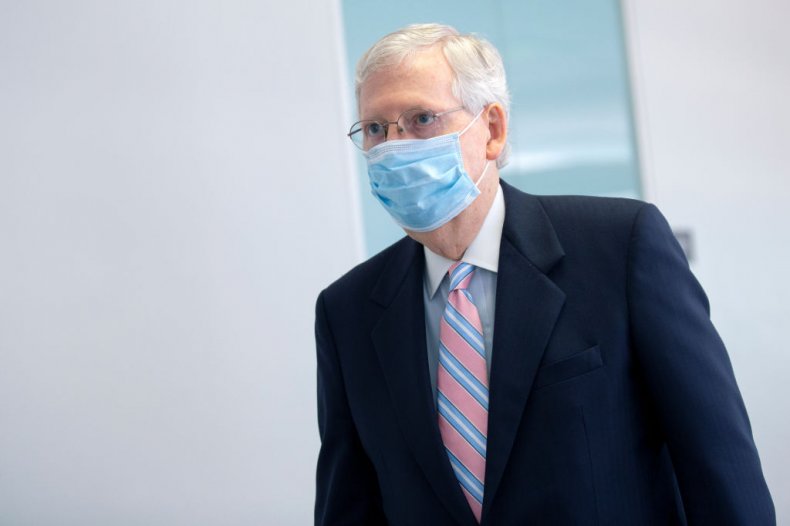 "Can a former Marine fighter pilot with 89 combat missions win a dogfight with a seasoned political powerhouse who has gone to war D.C. style for decades? She's giving him a run for his money," Quinnipiac University Polling Analyst Tim Malloy said in a statement.
Kentucky polls published over the past two months have tended to show McConnell holding far larger leads over his Democrat challenger, with one Morning Consult survey published Monday showing he had a 17-point lead over McGrath.
Another poll released by Spry Strategies on July 21 put McConnell's lead at an even greater 22 percentage points, well outside the margin of error. A few non-partisan polls put McGrath within single-digit distance of the incumbent senator in the early stages of the 2020 cycle.
Asked whether they held a favorable or unfavorable view of McConnell in the new Quinnipiac poll, 48 percent of Kentucky voters said they had a poor view of the senator, while 43 percent said their view was favorable.
McGrath's net unfavorable rating was twice as large, with 32 percent of Kentucky voters viewing her favorably and 42 percent unfavorably. A further 25 percent said they hadn't heard enough about her to make a judgement.
The new Quinnipiac University surveyed 909 registered voters in Kentucky for its latest poll of the state. Its margin of error stands at 3.3 percentage points.
The pollster released its latest data from Kentucky as talks over a fresh coronavirus stimulus package continued to stall on Capitol Hill, with McConnell facing blame for "boycotting" negotiations on the raft of emergency economic measures.
"Senate Republicans refused to negotiate. They recessed the Senate for half of July," Democratic Senator Chris Murphy tweeted. "Now, McConnell is boycotting the last minute talks. Unreal."
McConnell has sought to blame Democrats for the delay in new coronavirus legislation, saying that he hadn't got a "sense of urgency" from the party's congressional leadership.
"There are two things that are in trouble and need to be dealt with: unemployment and the PPP, the popular small business loan program, both expiring," he told Fox News. "We need to do a lot more than that but that certainly creates a sense of urgency, and I haven't sensed the sense of urgency on the other side that I would like to see to actually get an outcome."