Stimulus Package Delay Blamed on McConnell 'Boycotting' Talks
Amid struggles to secure bipartisan agreement over a further stimulus package, barbs continue to fly between lawmakers seeking to attribute blame for the delay. Amid this, Senate Majority Leader Mitch McConnell (R-KY) is a continued focus of Democratic criticism.
Since Senate GOP leadership put forward its own proposals, talks between Democratic figureheads and the Trump administration have stalled despite both sides expressing eagerness to roll out more relief measures.
McConnell has not been present in the talks, despite colleagues suggesting he is liaising with guidance behind the scenes. This absence is now being brought into question.
Senator Chris Murphy (D-CT) insisted the Republicans were responsible for the lack of delay, after reports suggested lawmakers within the party's ranks were growing anxious over the lack of progress in talks.
He tweeted: "Why weren't they anxious during the 2 months after the House passed their relief bill when Rs refused to negotiate?
"Or when McConnell sent the Senate home for half of July?
"Or when he refused to join the current talks?"
Following this, he outlined that the House passed a bill in the form of the HEROES Act addressing concerns regarding issues such as unemployment benefits, state funding and eviction moratoriums, laying blame on these problems not being addressed on the GOP for not negotiating earlier.
"Senate Republicans refused to negotiate. They recessed the Senate for half of July," he said.
"Now, McConnell is boycotting the last minute talks.
"Unreal."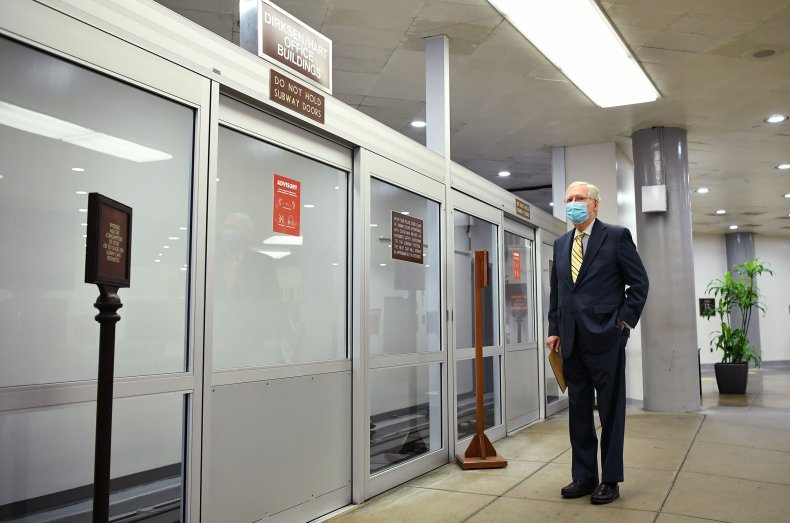 Newsweek has contacted McConnell and Murphy for further comment.
McConnell's approval ratings have slipped amid the delay, while his red lines on plans such as liability protection measures have angered Democrats who have suggested these positions could hamper a deal.
He has long drawn ire from across the aisle over his stance on further relief, having sparked a backlash when he previously called for a pause before deciding what measures to take after the CARES Act was issued.
However, he has looked to pin the blame on delay in fresh stimulus on Democrats, suggesting "a sense of urgency" is lacking on their part.
McConnell suggested that though he believes each side wants a result, they are far apart on what this should be.
"I think both sides want to get to an outcome, that's the good news. The bad news is we are a long way apart and we'll see. I think the American people need an outcome; it can only be done on a bipartisan basis," he said in an interview with Fox News.
"There are two things that are in trouble and need to be dealt with: unemployment and the PPP, the popular small business loan program, both expiring. We need to do a lot more than that but that certainly creates a sense of urgency, and I haven't sensed the sense of urgency on the other side that I would like to see to actually get an outcome."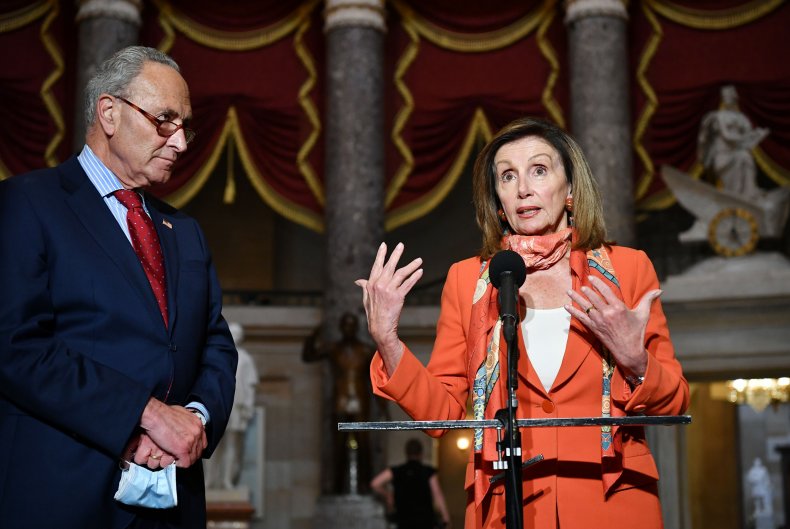 He has also suggested the range of demands from Democrats has posed issues, tweeting Wednesday: "Democratic leaders must stop blocking aid to Americans over their unrelated left-wing wish list."
House Speaker Nancy Pelosi (D-CA) said in comments following Wednesday's meeting with the Trump administration representatives that there "is an urgency" to securing a deal and that "time is of the essence."
Senate Minority Leader Chuck Schumer (D-NY) said that the package needs to address "a huge crisis," and that Democrats will only back a bill they deem suitable to address that.
"To have a skinny, little bill, to say we'll just pick one or two things and do those and walk away from all the other responsibilities, when we are in a deep recession, when we are in a major health crisis, is not living up to our obligations to the American people," he said, while insisting Democrats intend to continue negotiations.
The Republican plans have set a budget limit of around $1 trillion, while the Democrats' HEROES Act which passed the House earlier this year was worth around $3 trillion, highlighting the gulf in the amounts each side wants to spend.
The negotiators are looking to secure an agreement by the end of the week, with the potential for each chamber of Congress to vote upon it next week if this were to happen.
GOP leadership has remarked upon the awareness of a need to compromise, though also face reservations from within the party's own ranks in terms of cost.
Pelosi previously suggested the Republican leadership's issues in garnering support among their own lawmakers were hampering progress.
Newsweek has contacted Pelosi and Schumer for further comment.