As Second Stimulus Checks Stall, Mitch McConnell's Approval Rating Drops
Recent polling data points shows Senate Majority Leader Mitch McConnell's (R-KY) approval rating in decline as Democratic and Republican lawmakers struggle reach a deal on another stimulus package.
McConnell, who has led the Senate GOP Party through negotiations about what will be included in the next round of coronavirus relief legislation, is running for reelection in Kentucky this November. He is the longest-serving U.S. senator for Kentucky, initially elected to office in 1984. McConnell is campaigning against Democratic challenger Amy McGrath in his pursuit of a seventh senatorial term.
Polling data published by The Economist and YouGov at the end of July showed most individuals surveyed held an unfavorable opinion of McConnell. The survey included responses by 1,500 American adults between July 26 and July 28 amid stalled stimulus debates.
More than 50 percent of individuals surveyed described their view of McConnell as either "somewhat unfavorable" or "very unfavorable," with the majority using the latter description. Slightly less than 30 percent of respondents described their view as either "very favorable" or somewhat favorable," with "very favorable" accounting for six percent of those responses. A YouGov tracker illustrates declining support for McConnell between March and July.
Statistics released by Public Policy Polling on July 28 showed that a majority of voters in Colorado, Georgia, Iowa, Maine and North Carolina disapproved of McConnell's position regarding federal aid to states during the pandemic. How much should be allocated to states in federal aid under the next stimulus is an area of discord between congressional Democrats and Republicans. The polling data additionally highlighted McConnell's general unpopularity among voters in those states, with disapproval ratings ranging from 45 to 57 percent.
A recent election poll, conducted by consulting firm Spry Strategies, collected responses from 700 anticipated Kentucky voters between July 11 and July 16. It placed McConnell substantially ahead of McGrath in gauging the senate race's outcome. Survey results showed 55 percent of respondents planned to support McConnell's reelection, compared to 33 percent who planned to support McGrath's first-time win.
Roughly 58 percent of respondents said they approved of McConnell's current handling of his role as senator, compared to 40 percent who said they disapproved. About one-third of the survey's participants said they "strongly" approved. An equal fraction said they strongly disapproved.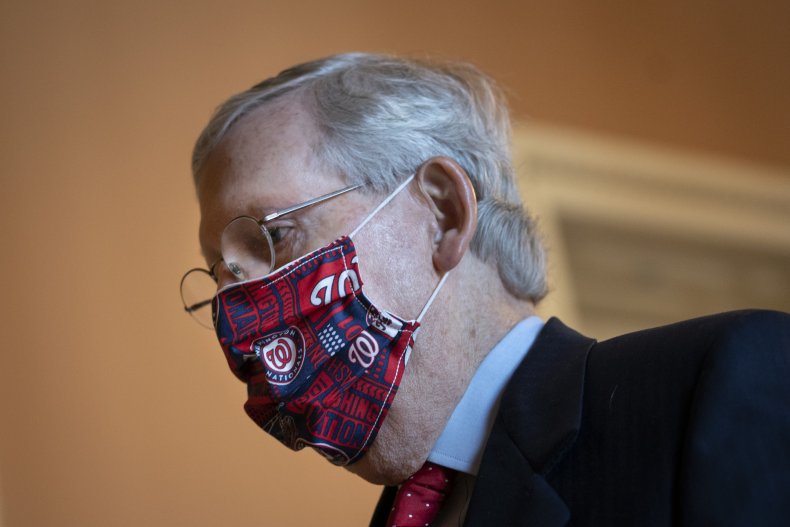 While congressional Democrats argue for a bill that includes increased protections for workers, McConnell advocates for liability protections for businesses that might face lawsuits related to the coronavirus pandemic. Remarks from White House Press Secretary Kayleigh McEnany during a news briefing last week suggested further disagreement between President Donald Trump and Senate Republicans.
On Friday, McEnany told reporters Trump "is very keenly focused on unemployment insurance" in response to a question about the upcoming relief package's liability safeguards for businesses.
"That's a question for Mitch McConnell," McEnany said of the provision, which she noted is the Kentucky senator's "priority."
Newsweek reached out to McConnell's office and reelection campaign for comment, but did not receive replies in time for publication.