McConnell Opposes $1,400 Stimulus Checks Because He Thinks People Could Stop Working
Senate Minority Leader Mitch McConnell on Wednesday explained that he's opposing the $1,400 stimulus checks in President Joe Biden's $1.9 trillion economic relief bill due to concerns that the payments could stop Americans from working.
In an interview with Fox News, McConnell predicted that Democrats will unite and soon push the American Rescue Plan through Congress.
"At the end of the day, my guess is they all fall in line and it'll pass, with every single Democrat for it and every single Republican against," he said.
Asked by host Martha MacCallum whether he thinks the $1,400 would prevent "some people from wanting to work," McConnell said that was a concern that informed his position to oppose the direct payments.
"There is a concern about making it more advantageous to stay home rather than going back to work," the Republican leader said. "If we could do it all over again, we—meaning Republicans—may offer an alternative that we think fits the situation. And it's considerably less than $1.9 trillion. Five, maybe $600 billion, which is still an enormous amount of money."
In 2020, McConnell tried twice to bring a "skinny" stimulus proposal before the Senate with a price tag of $500 billion. McConnell's proposal did not include any stimulus check for Americans.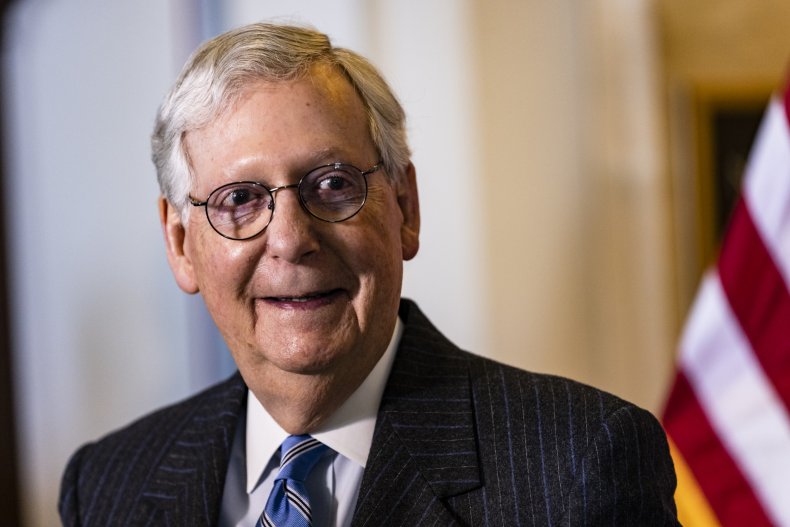 Biden and Democratic leaders on Wednesday agreed to lower the income threshold for the third stimulus check of $1,400 after moderates in the party including Senator Joe Manchin of West Virginia pushed for fewer people to receive the payments.
Under the agreement, individuals earning under $75,000 and couples earning less than $150,000 will still be entitled to the full amount. But individuals earning over $80,000 would be phased out completely. Previously, those earning between $75,000 and $100,000 would have received a lesser payment.
Democrats have paved the way to push through the measure without GOP support by using reconciliation. The budget process only requires a simple majority, but with the Senate split evenly, all Democrats in the upper chamber would need to vote unanimously for the bill in order for Vice President Kamala Harris to cast the tie-breaking vote.
A procedural vote on the bill could come as early as Thursday, which would set up 20 hours of debate and another vote-a-rama, where senators from both sides of the political aisle can propose amendments to it. Republicans have strongly opposed the bill for being too costly and are expected to submit numerous amendments during the process.
Asked if he would support additional changes, Senate Majority Leader Chuck Schumer on Tuesday said, "We want to get the biggest, strongest, boldest bill that can pass. And that's what we're working to do."
Newsweek reached out to McConnell's office for further comment.