McConnell Says 'High Likelihood' Next Coronavirus Relief Bill Will Come Soon Amid Growing GOP Calls for Further Relief
Senate Majority Leader Mitch McConnell (R-Ky.) said Thursday that new legislation to counter the economic impact of the COVID-19 pandemic is "not too far off" as calls for another relief package have been met with increasingly bipartisan support.
McConnell said that new legislation is "not quite ready" but was likely to happen soon during an appearance on Fox News's The Story with Martha MacCallum. Although McConnell has insisted that a "pause" should take place before moving forward on any additional legislation, several Republican senators have recently called for new relief efforts to progress quickly.
"I think there's a high likelihood that we will do another rescue package, but we need to be able to measure the impact of what we've already done," McConnell said. "We're not quite ready to intelligently lay down the next step, but it's not too far off."
"We need to work smart here," he added. "Try to save as many jobs as possible and begin to open up the states, which are decisions by the governors that are going on all over America now, and get this economy growing again."
During a meeting with President Donald Trump on Thursday, McConnell reportedly said that any new relief package should not exceed $1 trillion in value and would need to include legal liability protections for organizations that operate despite risks to public health.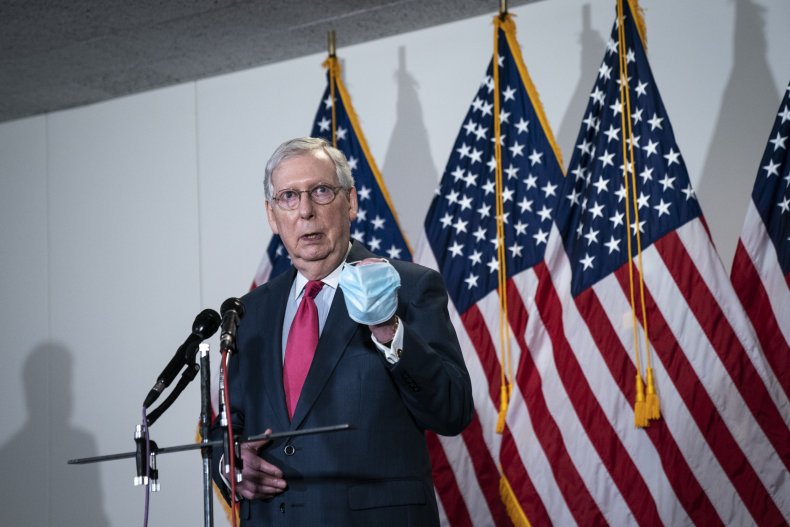 The McConnell-led Senate passed the Coronavirus Aid, Relief and Economic Security (CARES) act in late March, providing roughly $2 trillion in benefits to industries financially impacted, along with direct relief to most Americans in the form of one-time $1,200 payments.
Last week, House Democrats passed another relief bill which McConnell vowed to not support, calling it a "$3 trillion left-wing wish list." Extending an additional $600 weekly unemployment benefit included in the CARES act through the end of the year has been particularly unpopular among Republicans because it sometimes results in low-wage workers being paid more on unemployment than they would receive while employed.
"It's making it difficult to get people back to work," said McConnell. "We do need to continue unemployment insurance, it's extremely important at a time like this, but to pay people more not to work than to work doesn't encourage resuming your job."
House Democrats passed the Raise the Wage Act in 2019, which would have raised the federal minimum wage to $15 per hour, but the legislation died in the Senate due to lack of Republican support. The current minimum of $7.25 per hour results in poverty-level wages, with the $600 in temporary relief more than doubling the weekly amount for full time workers.
Another possible sticking point for future coronavirus relief legislation could be giving aid to state governments. McConnell has previously spoken against allowing so-called "blue state bailouts," or relief for predominantly Democratic states hit hard by the virus.
Newsweek reached out to McConnell's office for further comment. This article will be updated with any response.