Mitch McConnell Wants to Stop Blue State Bailouts, But Red States Need Help Too
Senate Majority Leader Mitch McConnell may be against "blue state bailouts," but data shows that practically every state, regardless of its political lean, could use federal assistance during the coronavirus pandemic.
"The virus is everywhere. Every state has needed to take action to slow its spread, and that has had major effects on each of their economies," said Michael Leachman, the senior director of state fiscal research at the Center on Budget and Policy Priorities (CBPP).
Data from the Department of Labor shows that all 50 states have seen a spike in unemployment claims since the outbreak forced businesses across the country to close in mid-March.
Last week, Florida became the state with the most unemployment claims. The Sunshine State, with its Republican governor and GOP-controlled Legislature, reported 432,465 jobless claims for the week ending April 25, knocking California out of the lead for the first time since late March.
In Georgia, Kentucky, Louisiana, Michigan and Pennsylvania (all states with Republican-controlled legislatures), unemployment claims have surged recently. Democratic-controlled Hawaii and Nevada have also seen a sharp rise in claims.
As more people file for unemployment insurance, states are losing a big portion of their income and sales tax revenue. Sixteen states have re-estimated their revenues for 2020, and 21 states are doing so for the upcoming fiscal year, according to a CBPP report published Monday. Of the 21 states expecting revenue drops for 2021, 10 voted for Donald Trump in 2016, while 11 voted for Hillary Clinton.
The loss of revenue will likely force states to slash budgets, meaning they'll have to cut down on essential public services such as police, firefighters, public schools, mass transit, waste systems and more.
Ohio Governor Mike DeWine, a Republican, has asked state agencies to prepare estimates on how to cut their budgets by 20 percent. New Jersey Governor Phil Murphy, a Democrat, has proposed $1 billion in cuts.
Georgia Governor Brian Kemp has asked state agencies to cut their budgets by 14 percent. His request came after his controversial decision to reopen the red state's economy despite not seeing a steady decrease in coronavirus cases.
But whether or not states receive more aid from the federal government remains up in the air. McConnell, the Senate's top Republican, has positioned himself against passing another half-trillion-dollar relief package and even floated the idea of letting states go bankrupt.
"I think this whole business of additional assistance for state and local governments needs to be thoroughly evaluated," McConnell told conservative radio host Hugh Hewitt last month. "There's not going to be any desire on the Republican side to bail out state pensions by borrowing money from future generations."
His office later doubled down on the remarks in a press release with the heading "A blue state bailout."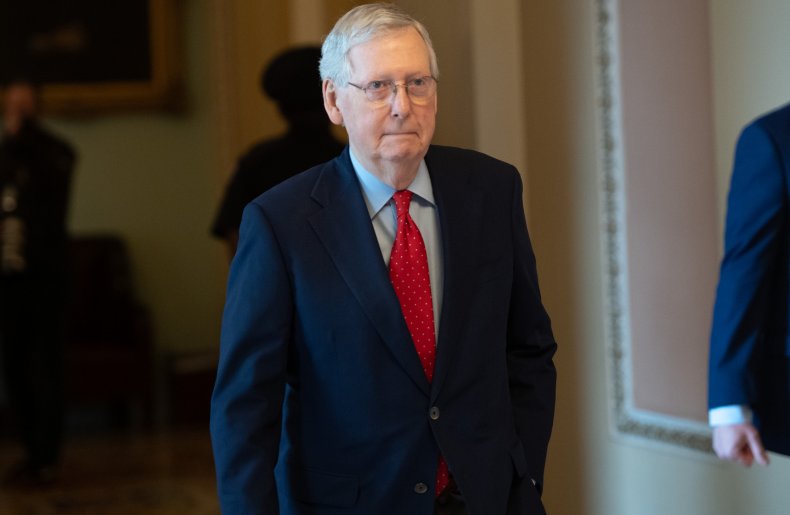 Heads of state from both sides of the aisle slammed McConnell's remarks. New York Governor Andrew Cuomo called the suggestion "one of the really dumb ideas of all time." Maryland Governor Larry Hogan said that the Senate leader would "regret" making those comments and that bankruptcy was the "the last thing we need" during this global health crisis.
Cuomo and Hogan co-lead the National Governors Association, which has asked Congress for $500 billion in state and local aid to offset revenue losses brought on by the pandemic. Their request was met with a bipartisan proposal by Senators Bob Menendez (D-N.J.) and Bill Cassidy (R-La.) for such a fund to be created as part of the next coronavirus relief bill.
But "Phase 4" of Congress' relief plan may not happen anytime soon. McConnell has pumped the brakes on any legislation, and the House of Representatives has delayed plans to return to Washington this week because of possible health risks for its 435 members.
The CBPP's Leachman said it's "really important" that the federal government step in to assist states during the fallout from the virus outbreak—something it's done in past economic downturns.
"It's a standard and crucial tool that the federal government has in its toolbox for fighting recessions," he said. "The economy is already hurting. The last thing we need is another round of layoffs of teachers, first responders and health care workers."