Mitch McConnell Suggests Trump Lied, Claims He Never Spoke to President About Ukraine Call
Senate Majority Leader Mitch McConnell suggested on Tuesday that President Donald Trump had lied about a conversation between them regarding the president's controversial call with Ukrainian President Volodymyr Zelensky.
Nancy Cordes, the chief congressional correspondent for CBS News, reported on Tuesday that she had pressed McConnell over Trump's assertion that the Republican from Kentucky had told him that his call with Ukraine's president was "perfect" and "innocent." McConnell responded to Cordes by claiming he had never spoken with Trump about the call.
When the journalist asked McConnell if that meant Trump had lied, the Republican lawmaker responded: "You'd have to ask him."
"I don't recall any conversations with the president about that phone call," McConnell added, The Hill reported.
Earlier this month, Trump insisted to reporters that his phone call with Ukraine's president was "perfect" and that the Senate majority leader agreed.
"He read my phone call with the president of Ukraine. Mitch McConnell, he said: 'That was the most innocent phone call that I've read,'" the president said at the time. "I mean, give me a break," Trump continued. "Anybody that reads it says the same thing."
Trump's July phone call to Zelensky is at the center of the impeachment inquiry launched by House Democrats at the end of September. An anonymous government whistleblower raised concerns about the call and the president's efforts to pressure Ukrainian leaders to open investigations that could potentially damage his political rivals.
On the call, Trump asked Zelensky for "a favor," and to look into a debunked conspiracy theory regarding Democrats and the 2016 election, as well as unsubstantiated claims that leading 2020 Democratic presidential candidate Joe Biden had acted corruptly toward Ukraine to benefit his son's business interests there.
Ahead of that call, Trump had temporarily withheld nearly $400 million in military aid to Ukraine, which had been approved with significant bipartisan support in Congress. The president's critics argue that he abused his office by pressuring Ukraine to investigate his political rivals. They additionally assert that withholding the military aid endangered U.S. national security, as Ukraine is seen as a key ally against Russia.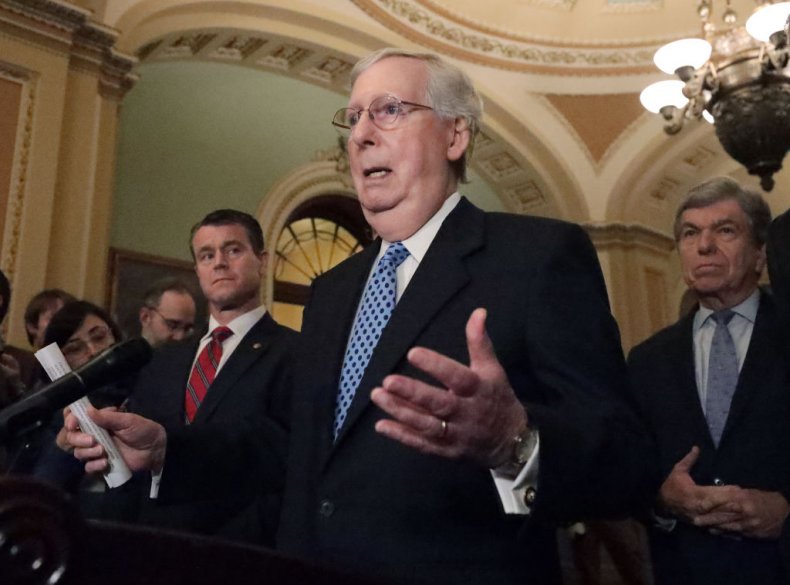 Although Trump previously insisted that the aid was not withheld as part of the pressure campaign against Ukraine, claiming there was "no quid pro quo," his acting Chief of Staff Mick Mulvaney suggested otherwise during a press conference last Thursday. Mulvaney later attempted to walk back his comments. But in his testimony before congressional investigators Tuesday, Ambassador to Ukraine Bill Taylor reportedly drew a "direct link" between the president's personal political goals and his foreign policy toward the Eastern European country.
"[U.S. Ambassador to the European Union] Gordon Sondland told me that President Trump had told him that he wants President Zelensky to state publicly that Ukraine will investigate [Hunter Biden's company] Burisma and alleged Ukrainian interference in the 2016 election,'" Taylor said in the statement to congressional investigators, The Washington Post reported.