McConnell Tells Senators He Doesn't Have Enough Votes to Block New Witnesses After Trump Team's Closing Arguments
Senate Majority Leader Mitch McConnell on Tuesday privately told his colleagues in the Senate that he doesn't have enough votes yet to block new witness testimonies in the ongoing impeachment trial of President Donald Trump.
After Trump's legal defense team made their closing arguments earlier this afternoon, McConnell reportedly told people in a closed-door meeting that he can't yet block witnesses, GOP sources familiar with the conversation told AP and Fox Business.
McConnell's comments come as Republicans and Democrats continue their battle over whether to call for sworn testimony. The vote for potential witnesses in the Senate impeachment trial is expected to be taken in several days.
Democrats need four—any four—Republicans to vote with them to subpoena John Bolton and others to testify in the proceedings. And at this point, they face several possible defections. Senators Mitt Romney and Susan Collins have indicated they will likely support the call for witness testimony.
Republicans, who have primarily been pushing for a fast trial and acquittal, and Trump's defense team have come under additional pressure in recent days after revelations from Bolton's upcoming book further highlighted the importance of new witnesses to be heard.
In his memoirs, the former national security adviser reportedly claims the president told him in August that he wanted to keep withholding $391 million in military aid to Ukraine until the country's officials agreed to investigate his Democratic rivals, including former Vice President Joe Biden. Biden has been leading the 2020 race for the party's nomination in most polls since announcing his campaign last April.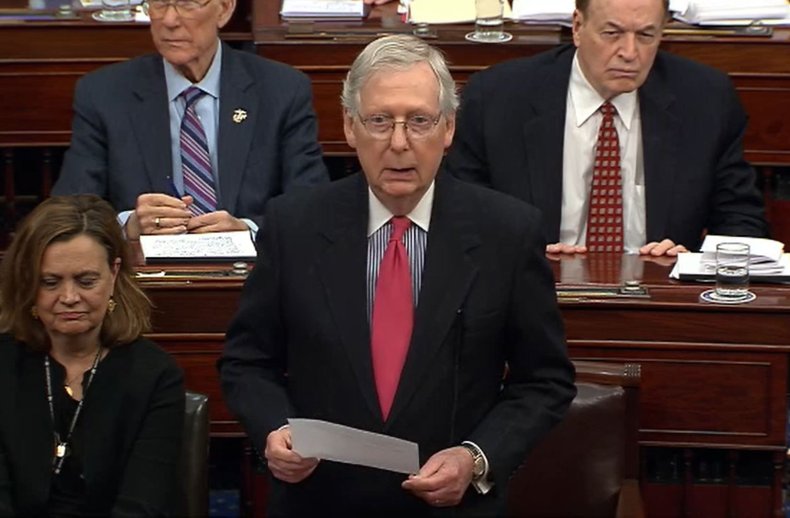 Bolton has already indicated that he will testify if asked by lawmakers, despite Trump's order barring his current and former aides from cooperating with the impeachment proceedings against him. Trump has repeatedly denounced the hearings as a "hoax" and "witch hunt."
The former national security adviser's recount of his conversation with Trump challenges the president's legal team's claims of zero quid pro quo.
These discrepancies between Trump and Bolton's account has prompted skepticism from American voters and an eagerness to get to the truth. A new Quinnipiac University poll, released on Tuesday, showed that a large majority—75 percent—of voters want the Senate to allow witness testimonies. Respondents largely answered along party lines, with 95 percent of self-identified Democrats, 49 percent of Republicans and 75 percent of independents saying witnesses should be called.
Trump's defense team has warned against allowing Bolton to testifying. They claim his comments are "inadmissible" and could bring further chaos to the ongoing trial.
Newsweek reached out to McConnell for further comment but did not receive a response in time for publication.