McDonald's Evacuated After Employee Throws Live Ammunition On Grill: Police
A McDonald's in Vermont needed to be evacuated after an employee allegedly threw live ammunition on the restaurant's grill, according to police.
South Burlington police raced to the McDonald's on Shelburne Road after they received a report about a firearm disturbance at about 5 p.m. on Saturday.
According to NBC5, police learned a male employee allegedly removed ammunition from a handgun and threw three live rounds onto the grill.
The move caused the ammunition to explode, the network added.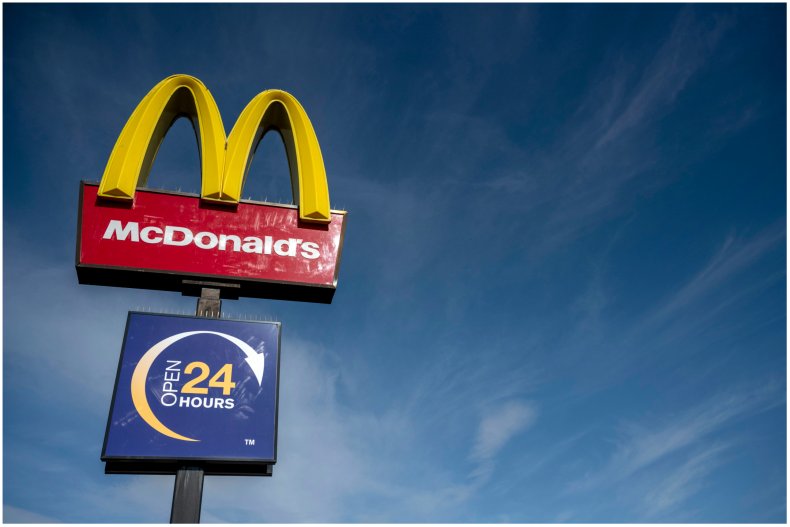 Officers said no one was injured and that employees and customers were able to evacuate the McDonald's.
Liberty Safes of Utah, a gun safe company, explained that ammunition loaded into a gun "is the most dangerous during a fire."
It added: "The heat of a fire can cause a round to fire just as it would if someone had pulled the trigger on a live round.
"The bullets sitting in the non-aligned chambers can also discharge from the heat. When firefighters hear the unmistakable popping sound of guns shooting off, they often must retreat until the danger decreases.
When police arrived at the McDonald's, they set up a perimeter and started to negotiate with the employee who still had the handgun as well as more ammunition.
According to NBC5, police were able to convince the employee to leave the gun in the McDonald's and come outside.
The employee was later detained and taken to the University of Vermont Medical Center for treatment.
Police told the network the case is being investigated and that charges will be considered.
Anyone with information is asked to contact South Burlington police on (802) 846-4111.
Newsweek has contacted the South Burlington Police Department and McDonald's for comment.
There have been numerous occasions where fast food employees have been arrested following incidents involving firearms at their workplace.
Earlier in July a man was charged with fatally shooting a 17-year-old girl in Chicago after he allegedly saw her throw water at a McDonald's employee.
Anthony Heredia, 19, was arrested shortly after Currie High School student Tierra Franklin was shot in the 2500 block of S. Kolin Avenue, close to the McDonald's parking lot in Chicago's Little Village neighborhood, according to police.
Prosecutors said Heredia pulled out his gun and fired twice at Franklin as she ran back to her car, according to the Chicago Sun-Times.
Heredia was later charged with first-degree murder, unlawful use of a weapon and possession of a controlled substance.