Meat-Free Fast Food: McDonald's, KFC, Starbucks and More Restaurants are Selling Plant-Based Foods—But Are They Vegan?
Fast-food chains are planting the seeds of change for those not eating meat, with many launching new plant-based menu items.
As the below graph from Statista shows, 52 of Americans prefer plant-based foods that have similar tastes to meet. Accordingly, restaurants have met this demand and, using substitutes from the likes of Beyond Meat and Impossible Foods, fast-food lovers are seeing their favorite dishes recreated.
Newsweek has rounded up the restaurants in North America that are offering plant-based foods, as well as those who have made their intentions clear on launching meat-free menu options.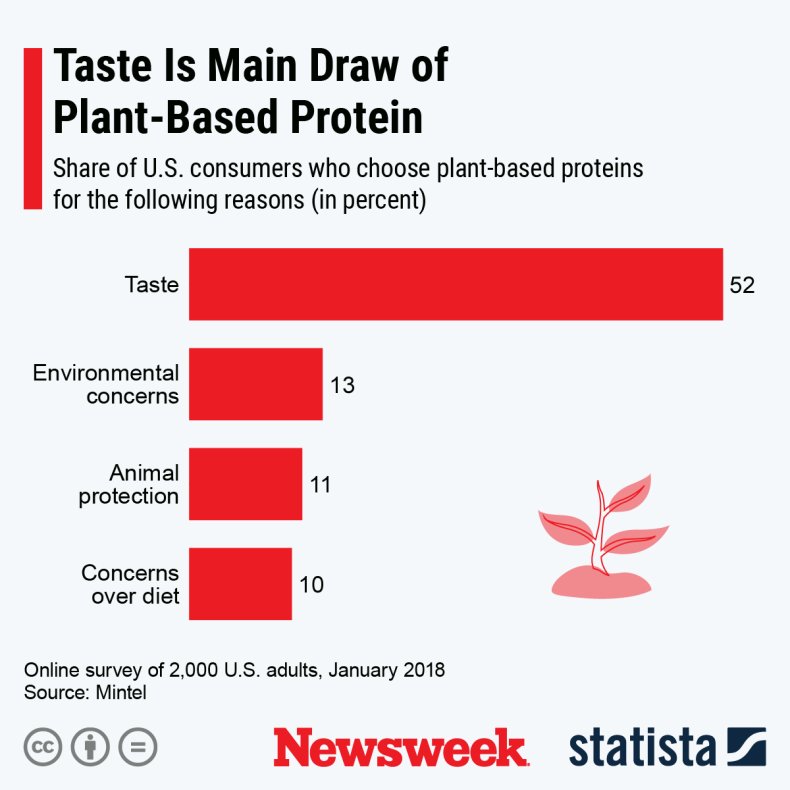 Which restaurants offer plant-based menu items?
Denny's: The always-open diner has introduced the Beyond Burger patty, which is a 100-percent plant-based burger with lettuce, tomato, red onions, pickles, American cheese and All-American sauce on a multigrain bun. It comes with wavy-cut fries.
Dunkin': While it might be famous for donuts, the coffee house launched the Beyond Meat sausage sandwich at 9,000 locations in 2019. It also collaborated with rapper Snoop Dogg in 2020 on a Beyond Sausage Sandwich, called the Double D-O-Double G.
Burger King: The fast-food chain offers the Impossible WHOPPER Sandwich, which features a savory flame-grilled patty made from plants topped with juicy tomatoes, fresh lettuce, creamy mayonnaise, ketchup, crunchy pickles, and sliced white onions on a soft sesame seed bun.
In January 2020, Impossible Foods also announced a plant-based alternative sausage, and began testing at 139 Burger King restaurants in Savannah, Georgia; Lansing, Michigan; Springfield, Illinois; Albuquerque, New Mexico; and Montgomery, Alabama. The Impossible Croissan'wich—which is made up of a toasted croissant, egg, cheese, and seasoned plant-based sausage—is only available for a limited time.
KFC: The fast-food chain has been trialing Beyond Meat chicken, with its first pilot seeing chicken running out within five hours. The company is currently doing another trial at locations in Charlotte, Nashville and areas surrounding the two cities from February 3 through February 23, or until they run out.
Starbucks: The coffee house announced in January 2020 that it will introduce a plant-based breakfast patty for its customers in the U.S. and Canada. A launch date has not yet been announced, though customers can expect the 0-percent beef patty to come out later this year.
Wendy's: According to Veg News, the restaurant chain quietly debuted a new Plantiful Burger at locations in Canada. However, there has not been any announcement made for the U.S.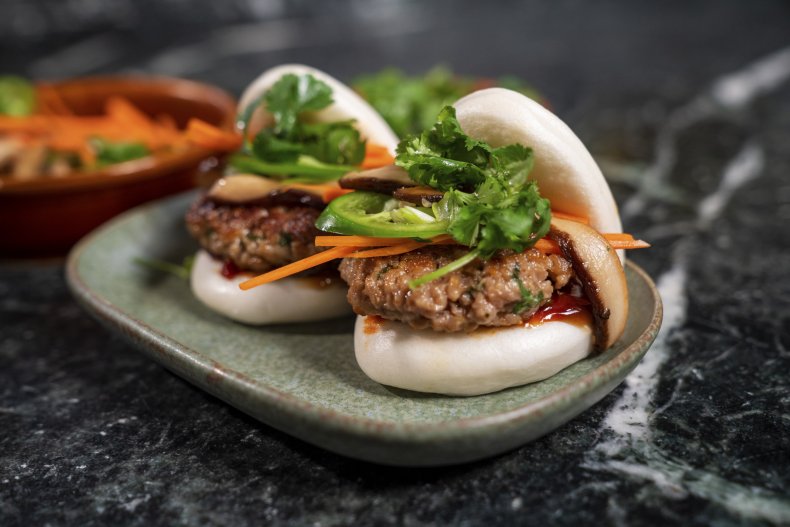 Carl's Jr's: The restaurant chain offers a selection of plant-based menu options, including the Beyond Sausage Burrito—a plant-based Beyond Breakfast Sausage patty, scrambled egg, shredded cheese, hash rounds, tomatoes and fresh salsa served in a soft, warm tortilla—and the Beyond Sausage Egg & Cheese Biscuit—a plant-based Beyond Breakfast Sausage patty topped with a slice of American cheese and a fluffy folded egg served on a freshly baked Made from Scratch Biscuit.
Hardee's: The fast-food company offers a selection of menu items that are plant-based, including the Original Beyond Thickburger, the Beyond Sausage Burrito, Beyond Sausage Biscuit and Beyond Sausage & Egg Biscuit.
White Castle: Fans of the Slider burger can now have the Impossible Slider with Smoked Cheddar Cheese.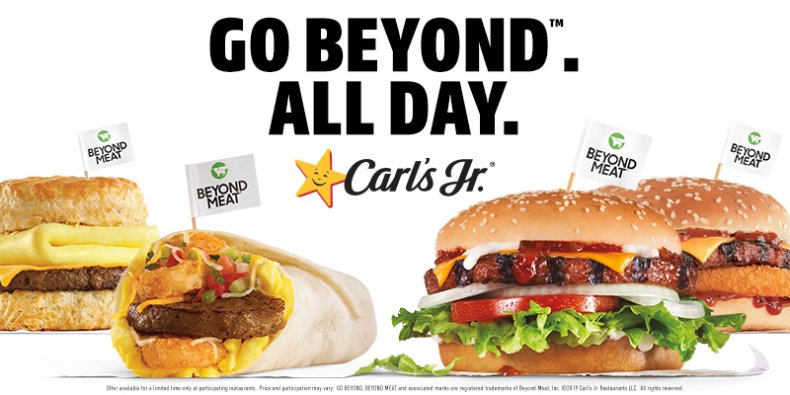 McDonald's: The home of Ronald McDonald has been trialing Beyond Meat burgers in Ontario, Canada, but has not yet brought plant-based menu items to the U.S.
It's worth remembering that some plant-based menu items are not always vegetarian or vegan-friendly, so check ahead of purchasing.