McDonald's Breakfast Chicken Sandwich: Chicken McGriddles and McChicken Biscuits Set to Launch Nationwide Monday
McDonald's is launching two new items—the Chicken McGriddles and McChicken Biscuit—on Monday, February 3. Both McDonald's chicken breakfast items will be available as early as 6 a.m. and served at participating restaurants nationwide for a limited time.
The Chicken McGriddles is made up of a McChicken patty served on a soft, warm maple-flavored griddle cake, and the McChicken Biscuit is made with the same McChicken patty on a warm biscuit.
Before the release, McDonald's fans had to get creative and order the Chicken McGriddles off McDonald's "secret menu." The Chicken McGriddles was only available when both breakfast and lunch options were being served, as McDonald's experts had to order a McChicken sandwich and a McGriddles to combine the ingredients, resulting in a DIY Chicken McGriddles.
Linda VanGosen, Vice President of Menu Innovation, said: "With the nationwide launch of the Chicken McGriddles and McChicken Biscuit sandwiches, we're giving our customers more of what they crave: mouthwatering chicken and breakfast options.
"McDonald's is committed to remaining a leader in the quick-service breakfast category through our delicious offerings, consistent menu innovation, and a faster Drive-Thru experience."
McDonald's began serving breakfast in 1971 with the launch of the Egg McMuffin, and since then has introduced other items to its breakfast menu such as breakfast burritos in 1991, McGriddles in 2003 and an All Day Breakfast in 2015.
The McGriddles options were previously sausage, or bacon, egg, and cheese, before the introduction of the Chicken McGriddles. In July 2019, McDonald's tested a Blueberry McGriddles at more than 100 restaurants in the Washington D.C. area. The Blueberry McGriddles options were sausage; sausage, egg, and cheese; and bacon, egg, and cheese.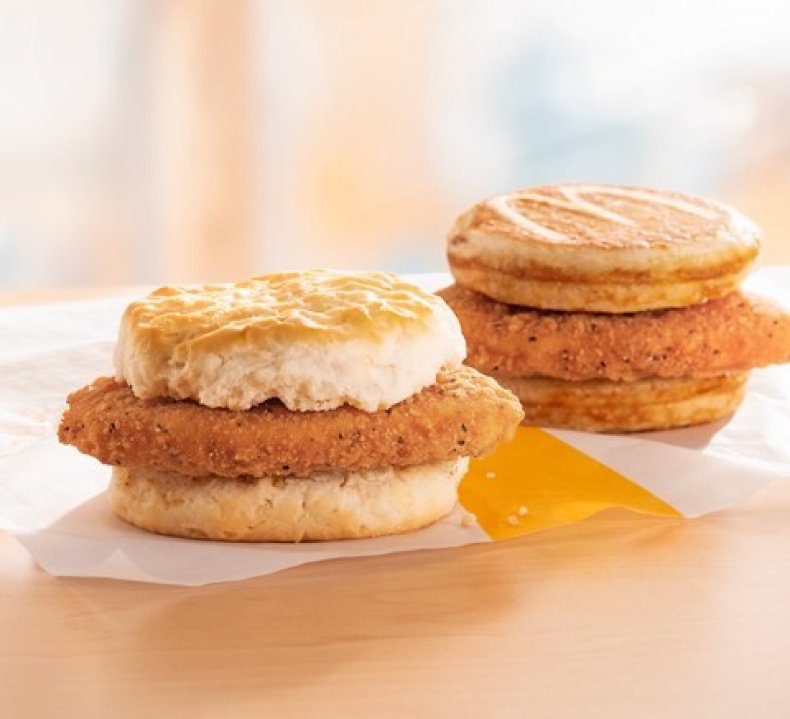 Chicken McGriddles Calories
One Chicken McGriddles has 390 calories, with 126 of these calories coming from fat. It has 14 grams of fat, 30 milligrams of cholesterol, and 980 milligrams of sodium.
McChicken Biscuit Calories
One McChicken Biscuit has 420 calories, 25 milligrams of cholesterol, and 1040 milligrams of sodium.
McDonald's is joining the chicken sandwich hype that began in 2019 and saw Popeyes' chicken sandwich go viral. Fast food chains Chick-fil-A and Wendy's joined Popeyes in a chicken sandwich-fuelled social media feud which has continued into 2020.
The two new chicken items may not be the only additions to McDonald's chicken menu, as the fast-food chain tested a crispy chicken sandwich in Texas and Tennessee in late 2019 through January 26, which, if successful, could be made available nationwide.
McDonald's Chicken Items
Currently, McDonald's chicken-based items include the following:
McChicken Sandwich
Chicken Nuggets
Artisan Grilled Chicken Sandwich
Buttermilk Crispy Chicken Tenders
Buttermilk Crispy Chicken Sandwich