McDonald's Sexual Harassment Lawsuit: Top Chef's Padma Lakshmi Calls for 'Meaningful Changes'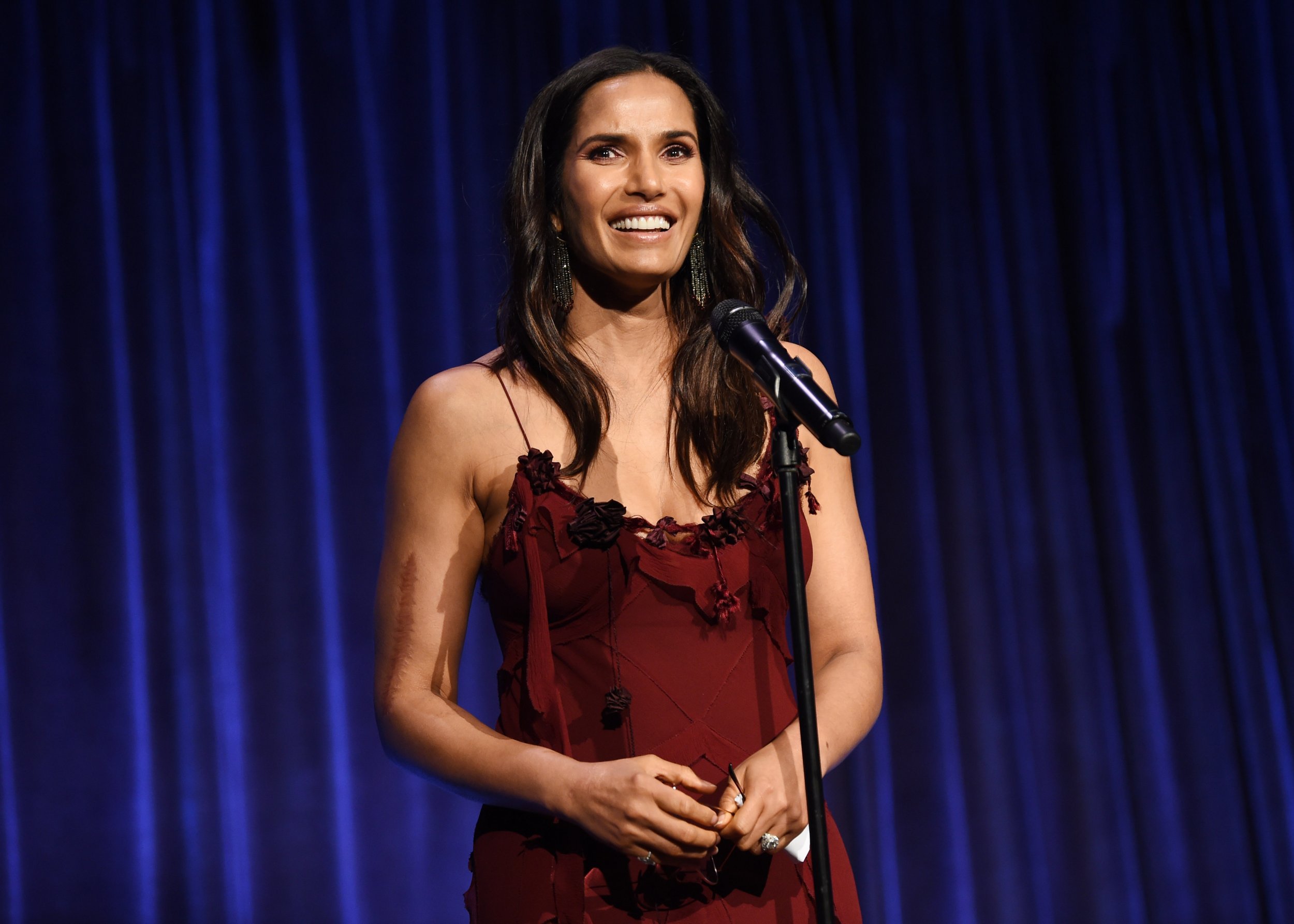 After it was announced that 25 McDonald's employees had filed sexual harassment charges and complaints against McDonald's on Tuesday, Top Chef's Padma Lakshmi called for the fast-food chain to implement "meaningful changes" so "no other worker has to go through what they did."
During a news teleconference earlier this week, the American Civil Liberties Union (ACLU), a nonprofit organization that seeks to defend and preserve individual rights, revealed the more than two dozen charges, which includes three civil rights lawsuits, two lawsuits addressing previous allegations and 20 Equal Employment Opportunity Commission complaints.
Following the announcement, Lakshmi, an American television host and actress, joined a crowd of employees and demonstrators outside the company's Chicago headquarters with signs that read: "McDonald's: No More Sexual Harassment" and "#MeToo McDonald's."
"Padma was proud to stand alongside the brave workers who spoke out against sexual harassment," a spokesperson for Lakshmi told Newsweek on Thursday. "She hopes this pressure will result in meaningful changes at McDonald's so that no other worker has to go through what they did."
The wide-range of allegations include groping, sex propositions, indecent exposure and inappropriate comments by supervisors. "These brave McDonald's workers, some only 16 or 17 years old at the time of the harassment, allege a wide range of unacceptable behavior at McDonald's," Eve Cervantes, a lawyer representing the plaintiffs, said during the conference.
Staffers that did complain about the harassment were "ignored or treated as a joke" and some even faced negative repercussions for speaking out, including termination and reduced hours, she added.
Lakshmi addressed the crowd at the rally, saying, "We can't be happy about any meal at McDonald's until this issue is resolved," she said. "We want a program with real consequences for offenders at any McDonald's franchises or company-owned establishments put into place now."
"Hey McDonald's, we're not loving it!" demonstrators chanted back.
In a letter to Lakshmi, McDonald's, who has yet to directly address the lawsuits, said the company was "committed to ensuring a harassment and bias-free workplace" and have taken steps to implement new policies against discrimination, retaliation and sexual harassment.
"We have enhanced our policy so that it more clearly informs employees of their rights, more clearly defines sexual harassment, discrimination and retaliation, and provide examples of what unacceptable behavior looks like," the company's CEO Steve Easterbrook wrote.
McDonald's will also be rolling out a complaint hotline for staffers in the coming months and new training programs for front-line employees.
In a statement to Newsweek, a spokesperson for McDonald's said the company "has always had an unyielding commitment to providing a safe and respectful work environment for all."
"By strengthening our overall policy on sexual harassment, creating interactive training, a third-party managed anonymous hotline and importantly, listening to employees across the system, McDonald's is sending a clear message that we are committed to creating and sustaining a culture of trust where employees feel safe, valued and respected," the fast-food company said. McDonald's added that the policy changes "shows we're changing to meet the needs of our workforce and the communities where we live and operate."
"We believe that progress must come from all corners of our society and together with our franchisees, we've taken clear steps to play a meaningful role in the spaces we occupy."