McDonald's Shooting Sees Man Gunned Down After Argument: Police
Police in DeKalb County, Georgia, say that a man is in critical condition after he was shot near a McDonald's on Friday evening.
Police said the shooting occurred after an argument inside the restaurant moved outside, according to Fox 5 Atlanta.
In an email to Newsweek on Saturday morning, the DeKalb County Police Department said officers responded to the McDonald's restaurant on Wesley Chapel Road just after 8:30 p.m.
"When they arrived, they located a male in his 40's in the parking lot with an apparent gunshot wound. He was transported to an area hospital in critical condition. The scene has been secured and detectives are en route to interview witnesses and collecting evidence," the department said.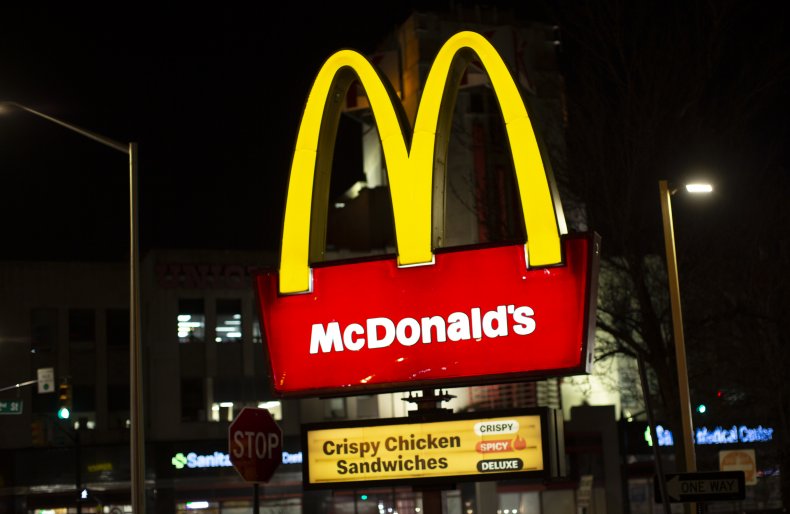 Police said there isn't any additional information about the incident at this time.
Fox 5 Atlanta noted that the shooting happened about a block away from where another shooting took place earlier this month. D'Mari Johnson, an 11-year-old boy was shot at a nearby ice skating rink on April 9. The station reported Thursday that the child is still being treated at that hospital and has been placed in a medically-induced coma. Police said they have arrested a 13-year-old boy in connection with the shooting.
In another incident in DeKalb County this month, a father was charged in connection with the death of his son after an 8-year-old accidentally shot and killed his 6-year-old brother.
The McDonald's shooting on Friday evening is one of several recent violent incidents that have occurred at fast food restaurants around the country.
On Thursday, an employee at a Jack in the Box restaurant in Houston, Texas, was shot in an alleged dispute with a customer over sauce. According to the Harris County Sheriff's Department, a customer pulled into the drive-thru and asked for more buttermilk. When he was told it would cost extra, an argument began. The customer then got into another argument with an employee waiting for a ride, and allegedly shot the worker, striking his hand.
In another incident in Los Angeles in January, a Taco Bell employee was shot and killed after he refused to accept a counterfeit bill as payment. Police said the shooter attempted to use the fake currency at the drive-thru window. When the employee declined the bill, the suspect opened fire into the restaurant before fleeing the location, police said.