McDonald's Worker Reveals Why Customers Should Order 20 Nuggets Every Time
A man who claims to be a McDonald's employee has shared his top tip on how to get the freshest nuggets when ordering—a dilemma faced by many customers.
Sharing to his TikTok account @nicaraguanjesu, the anonymous worker showed the heat boxes inside the kitchen of a McDonald's, filled with nuggets.
The bottom box was pulled out to reveal more than 20 nuggets inside, as he wrote on-screen his one tip: "Don't buy a 4, 6 or 10 piece at McDonald's, always get a 20, it'll be fresher."
In just one week, the advice has reached over 400,000 views and 14,000 likes with users agreeing with the idea. "That's true tho," wrote one user who seemingly had an identical experience as a customer.
The video can be seen here.
Although the employee didn't divulge exactly why a 20 box of chicken nuggets at the fast food chain would be fresher, it appears logical that with less orders of the 20 pieces, McDonald's kitchens are also less likely to have a whole 20 nuggets waiting to be placed directly into a box, like they do with smaller orders.
Filling a 20 box would often require a whole new batch to be made instead too, with not enough nuggets left sitting in the heat box to make it up.
Despite the worker's insistence that this is a sure way to get fresh nuggets, not everyone was completely sold.
"Wrong. It's never fresher when ordering the 20 pieces. We order them all the time and you can tell they've been sitting for a while," wrote one TikTok user.
"Nah I got the stalest box of 20 piece nuggets once before," argued another.
The McDonald's worker clarified that although the tip is reliable, customers will "not always" get fresh nuggets using it.
One overall conclusion appeared: If you're looking for fresh food, perhaps a fast food restaurant isn't the place to go. "I'm not buying McDonald's for the 'freshness,'" wrote one user.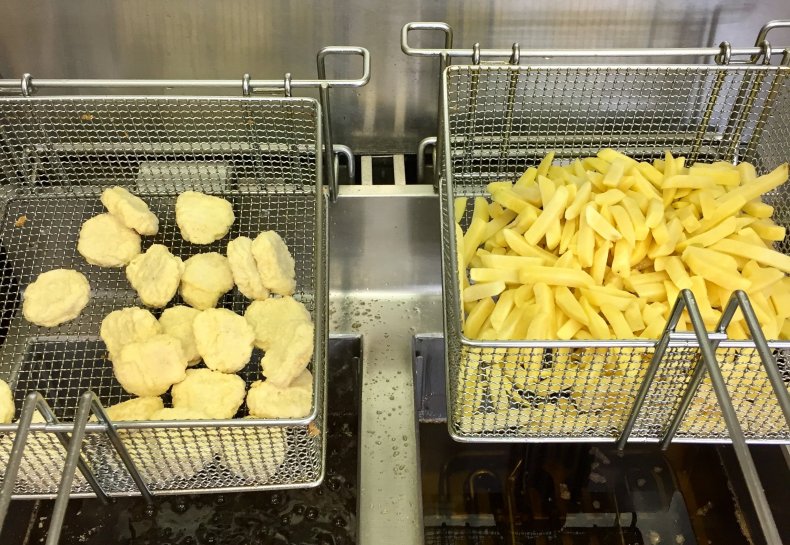 McDonald's employees are becoming a rising anonymous genre on TikTok, revealing tips and secrets straight from the stores. Freshness is one common problem that workers appear to open the curtains to regularly.
Last year, a McDonald's worker revealed exactly what he does when customers request fresh nuggets while ordering, and customers weren't happy.
The worker alleged that he simply dunks already cooked nuggets back into the fryer to simply crisp them up and give the fresh feeling. "Good as fresh ones," he wrote on-screen.
Newsweek reached out to @nicaraguanjesu and McDonald's for comment.