McDonald's Worker Reveals What He Does When Customers Demand Fresh Nuggets
Fast food by its very definition is meant to be quick, but hungry patrons want their meals sizzling as well as in a timely manner.
Pre-prepared meals can sometimes mean the food isn't piping hot as it isn't made to order, and unhappy customers have been known to ask for their dish to be made from scratch.
One man claiming to be a McDonald's worker has revealed what he does when a customer demands "fresh" nuggets.
Bigjettyfunny shared a clip to his TikTok account of the same name, saying in the on-screen captions: "When a customer asks for fresh nuggets. Just re-drop them. Good as fresh ones."
The clip shows him tossing a box of nuggets into the fryer, before popping them back in the carton and bagging them up again. Although at the bottom of the clip Bigjettyfunny wrote "joking," presumably in case he gets into trouble for the claims.
The video, posted at the end of December, was captioned: "At least there [they're] hot and crispy."
Since being posted the footage has amassed 1.3 million views, and can be seen here, as the method divided opinion.
Speaking to Newsweek, Bigjettyfunny claimed he'd been working for the chain for 6 months.
He stated he worked in a branch in the Caspers Company, which according to McDonald's website has outlets in Florida.
When asked if this is a genuine method he uses, he told Newsweek: "I was told once by management to do so with a piece of crispy chicken. I never purposely did so on my own time."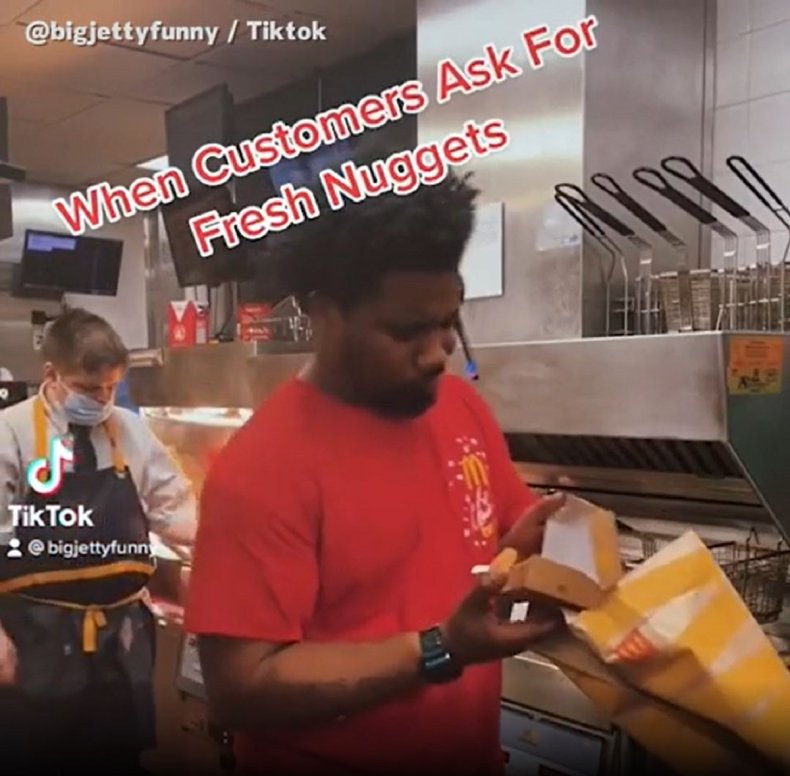 Commenting on the video, Aaron wrote: "I'll honestly be fine with that, fresh at fast food to me is hot. I just don't want cold food."
Agreeing, StephanieMonique70 said: "No lie I'm satisfied with that. To me when I say fresh I mean hot."
Mike Kelly commented: "Honestly I'm ok with it, as long as it's not I'm cool."
Chelle admitted: "That's fine. Redrop my fries too."
While Deejay also said: "I know the difference. I'll just go back, get my fresh nuggets and then notify the manager for free coupons."
Tomin847 thought: "Honestly when they fry them twice like that they're not that good compared to the first time. The taste is different."
"You can taste the difference, same when I ask for fries with no salt," Og_beto96 added.
Although one TikToker, named Michael Jakson, admitted: "I be the person to still return them and get you fired."
While it can't be confirmed Bigjettyfunny works for the fast food chain, his TikTok account, which indicates he's based in Ohio, has many behind-the-scenes clips.
One, captioned "we finally got the McRibs again," appears to show him assembling the burger from scratch, including cooking the patties from frozen.
Another shows him making the "breakfast burritos," pancakes, cookies, and how they cook their infamous French fries.
The clip, titled "how to make McDonald's French fries," has two easy steps which are simply "pour into basket," and "drop inside oil and press timer."
Other clips show how they clean their oil, while in similar videos he also claims he merely re-drops fish filets in the fryer when a customer asks for a fresh one.
"Don't make new fish," the on-screen caption said, and possibly covering his back, he wrote "joking" at the bottom again.
Newsweek reached out to McDonald's for comment.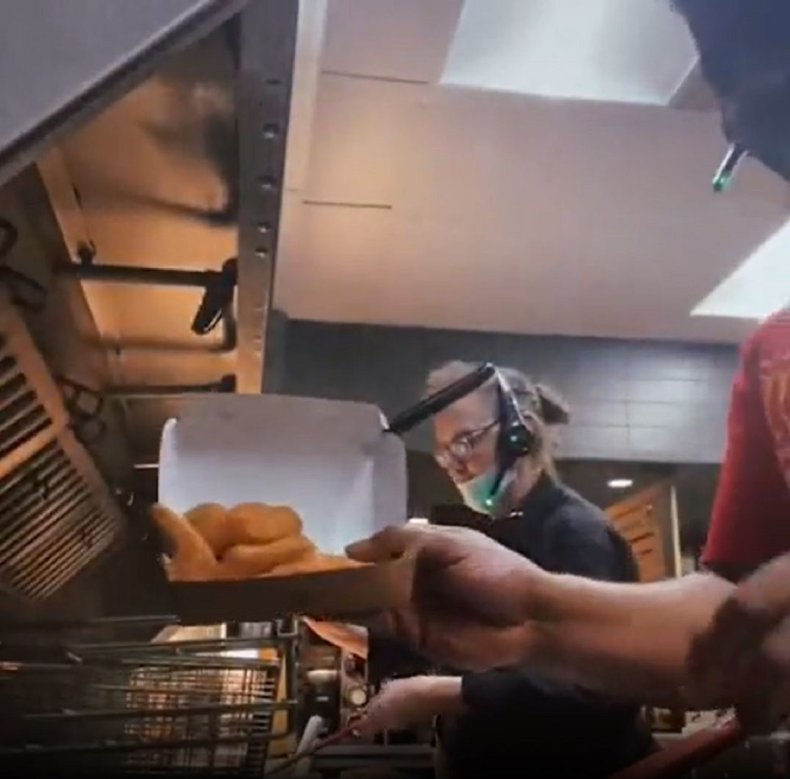 Update 12/1/22, 8a.m. ET: This article was updated with video, photo and comment from Bigjettyfunny.