McDonald's Worker Guns Down Manager After Dispute: Police
A dispute between a McDonald's employee and manager turned violent when the worker allegedly shot their supervisor Friday afternoon, police said.
Authorities received a call at about 4:14 p.m. reporting a person was shot at the Atlanta fast food restaurant, according to local television news station WXIA-TV.
Police later learned the victim was the restaurant manager, who previously got into an argument with one of her employees. Details about the argument are not publicly known, but the manager eventually told the employee to leave, WXIA reported.
The manager has been identified as Elizabeth Williams, according to local news station WSB-TV. The employee has not yet been identified.
When the employee later returned to confront Williams, the argument then escalated. He allegedly pulled out a gun and shot her several times before fleeing, according to the news station.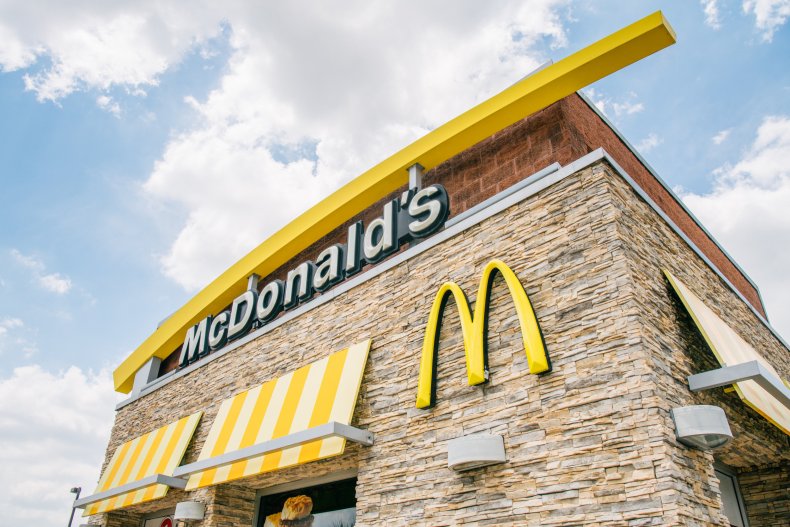 Williams was taken to a local hospital where she was in critical condition. Other details about the shooting, including what prompted the argument, have not yet been disclosed by police.
The shooting remains under investigation, according to WXIA. As of Friday night, the alleged gunman had not been arrested.
A McDonald's spokesperson said in a statement to Newsweek Saturday morning that the company is cooperating with police in their investigation.
"Our top priority is always the safety and well-being of our employees and customers at our restaurants," the statement said. "We are deeply disturbed by this incident and our thoughts are with our employee at this time."
Colnith Brown, the Chief People Officer for the Sunshine and Sunrise McDonald's, the franchise that owns the location, said Williams had been working at the restaurant for three years in an interview with WSB-TV. He described her as an "amazing leader" who is "very loved by her team and community," and said she is doing okay.
He said Williams had a good relationship with the employee prior to the incident.
Other Shootings at Fast Food Restaurants
The shooting marks the latest violent act at fast food restaurants across the country. A man was shot several times in a McDonald's drive-thru Thursday night in Louisville, Kentucky. He is expected to survive the shooting, according to local news station WAVE.
On May 13, a McDonald's employee, 23-year-old Britrain Marcelus Gray, was shot and killed in a drive-thru in Maryland. Police do not believe the shooting was random and that Gray was targeted.
A fight in a Santa Rosa, California, Taco Bell drive-thru last month ended in a man being shot. Two men were waiting for their food when they got into an argument. The alleged shooter, 27-year-old Brad James Adams, got out of his car and shot at the victim several times. The victim suffered a gunshot wound to his right arm and is recovering from his injuries.
In April, an employee at a Texas Jack in the Box was shot over a dispute about dipping sauce when the customer grew irate after they were told they would be charged for extra buttermilk sauce.
Update 6/4/2022 3:01 p.m. ET: This story was updated with additional information.