McFaul Lays Out Putin's Ukraine Failures: 'I Don't See Him Recovering'
Michael McFaul, the former U.S. ambassador to Russia, said on Sunday that he does not see Russian President Vladimir Putin "recovering" from his failures in Ukraine.
Putin launched his invasion on February 24, declaring a need to "liberate" the separatist Donbas region and rid Ukraine's government of Nazis, despite Ukrainian President Volodymyr Zelensky being Jewish. He initially hoped for a quick victory against his Eastern European neighbor.
However, Ukrainian defenders met his military with a stronger-than-expected response, and the Russian military's weaknesses have been exposed amid the conflict. More than six months since the war began, Moscow has largely failed to achieve any major accomplishments in Ukraine. Meanwhile, fighting continues only in the easternmost parts of Ukraine with no Russian victory in sight.
McFaul, who served as the United States' diplomatic representative to Moscow from 2012 to 2014 and has previously been a critic of the war, outlined all of the ways Putin's war has failed during an appearance on NBC News' Meet the Press.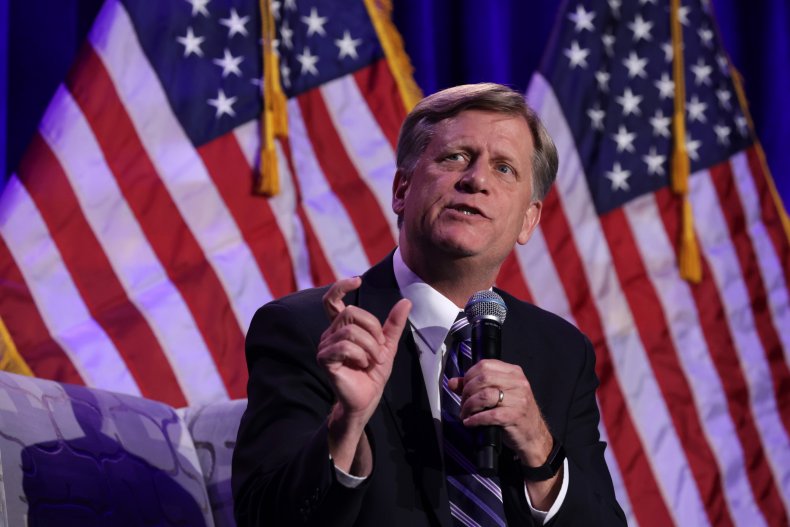 Putin has "failed on all" of the "strategic objectives he outlined six months ago," McFaul said. "Remember, six months ago, he said he was going to unite Ukrainians and Russians because Ukrainians are just Russians with accents. He failed at that. He failed at denazification. He failed at demilitarization. He failed to take the capital of Kyiv. And now he's just fighting in Donetsk and in Kherson."
He added that Putin now "needs to bring new troops just to fight in that stalemated situation," referring to Moscow's order requiring the Russian military to add 137,000 new troops amid reports that many soldiers have died in the war, and that others may be either unmotivated or poorly trained.
"So, on the strategic level, I think he's failed in this war. I don't see him recovering," he said, adding that Putin's new objective appears to be "taking" the Donbas region—and that he will need more soldiers to do so.
The Russian president will not be able to "do a draft across the board" targeting anyone eligible to serve in the army to bolster his military because it would "make Russians unhappy," McFaul said.
Experts have pointed to Ukraine's allies, including the U.S., providing military support as one factor that has boosted Ukraine's defense efforts. Throughout the summer, the U.S. began supplying Ukraine with M142 High Mobility Artillery Rocket Systems (HIMARS). These rockets have a greater range than those previously used by Ukraine, and a Pentagon spokesperson said Sunday that the U.S. is ramping up its production to further help the Eastern European country.
Meanwhile, Putin's efforts have also been hampered by weaknesses within his own military. Since the war began, many reports have come out that Russian troops lack motivation and are not being properly trained before being sent to the frontlines in Ukraine.
Newsweek reached out to the Russian Ministry of Defense for comment.