'No Training'—Russia Recruits Say They're Being Rushed to Ukraine Frontline
Russian recruits are being rushed to the front line in Vladimir Putin's war against Ukraine with little to no training, according to reports.
Independent news outlet MediaZona reported in June that Yevgeny Chubarin, 24, was killed combat while in Ukraine's Kharkiv region, just days after he was transferred to Belgorod, near the Ukraine border, on a three-month contract with the Russian military.
His mother, Nina Chubarina, said her son told her via WhatsApp that he and other recruits were brought from Belgorod to a military base in Valuyki, given weapons and uniforms, and sent to Ukraine.
"There was no training," his mother told MediaZona. "They arrived, got a uniform and a machine gun—and that's it, go ahead."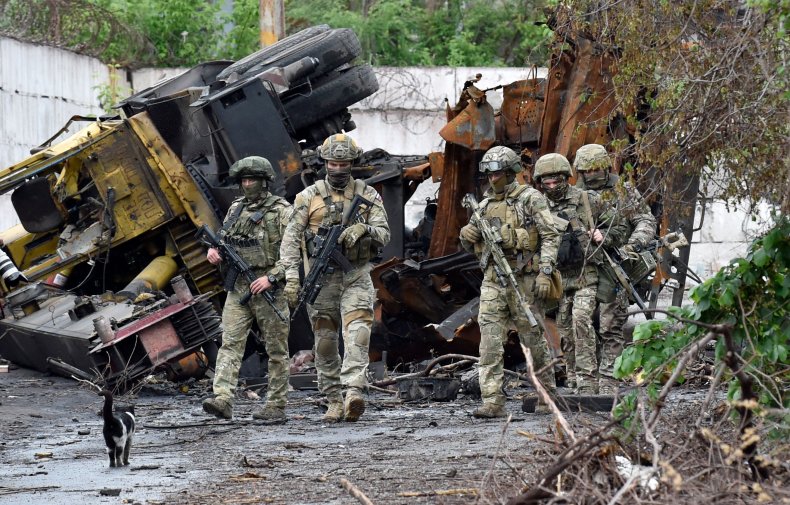 Russian soldiers who were captured and held in a detention camp near Dnipro, Ukraine, told The Sun in an interview published in May that troops weren't trained before being deployed to fight in Putin's war, which began on February 24.
"A lot of people think it is the second army in the world, but we have nothing. We have no training, we have no equipment and it is a crime to say that in Russia," a 26-year-old soldier, named Vadim, said.
He added: "They don't care about their men. They treat us like dogs."
"We only do field exercises twice a year," another captured soldier, 22-year-old Ivan, told the news outlet, explaining that troops were under-prepared for battle.
"We go away for a month, twice a year, and practice firing, but we don't train for ambushes. Artillery isn't supposed to be ambushed," he said.
Other recruits have shared similar experiences, saying that they were deployed to fight in Ukraine with minimal training.
Ivan, 31, who spoke to The Moscow Times on condition of anonymity for safety reasons, said he had just five days of training before the Russian military sent him to fight in Ukraine.
"There was a soldier in our company who didn't know how a machine gun works. So I taught that guy how to disassemble and assemble a machine gun. I wouldn't want to be next to him in battle. How can you fight like that?" he said in an interview published on Wednesday.
"They trained us for five days, we waited for another five days for a force rotation and then we went to [combat] positions," Ivan said, noting that recruits carried out some informal training exercises in that time, including combat skills, seizing and storming buildings, all-around defense, working in combat teams, field medicine, evacuation and treatment of wounded soldiers.
The independent Russian-language news outlet cites Russia's Defense Ministry website as saying that anyone who signs a contract with Russia's military is required to undergo four-weeks of intensive arms training combined with a "survival" course.
Sergei Krivenko, director of human rights group Citizen. Army. Law., that provides legal assistance to Russian soldiers, told The Moscow Times that he is regularly approached by parents whose children signed a [military] contract and ended up in Ukraine just a week later.
In an intelligence update Monday, the U.K.'s defense ministry said that the notorious Russian military company Wagner Group is lowering its recruiting standards after heavy losses sustained in the war against Ukraine.
Russia has used Wagner to reinforce front-line forces and to "mitigate manning shortfalls and casualties, it said.
"Wagner are lowering recruitment standards, hiring convicts and formerly blacklisted individuals. Very limited training is made available to new recruits," the ministry said, adding that this will highly likely impact on the future operational effectiveness of the group.
Russian authorities are separately attempting to recruit contract personnel, as Putin has not announced war mobilization, according to the Ukrainian Center for Countering Disinformation under the country's National Security and Defense Council.
Ukraine's armed forces say about 38,850 Russian troops have been killed since the war began. Russia rarely discloses its war casualties, but on March 25, a Russian general told state-run news outlets that 1,351 soldiers had been killed and a further 3,825 were wounded.
Newsweek has contacted Russia's foreign ministry for comment.