McGrath Campaign Raised $8.7 Million in August, Highest Monthly Total in Bid to Oust McConnell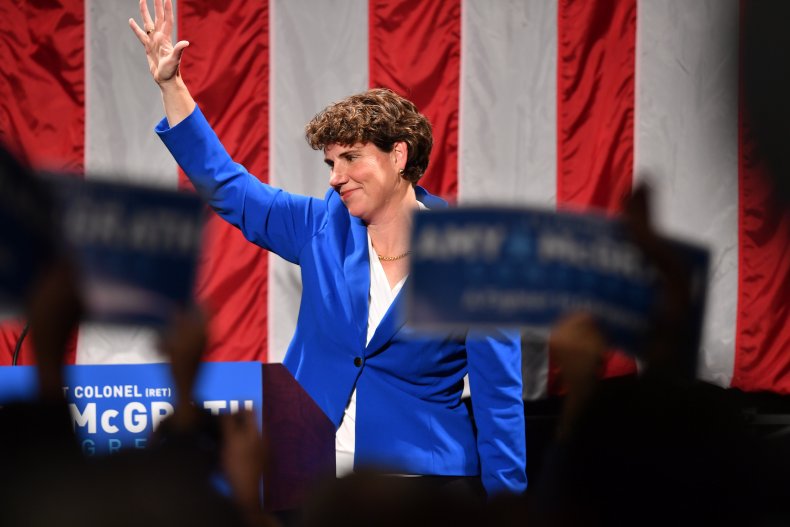 Kentucky Democrat Amy McGrath has set a new campaign record for fundraising in August, adding to her impressive war chest heading into the final weeks of her Senate campaign against Majority Leader Mitch McConnell.
The McGrath campaign told Newsweek that the team raised $8.7 million in August—the most money she has raised in any single month since launching her bid in the summer of 2019. The average donation in August was $48.
"We continue to see excitement and momentum for Amy McGrath in the homestretch of the election," campaign manager Dan Kanninen said in a statement. "After 36 years of Mitch McConnell working for D.C. special interests and lobbyists while leaving Kentucky behind, Kentuckians are demanding change."
In total, the Marine Corps veteran has raked in more than $50 million in donations. McConnell, the top Republican in the Senate, last reported having raised $36.6 million as of June 30. Their contest is expected to be one of the most expensive races of the 2020 cycle.
While McGrath is bringing in more money, she's been slightly down in the polls. The latest survey, courtesy of Quinnipiac University, found her trailing McConnell by 5 percentage points. Of the 900 registered voters polled, 49 percent backed McConnell compared with 44 percent who supported McGrath. The survey had a margin of error of 3.3 percentage points.
McGrath has made some shake-ups to her campaign, including appointing Kanninen as campaign manager, after a closer-than-anticipated Democratic primary in late June. McGrath just staved off a late surge from Charles Booker, a progressive Black state lawmaker, to win the nomination by less than 17,000 votes.
"My message to anyone who voted in the primary, whether they voted for me or for someone else, is I hear you. I want change too," McGrath previously told Newsweek. "We can all agree that Mitch McConnell has got to go."
McGrath says she wants three debates with McConnell, but so far the top Republican has accepted only one televised event.
McConnell, who spent the August recess campaigning in Kentucky, has criticized his opponent as "too liberal" for the conservative state—a label McGrath laughed off as "such B.S." At a Kentucky Farm Bureau forum last week, which McGrath declined to attend, he said her absence was another example of "the utter contempt Democrats have for rural America these days."
During the event, McConnell defended the record of Senate Republicans and President Donald Trump amid the coronavirus pandemic.
"I think we've made an important difference for the country," McConnell said. "In February, we had the best economy in 50 years. Two months later we looked like the Great Depression after the coronavirus. But the things we were doing were working."