McGregor and Diaz Hurl Insults and Steroid Allegations in Explosive UFC 196 Press Conference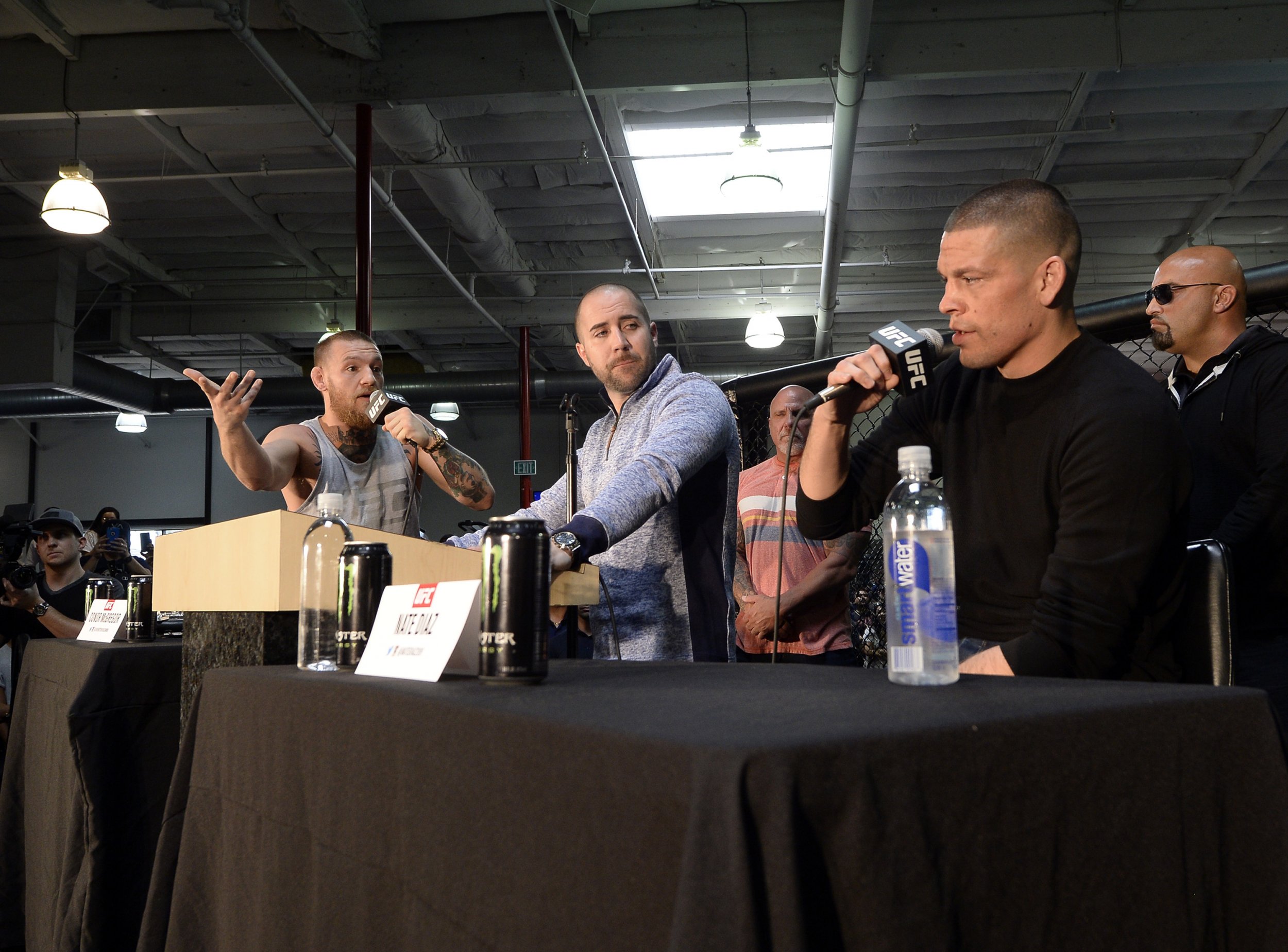 This is what happens when you throw dynamite into a bathtub with fireworks.
The first pre-fight press conference between Conor McGregor and Nate Diaz was even more explosive than had been predicted, with Diaz accusing the entirety of the UFC locker room of being on steroids and McGregor taunting that same roster with misogynistic insults.
McGregor's scheduled opponent for UFC 196 on March 5 at the MGM Grand Garden Arena in Las Vegas was Rafael Dos Anjos, only for the Brazilian to break his foot and pull out of the fight. The bout with Diaz will take place at welterweight, two classes above McGregor's last fight against Jose Aldo.
Diaz was the third-choice replacement for Dos Anjos after both Aldo, the man McGregor beat at UFC 194 in 13 seconds in December 2015, and Frankie Edgar proved unable to make the fight in the short time frame.
McGregor was not slow to show his annoyance at what he perceives as fighters avoiding him at the UFC Gym in Torrance, California, on Wednesday.
"They always pull. They always run," McGregor said of Dos Anjos, Aldo and Edgar. "They always make out like they want it, but really they don't want it. I was expecting it.
"They all have sore vaginas lately, it's crazy," McGregor said. "There's something going on, I don't know. Dos Anjos broke his foot and his vagina in the same damn day. Same with Edgar. I couldn't believe the odds of that to happen.
"Everyone wanted it, then everyone didn't want it. At least Nate was engaging in the conversation, everyone else flat out went running. Instantly, he became the front runner."
Diaz, who has fought at welterweight four times against McGregor's none, winning two and losing two, was no less abrasive, ripping into the entirety of the UFC roster and accusing them of performance-enhancing drug use.
"They're all on steroids! Everybody," Diaz shouted, before being pulled up on the allegation by a furious McGregor.
"Steroids? Man, what are you talking about, steroids? Don't be putting my name with steroids, I'm major against that," McGregor rebutted. "Don't put my name and the name of steroids' name. The only weight I give a f*** about is the weight of them checks. And my checks are always super-heavyweight. So I don't give a s***."
The disadvantage of putting trash-talking fighters together, of course, is the mess they leave behind for someone else to clear up.
Dana White, UFC President, spoke to TMZ.com, the celebrity website, on Wednesday night to assure the public that his company does not have a steroid problem as Diaz claimed.
"The UFC unquestionably has the best drug testing program in all of sports. All done by the United States Anti-Doping Association," White said.