McKinney Fire Update: 4 Found Dead After Flames Grow to More Than 50K Acres
California's McKinney Fire has grown to over 50,000 acres as of Tuesday and four people have died.
On Tuesday, the Siskiyou County Sheriff's Office announced on Twitter that "Search teams located two additional deceased individuals in the #McKinneyFire perimeter Monday.
"Both individuals were located at separate residences along SR 96. This brings the confirmed fatality number to 4. **No additional info pending identification & family notifications**"
The announcement comes just a few days after two others were found dead in the fire's perimeter.
"Sunday fire personnel located two deceased individuals inside a vehicle located in a driveway along Doggett Creek Rd, off HWY 96, W of Klamath River, CA. There will be no additional info pending positive identification & notifications to next-of-kin," the sheriff's office said in a tweet on Monday.
According to data from Cal Fire, the McKinney Fire, which is located near "Hwy 96 and McKinney Creed Rd, southwest of Klamath River," has grown to at least 55,493 acres as of Tuesday. The fire is currently 0 percent contained.
In a press release posted on InciWeb, the national wildfire incident reporting system, officials said, "Lower temperatures and higher relative humidity, including rain over some areas of the fire, moderated fire behavior allowed firefighters to make good progress on the fire yesterday. In the absence of the explosive fire behavior observed previously, firefighters were able to take a more direct posture and engage directly on the McKinney, China 2, and Alex fires."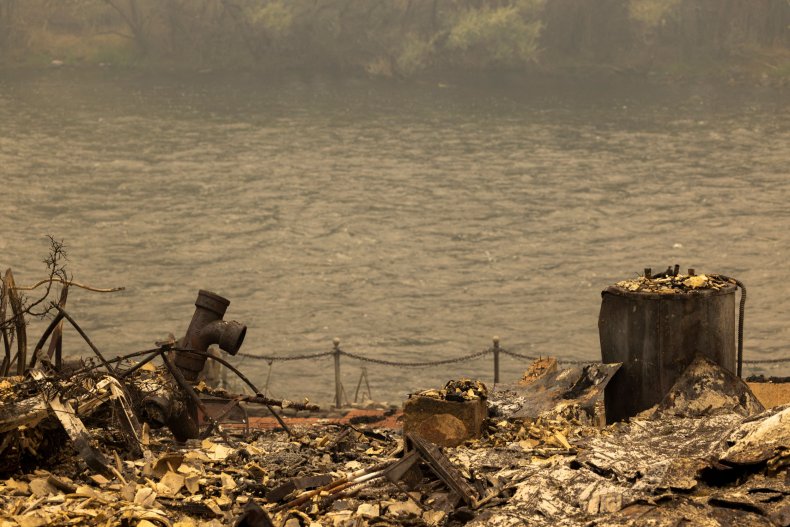 The update continued, "Today firefighters will continue to look for areas on the fires where they can have direct attack opportunities as well as work to place contingency line in areas where direct attack is not possible. Life, firefighter safety, and property remain the most significant priority to the incident. The combination of moisture and thunderstorms in the forecast are creating an unstable atmosphere which may make firefighting conditions much more hazardous with wind speeds potentially reaching 50 mph during those storms."
According to Cal Fire, the McKinney Fire's cause is currently unknown and remains under investigation. The fire was first reported on July 29, according to Cal Fire.
Shortly after the McKinney Fire was reported, California Governor Gavin Newsom issued a state of emergency.
"Two additional fires in Siskiyou County, the China 2 and Evans fires, have merged and burned more than 300 acres, prompting evacuation warnings for more than 200 residents," Newsom said in a statement. "A state of emergency allows for more flexibility in the face of an unfolding crisis, including the suspension of regulatory statutes that may impede the emergency response and recovery efforts. It also helps access federal aid and unlock certain state resources."
Newsweek reached out to the Siskiyou County Sheriff's Office for comment.
Update 8/2/22, 3:39 p.m. ET: This story was updated with additional information.