Tributes are pouring in for singer and actor Meat Loaf who has passed away at the age of 74.
The "Bat Out of Hell" singer—real name Marvin Lee Aday—died with his wife by his side according to a statement shared on his official Facebook account.
"Our hearts are broken to announce that the incomparable Meat Loaf passed away tonight with his wife Deborah by his side. Daughters Pearl and Amanda and close friends have been with him throughout the last 24 hours," the statement reads.
"His amazing career spanned six decades that saw him sell over 100 million albums worldwide and star in over 65 movies, including Fight Club, Focus, Rocky Horror Picture Show and Wayne's World."
The statement goes on to say that Meat Loaf's "Bat Out of Hell" remains one of the top 10 selling albums of all time.
"We know how much he meant to so many of you and we truly appreciate all of the love and support as we move through this time of grief in losing such an inspiring artist and beautiful man," the statement added.
"We thank you for your understanding of our need for privacy at this time. From his heart to your souls…don't ever stop rocking!"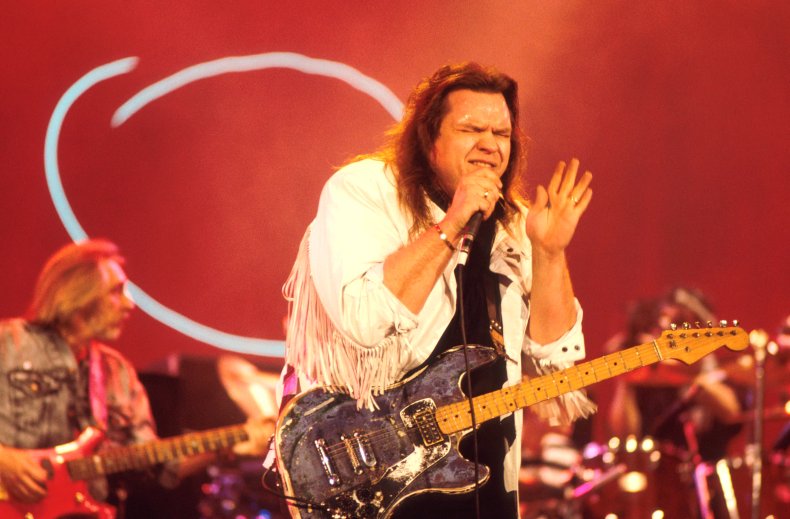 The star's illustrious career is being remembered today as legions of fans pay their respects to the late performer.
Broadcaster Piers Morgan described Meat Loaf as "one of rock music's all-time great characters."
"A wondrously talented, flamboyant, funny, outrageous and rebellious chameleon. Sad news," he tweeted.
Sky News presenter Kay Burley tweeted: "Very sad news that Meatloaf has died. 'I'd do anything for love' was a massive hit in 1993, reached Number one in 28 countries and was a firm favourite in our house."
Broadcaster Stephen Fry added: "I hope paradise is as you remember it from the dashboard light, Meat Loaf. Had a fun time performing a sketch with him on Saturday Live way back in the last century."
Film producer Heather Wixson wrote: "RIP, Meat Loaf. Thanks for being one of the reasons I fell in love with ROCKY HORROR PICTURE SHOW in the first place. #RIPMeatLoaf."
"Heaven clearly couldn't wait," said ABC News presenter Mary Gearin. "RIP Meatloaf. You are one of the formative voices of my childhood. Iconic. Flamboyant. Voiced the big emotions and complex lives of a demographic not used to that. Stuff your critics. And fly high."
Writer Rob Tannenbaum tweeted: "I have a fixed mental image of Meat Loaf onstage, shaking and sweating and wiping his brow with a handkerchief. When I interviewed him, he had a similar antic mental energy. Plus he lived in my hometown. RIP to a character."
Author Jeff Pearlman tweeted: "I saw Meat Loaf in concert back in 1996. He had four songs I knew, and each one ran about 20 minutes. But—and this is important—that's not an insult. I LOVED those songs, and he brought it hard. Amazing performer. RIP."