Russia's Dmitry Medvedev Predicts 'Collapse of…U.S.-Centric World'
This week, former Russian president Dmitry Medvedev predicted that there would be a number of global consequences to the sanctions imposed on his country.
Russia faces an uncertain economic future due to measures that followed Vladimir Putin's invasion of Ukraine which has isolated the country from the world's financial system.
But Medvedev, who is deputy chairman of Russia's Security Council, wrote on his Telegram social media channel on Friday that he believed the effects of the sanctions will be felt internationally.
In a post titled, What will happen next, or the world after anti-Russian sanctions (not a forecast at all), Medvedev outlined in 10 bullet points how supply chains could collapse, inflation could spike and food and financial crises would ensue.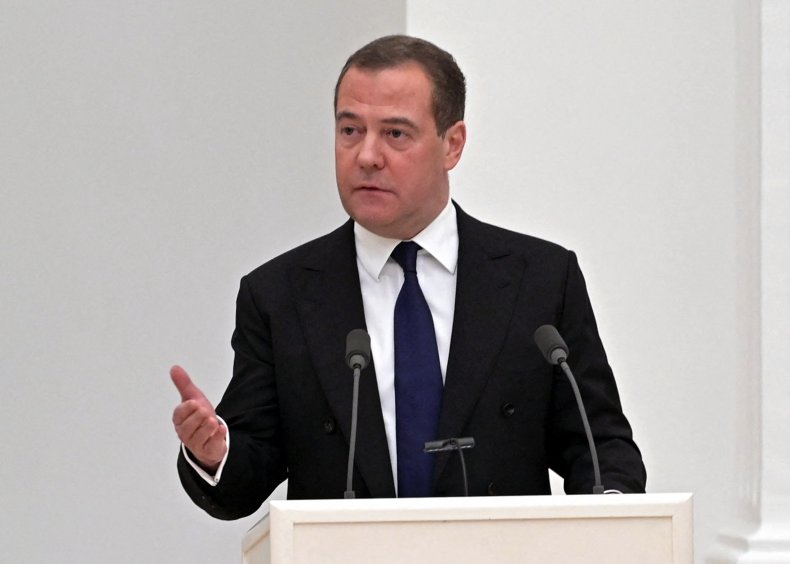 He said that energy sanctions on Russia will cause higher fossil fuel prices and slow down the development of the digital economy. He also believed there could be a "full-fledged international food crisis" in which some countries face "starvation."
He said unresolved military conflicts will flare up, new epidemics will emerge and international institutions that have not been able to settle "the situation in Ukraine", such as the Council of Europe will lose relevance.
However, he also suggested that the sanctions could be the spur to a new world order which Moscow has previously said it would welcome.
In it, he wrote how "new international alliances of countries based on pragmatic rather than ideological Anglo-Saxon criteria will be formed."
"As a result, a new security architecture will be created," he said. This would highlight, "the weakness of the Westernized concepts of international relations such as 'order based on rules'," Medvedev also predicted "the collapse of the idea of ​​an American-centric world."
While seven of the 10 bullet points Medvedev made painted a gloomy future, a pivot away from the post-Cold War international order was invoked by Putin three days before he invaded Ukraine.
In a speech from the Kremlin on February 21, Putin accused the U.S. and NATO of the "shameless development of the territory of Ukraine as a theater of military operations."
Medvedev's post comes as British foreign secretary Liz Truss said that there should be no immediate end in sight to global sanctions imposed on Russia.
She said Friday that such measures should only be lifted when all Russian troops have left Ukraine.
Meanwhile, the U.K. has announced new sanctions on Friday against Putin's financial network and his inner circle, including his ex-wife and cousins. These include Alina Kabaeva who is alleged to be Putin's girlfriend, and Lyudmila Ocheretnaya, Putin's ex-wife.