'Free Meek' Documentary on Amazon Prime Video: Everything to Know About Meek Mill Series
When Meek Mill was 18 years old, he was arrested for illegal firearm possession and assault of an officer, who alleged Mill pulled a handgun on him during a police drug raid at a house in Philadelphia. The rapper has long claimed his innocence despite spending much of his adult life in courtrooms, shuffling between Pennsylvania prisons and on probation.
In the documentary series Free Meek, executively produced by Jay-Z 's RocNation and The Intellectual Property Corporation, the artist, shares his trials and tribulations with the criminal justice system in an effort to shed light on the disproportionate experience many people of color currently in the system.
The five-episode series walks viewers through Mill's childhood. He was raised by a single mother in a rough Philadelphia neighborhood after his "drug dealer robber" father died when Mill, born Robert Rihmeek Williams, was 5 years old. It also highlights his musical prowess as a battle rapper, which started when he was the tender age of 11.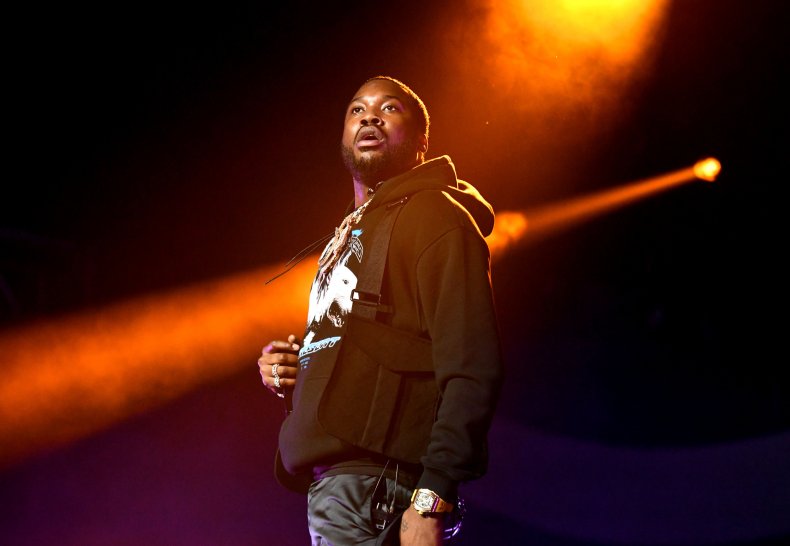 Fans of the 32-year-old are familiar with his battle with the criminal justice system and a Philadelphia judge who seemingly had a vendetta against him. In the documentary, Mill and those closest to him recount the events that have led to his 12-year plight with the U.S. legal system. It starts with his January 2007 arrest, where Mill said he was beaten so badly by officers he lost his consciousness. The mug shot of a young Mill with a severely bruised eye and swollen face serves as the series' cover art, but it also is a reminder of the brutality he faced when his home was raided back then.
His 2007 arrest resulted in 19 drug, gun and assault charges—seven of which he was convicted for despite the weak evidence prosecutors had against him. While he was sentenced to two years in prison, it's the 10-year probation sentence delivered by Judge Genece Brinkley that has resulted in Mill's ongoing legal troubles.
Following a particularly harsh two-to-four-year prison sentence for violating his probation in November 2017—which led to an FBI infestation of Brinkley—the Championships rapper was finally freed thanks to a ruling by the Supreme Court in April 2018. However, he still has technically probation lingering in the shadows stemming from his original 2007 arrest.
In the docuseries, Mill explains his legal woes are just one in a million that many others suffer, particularly black people within the U.S. prison system, and explains how he's using his platform to help reshape the criminal justice system specifically for those most targeted.
Jay-Z, CNN commentator Van Jones and Philadelphia Sixers partner Michael Rubin—all of whom are members of the criminal-justice initiative, Reform Alliance, Mill launched earlier this year—also appear in Free Meek as well as Black Lives Matter activist Tamika Mallory and Rolling Stone reporter Paul Solotaroff, who's extensively covered Mill's legal battles for the publication.