Meet the Cast of Jamie Foxx's New Netflix Series 'Dad Stop Embarrassing Me'
Jamie Foxx is making a return to television. Twenty years after his long-running sitcom The Jamie Foxx Show ended, the actor and comedian will appear in a new Netflix original series, Dad Stop Embarrassing Me!.
Foxx created and co-executive-produced the family-friendly series with his daughter Corinne. The show was inspired by the pair's relationship and Foxx's real-life experiences as a particularly embarrassing father.
On the show, Foxx stars as Brian Dixon, a charismatic bachelor and owner of a cosmetics company, who becomes a full-time dad when his teenage daughter Sasha— played by Kyla-Drew—comes to live with him. While Brian is thrilled for the chance to spend more time with his kid under the same roof, he struggles to foster a deeper connection with her—as his inability to balance his demanding career, fluctuating love life and responsibilities as a parent may have something to do with it. Eventually, Brian and Sasha find their stride, but it doesn't happen without the help of a few great friends and family members.
Get to know a little more about Jamie Foxx's cast members below. Dad Stop Embarrassing Me! releases on Netflix on Wednesday.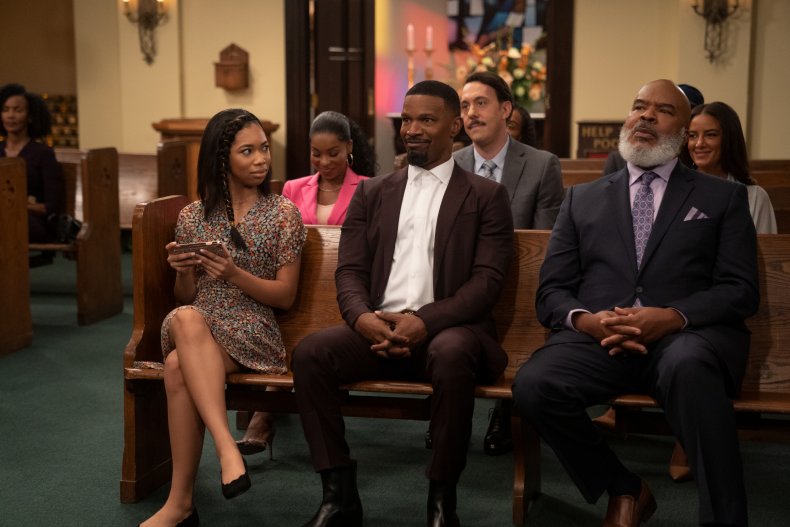 Sasha
Atlanta native Kyla-Drew stars as Sasha Dixon, the stylish and smart teenage daughter of Foxx's character, Brian, who is forced to adjust to her new life in a new city with her father after the sudden death of her mother.
Before joining the Netflix series, Kyla-Drew most notably starred as Mae Valentine in the Nickelodeon series Nicki, Ricky, Dicky & Dawn. The 16-year-old actor has also appeared in several other shows, including The Good Doctor, Station 19, Grey's Anatomy, NCIS and Castle.
Pops
David Alan Grier stars on Dad Stop Embarrassing Me! as Brian's hilarious, weed-loving and witty father. Just as Brian missed out on much of his daughter's earlier life, Pops, who spent time in prison, similarly wasn't there for Brian as he was growing up. So he's making up for lost time by living in Brian's backyard pool house and helping Brian and Sasha foster a deeper connection.
A longtime friend of Jamie Foxx's, Grier's addition to the cast comes nearly 30 years after the actors appeared together on Fox's hit sketch comedy show In Living Color. In a February interview with Entertainment Weekly, Grier said being back on camera with Jamie Foxx after all these years "really was surreal."
"Jamie told me he wanted someone there that he knew he could pass the baton to. My main concern was, 'Is Jamie really going to be in the show?' I didn't want to do a show where your famous friend is like, 'Yeah, man, I'm going to be in it,' but it's like the Brad Pitt Comedy Hour and he introduces the first act and then comes back at the end of the season. But Jamie was there every minute, every day, encouraging me to do more and run with it," Grier said.
With more than 100 acting credits to his name, Grier has also appeared in dozens of movies and TV shows, including Queen Sugar, A Black Lady Sketch Show, My Wife and Kids, Jumanji, I'm Gonna Git You Sucka and Boomerang.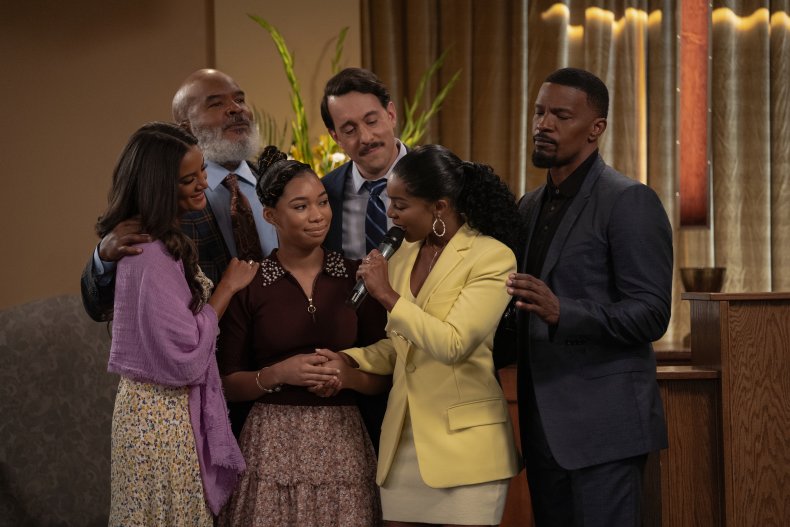 Chelsea
Actor, singer and dancer Porscha Coleman was enlisted to play the role of Chelsea Dixon, Brian's sassy and sophisticated younger sister and the cool, hip aunt to Sasha. Although Chelsea's day job is as a marketing executive, she moonlights as the unofficial therapist of Brian and Sasha and helps the pair learn to coexist under the same roof.
Coleman may be most recognized for her role as Erica Willis on the former UPN series The Parkers, which aired from 1999 to 2004. Coleman has also starred in titles such as Silicon Valley, Paradise City, Good Girls, Entourage and 7th Heaven.
Johnny Williams
Jonathan Kite stars on the show as Brian's lifelong best friend and police officer Johnny Williams. It's worth noting that while Johnny offers Brian unsolicited parenting advice often, he's also often a contributing factor to all the buffoonery Brian finds himself in as well.
While Kite has landed dozens of roles throughout his career, he is most known for playing Oleg Golishevsky on the CBS sitcom 2 Broke Girls. Kite has also made appearances in series, including NCIS, Family Guy, Cleopatra in Space and Black Dynamite.