Meet the Conservatives Trying to Embarrass Liberal Educators with Hidden Cameras
One educator talks of how a ban on teaching critical race theory could be skirted. Another boasts of how parents can be "tricked" over what goes in the school syllabus.
Both were recorded on hidden cameras by a conservative group that has been releasing videos periodically on the internet—and noting the fact that the videos have sometimes caused concerned parents to flood school board meetings.
As school battles take a central role at the grassroots of America's culture wars over race, gender, language, COVID-19 rules and more, the group is going all out to draw attention to what progressives are saying, sometimes prompting accusations of unethical behavior with its recordings made under false pretenses.
This time, the hidden camera "stings" aren't from the well-known right-wing group Project Veritas, but from a group that has been around a lot longer and is now putting schools in particular focus: Accuracy in Media—better known as AIM.
"We'll keep doing it until school officials stop lying. Public school administrators are not entitled to a monopoly on deception," AIM President Adam Guillette, who joined from Project Veritas three years ago, told Newsweek.
For liberal activists, AIM is dangerous.
"AIM is a conservative media criticism organization that has a history of pushing anti-LGBTQ views and conspiracy theories," says the progressive Media Matters for America organization.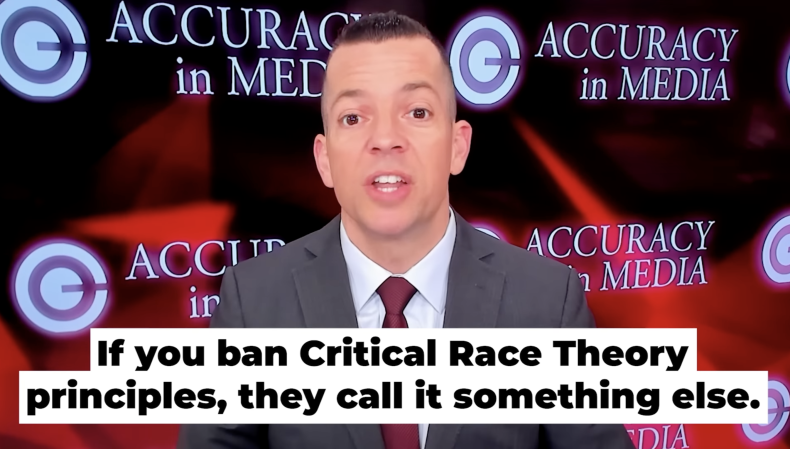 Unlike more recent conservative groups that have sprung up to highlight what they say is dangerous progressive radicalism on social media and elsewhere, AIM has been around for decades.
It was founded in 1969 by the late economist Reed Irvine for the purpose of keeping tabs on what he said was a biased media that too often promoted socialism over capitalism.
Rebuked
It is no stranger to criticism: Long ago, it was rebuked by progressives for suggesting that media bias was hurting America's chances of winning the Vietnam War. More recently, it has expressed skeptical views over climate change and called COVID-19 'overhyped'. In 2008, AIM accused President Barack Obama of being "a member of an international socialist movement."
AIM may not be as well known as Project Veritas, but it is looking to expand in the same space with the latter in limbo after the sudden departure of founder James O'Keefe amid allegations of mistreating employees and mismanagement—accusations he has denied while also hinting at an imminent return.
It's not an entirely new concept for AIM. It used hidden microphones in the 1970s in an attempt to show that mainstream journalists deceptively edited interviews in order to hype the dangers associated with nuclear power plants. But that technique used audio only, and AIM hasn't used it much since then.
"I thought it was essential to return the organization to its roots of using unconventional activism and investigative journalism. The world needs more of both," Guillette said.
"Investigative journalism is the most honest and most important form of journalism. Instead, we live in an era when most outlets write clickbait and fan fiction, telling people what they want to hear," he said.
That said, ethical questions have been raised over activists using fake identities and hidden cameras to get people to say things that can be used against them. Typically, targets of such sting operations accuse the activists of selective editing that removes relevant context, and some school districts have said as much about AIM.
Guillette denies such accusations and says he is already preparing lengthy passages of unedited video for officials to review, rather than the 2-7 minute versions that are released over the Internet.
"There are cases where incredible investigative journalism has been done by hidden camera," says Christina Bellantoni, the director of the USC Annenberg's Media Center, commenting on the type of work of done by AIM, noting Pulitzer and others have awarded top prizes for undercover work.
Still, Bellantoni teaches her journalism students that it is unethical for journalists to hide their true identities, except as a last resort. In some states, like California, it is illegal to record someone without their permission if there is an expectation of privacy, though the advent of smart phones with cameras blurs the lines between what's acceptable and what is not.
Bellantoni compared what AIM is doing to the widespread sharing of videos from bystanders.
"We all have recording devices in our pocket. At any moment someone who is not a journalist can capture something that can change the world. Just look at George Floyd," said Bellantoni, referencing the two years of Black Lives Matter protests that erupted after Floyd was murdered by a white police officer in 2020.
Guillette isn't conflicted. "It's great police officers wear body cam; politicians and public officials should wear it, too. The next best thing is an investigative journalist with a hidden camera," he said.
To be sure, there's a long history of journalists using the technique to expose, for example, white nationalism. In 1979, Dick Lehr at the Hartford Courant used a false identity to obtain an I.D. card for the Ku Klux Klan in order to infiltrate former Klansman David Duke's inner circle.
But Guillette says mainstream outlets typically have no interest in exposing liberal activism, thus it falls to AIM and others to do so.
Focus on schools
AIM has been focusing largely on schools.
In January, it released a tranche of hidden-camera interviews. In Ohio, for example, there has been a so-far unsuccessful effort to ban the teaching of critical race theory and transgender issues to schoolchildren.
Critical race theory (widely known as CRT) is an academic framework based on the idea that there is systemic racism in U.S. institutions. It has become a hot issue for conservatives, who say it is divisive, while progressives say the controversy was stirred up by the right.
Progressives similarly take issue with conservative efforts to stop the teaching of young children about transgender issues in the name of child protection, saying that by doing so the LGBTQ community is being targeted.
Guillette says that AIM's cameras recorded school employees suggesting that they'll teach whatever they like, regardless of what laws are passed.
In one video, Matthew Boaz, the executive director of diversity, equity and inclusion for Upper Arlington Schools says to undercover AIM activists: "You can pass a bill that you can't teach Critical Race Theory in a classroom, but if you didn't cover programming, or you didn't cover extracurricular activities, or anything like that, that message might still get out. Oops! There will be a way."
Upper Arlington Schools did not respond to Newsweek's emailed request for comment. An automated message from Boaz's email said "I have requested leave and will be away from my office and email".
Guillette wouldn't say who he and others at AIM pretend to be when speaking to their subjects. "It would be a lot more difficult if they knew our tactics. I can confirm that the camera was not behind the salt shaker," he said.
That said, a day after the AIM video hit the Internet, an email sent to parents from Upper Arlington Interim Superintendent Kathy Jenney said, in part, "We know the video was recorded with a hidden camera and under false pretenses by a man and woman who claimed to be interested in enrolling a student. The couple guided the conversation to focus on the topic of critical race theory."
The video dropped in mid January, and at the following school board meeting about 40 people spoke on the matter, about 15 of whom were upset about what they had seen while the rest were there to support Boaz.
"It was wild," said Cathy Pultz, a member of a conservative group and a regular attendee of school board meetings in the district who spoke to Newsweek. She said before the video, she had been confident in Boaz.
"I was not surprised that some individuals will teach CRT and hide it, but when I saw it was Boaz in the video, I was shocked."
At the meeting, she said those on her side argued for "trust and accountability" while the other side — all of whom wore red in solidarity with the schools — accused them of "being influenced by an outside group of extremists."
The drama continues two months later, she said.
In another hidden-camera interview, also in Ohio, Hilary Staten, an administrative assistant for Groverport Madison Schools, says that federal funds for the COVID pandemic were used to hire social workers and guidance counselors to push social-emotional learning, which AIM alleges is a way of bringing in some of the same tenets that CRT espouses.
"We had some parents that, you know, they don't fully understand. So, you know, it's when we trick them, you know?" says Staten while the hidden camera rolls.
Groveport Madison Schools declined to respond to Newsweek while Staten did not respond to Newsweek's email.
Guillette supplied videos of crowded school board meetings in Ohio that had followed AIM's videos. The videos appeared to show a roughly even split between conservative parents and those defending a more progressive approach.
In Texas, where Republican Governor Gregg Abbott sought to outlaw CRT in classrooms through a bill prohibiting teaching that some individuals are "inherently racist, sexist or oppressive", AIM says its hidden-camera interviews prove that schools are ignoring the directive.
In one video, Marissa Perez, a curriculum content coordinator for the Edgewood Independent School District, says : "We do not follow much of, like, what Abbott is trying to get us to do."
To get more attention, AIM has parked a mobile, digital billboard near the Capitol building in Austin that plays the undercover video.
Neither the Edgewood Independent School District nor Perez responded to Newsweek's request for comment. Abbott's office did not respond to Newsweek's request for comment.
In Utah, where the teaching of CRT is also restricted, AIM has conducted similar sting operations, prompting Republican Congressman Chris Stewart to tweet: "This is why so many people don't trust public education: arrogant teachers who think they know better than parents."
After the Utah videos aired on Fox News, the Murray City School District told the outlet: "We have noted some inaccuracies in the accounts shared by our staff member being interviewed. We are also concerned about soundbites that omit context, tenor and questions that elicited the responses. For this reason, and to make a fair assessment of the comments, we are requesting a full, uncut version of the interview from AIM as part of our review."
Guillette said he would comply with the district's request, adding that he'll remove from the raw video anything that could show AIM's methods. At its request, he says he is also providing the longer versions of the videos to the Utah Attorney General's Office.
Guillette won't say who his next targets are, but said he is not done with schools.
"Having been in over 200 school districts, I honestly believe that public education as we know it cannot be saved. These radicals are so devoted to pushing extremist ideas and indoctrinating children that no law will stand in their way," he said.