Meet the Young, Black Conservatives Who Are Stumping for Trump—Despite the Backlash
When Kanye West tweeted, "I love the way Candace Owens thinks" in 2018, he was maligned by much of the mainstream media. He also got a lot of young, politically minded Black men and women curious enough to delve into the controversy, and some liked what they discovered.
Owens then teamed with Turning Point USA (TPUSA), a conservative organization founded in 2012 by Charlie Kirk, to help launch the Young Black Leadership Summit where 400 Black youngsters gathered with President Donald Trump at the White House last year.
Owens now heads Blexit, a group that encourages Blacks to ditch their liberal mindset and embrace conservatism, supporters of which were in force Saturday on the South Lawn of the White House to hear Trump deliver his first public address since testing positive for COVID-19. "Black and Latino Americans are embracing our pro-jobs, pro-worker, pro-police…and pro-American agenda," Trump told hundreds of attendees.
Meanwhile, a Hill-HarrisX poll conducted in the midst of the Republican National Convention indicated that 24 percent of registered Black voters approved of Trump, up nine points from their previous poll conducted three weeks earlier.
And this year radio host Larry Elder starred in a movie about Black conservatives called Uncle Tom that in early October was the No. 1 documentary on iTunes (and No. 10 among all films). Then Trump announced on October 3 he was appointing Elder to be a member of the Commission on the Social Status of Black Men and Boys.
Clearly, something is going on here. Who are these Black Trump supporters who seemingly are leaving the Democratic Party, even as media outlets, sports stars and Hollywood celebrities hammer the Black Lives Matter message and paint Trump as a white supremacist sympathizer?
Newsweek delved into the phenomenon and identified eight young Blacks who are working hard to reelect Trump and, in many cases, facing backlash for doing so. Naturally, many of them are involved with TPUSA and some were with the president at the Young Black Leadership Summit last year and/or the first one in 2018.
CJ Pearson, 18
The youngest person on this list has the largest social media following: 380,000 on Twitter; 500,000 on Facebook; 160,000 on Instagram; and 91,000 across TikTok. CJ Pearson, 18, started collecting fans at age 12, when he made a YouTube video defending Rudy Giuliani who, at the time, was attacked as a "racist" for doubting that President Barack Obama loves America. "My opinion was that you don't get to hide behind the race card every time someone says something you don't like. I was in the seventh grade and my video got 2 million views in 24 hours," he recalls. In July, the University of Alabama political science and pre-law student started his own nonprofit organization dubbed the Free Thinker Project, a 501(c)4 group that is allowed to be more partisan than the more typical 501(c)3. "Our goal is to put facts in front of people of color, women and members of the LGBTQ communities that Democrats have long used and abused," he tells Newsweek. "We teach what they don't teach in schools anymore; like that Republicans were the party of abolition while the Democrats fought to put people in chains." So far, videos made by his Free Thinker Project have been viewed 2 million times and—like TPUSA, College Republicans and Young American's Foundation—he intends to create chapters across high schools and colleges. He already started one at his campus and he's working with 50 additional schools while also traveling the country stumping for Trump. He says he's "met with love" by the faculty and students at the University of Alabama—except for the time someone posted a note on his dorm room door reading F*** Donald Trump and F*** y'all." He took it in stride, though. "It's a sign of intolerance, which is the trademark of the left. They don't debate, they direct hate and vitriol at you. They have no argument," he says. "If you disagree with me, I'm open for discussion, and no attempt at petty intimidation will ever change that."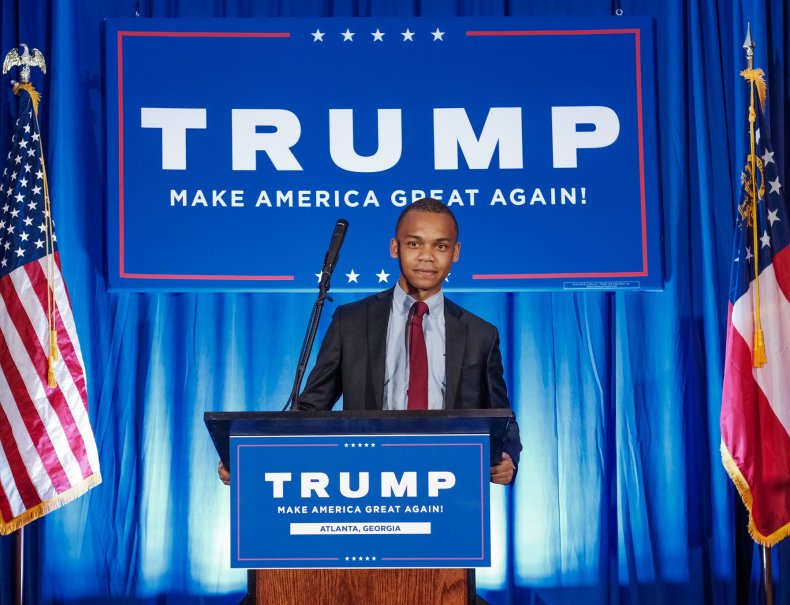 Jahmarri Green, 19
At Friends University in Wichita, Kansas, Jahmarri Green is a member of TPUSA and president of the school's YAF chapter. He keeps his politics under wraps on social media, but at just 19 years old, he has already been tapped multiple times to speak about conservatism on various campuses in the country as well as at a YAF event at President Ronald Reagan's Ranch in California, where he spoke against Communism. "I don't look or act like a typical conservative," the Los Angeles native tells Newsweek. "I surf, I dye my hair, I'm into fashion. I do all the quirky stuff kids do in L.A. Then, when I talk politics, people are like, 'Wow, you're very different.' And that's how I like it." When he debates liberals, he tries to appeal to them emotionally, just as does the left, he says. "Like with school choice: why should students be forced to go to a failing school just because they live in a certain district? I'm also big on anti-victimization and how harmful affirmative action is. I argue there are things we can do to lift up lower-income communities rather than shoveling money into them." During a speaking engagement at California State University, Long Beach, left-wing activists "tried to keep people away by shouting the usual stuff about racism and bigotry, " he recalls. The history-political science double major (and quarterback on the football team) says he got his conservative values from reading a couple of influential books, The Right Side of History by Ben Shapiro and Obedience to Authority by Stanley Milgram, and he says running for office may be in his future, but he's open to suggestions. "I am a God-fearing man and I know wherever God puts me, that will be where I can positively impact peoples' lives."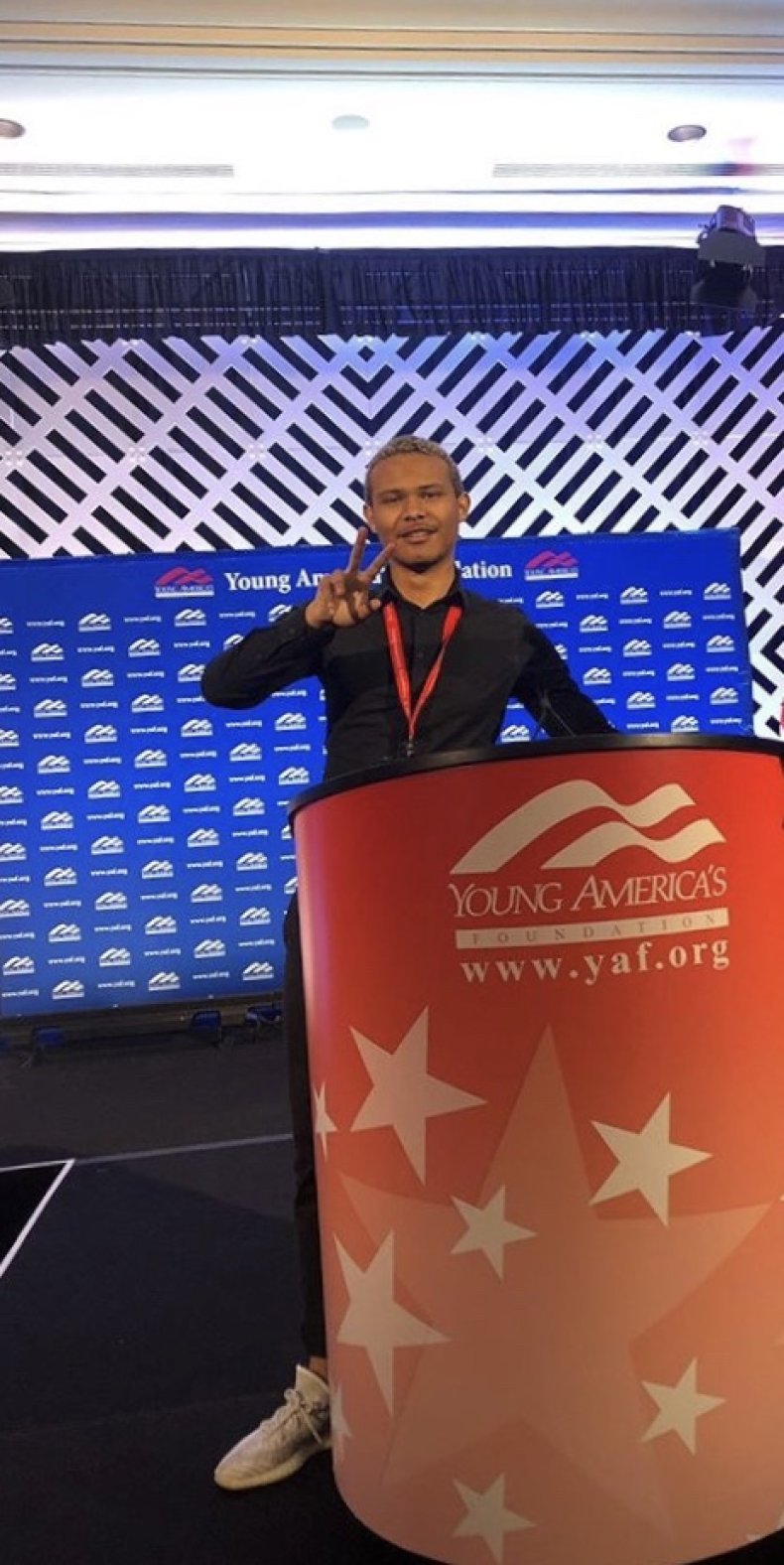 Kearyn Bolin, 21
Kearyn Bolin seems to be doing a fine job turning adversity into opportunity. Her first battle with the left came as a member of the College Republicans at Texas State University, where she watched the group's president be impeached from his other position—president of the student body—for the sin of objecting to an opinion in the school newspaper dubbed, "Your DNA is an Abomination." The article "basically called for the genocide of white people," Bolin recalled, but the student body president's objection to it resulted first in a three-day sit-in organized by campus radicals then his removal from office three days prior to his graduation (the articles of impeachment accused him of failing to be "thoughtful" and using "university means" to "amplify his opinion"). After joining the school's TPUSA chapter, Bolin battled again with the student government, which voted to ban the organization because it made students feel "unsafe." Administrators prevented the ban and when Bolin, 21, rose to the top of the leadership ranks, her critics dubbed her "the token Black president." Her trials and tribulations landed her a speaking role at the Young Black Leadership Summit at the White House. "Trump said he liked my hair and he kissed me on the cheek. The audience went, 'Aaah,' and he said, 'I'm not done,' and kissed me on the other cheek." Predictably, when video of the incident hit the internet, her social media following quickly doubled to 7,000. She's taking a one-semester break to get involved with her local GOP and build up her Instagram page to keep her newfound fans engaged before she branches out into TikTok and YouTube videos. "If I make money on social media, I won't complain, but my goal now is to be heard," she says. "I wasn't paying attention to politics but when Trump ran in 2016, my mom was gung-ho for him. I saw on social media that Trump was a joke, but my mom had Fox News on all the time, so I decided to find things out for myself—and what I found was very intriguing."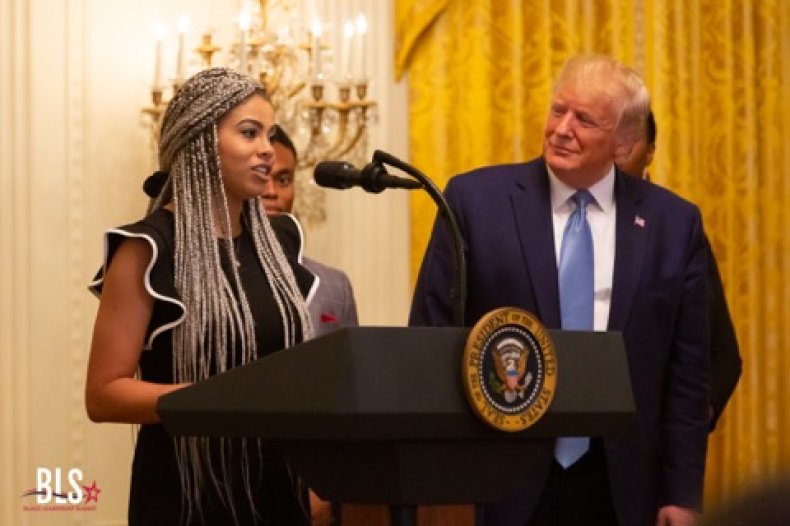 Christopher Gaffrey, 21
Christopher Gaffrey got his first job as a high school junior, and he hasn't been unemployed since, one recent gig being a campaign assistant for a Republican running for Congress (he lost). Now, the 21-year-old is a full-time student at Wayne State University in Detroit as well as a full-time employee with TPUSA as a field representative. "I grew up learning about personal responsibility; you make a mistake, you fix it," he said, and he has already parlayed his strong work ethic into purchasing his own home. Not bad for a college kid who grew up in poverty raised by a single mom. His first task as a TPUSA employee was to restart a dormant chapter at his own school, and now he helps start chapters all over eastern Michigan and helps them host events. "When I was at the University of Michigan, I got cussed out, was told to go F*ck myself and called a 'white supremacist,' even though I'm half African American," he said. For open-minded liberals willing to debate, he says his most effective tactic begins with asking them if they trust the government. "Ninety percent say they don't, especially with Trump as president," he explains. "Then I'll ask why they want to let the government control their health care, or why they want to give up their Second Amendment rights or have their speech limited by the government. They don't trust it, but they want to give it more power over their lives. It opens their eyes."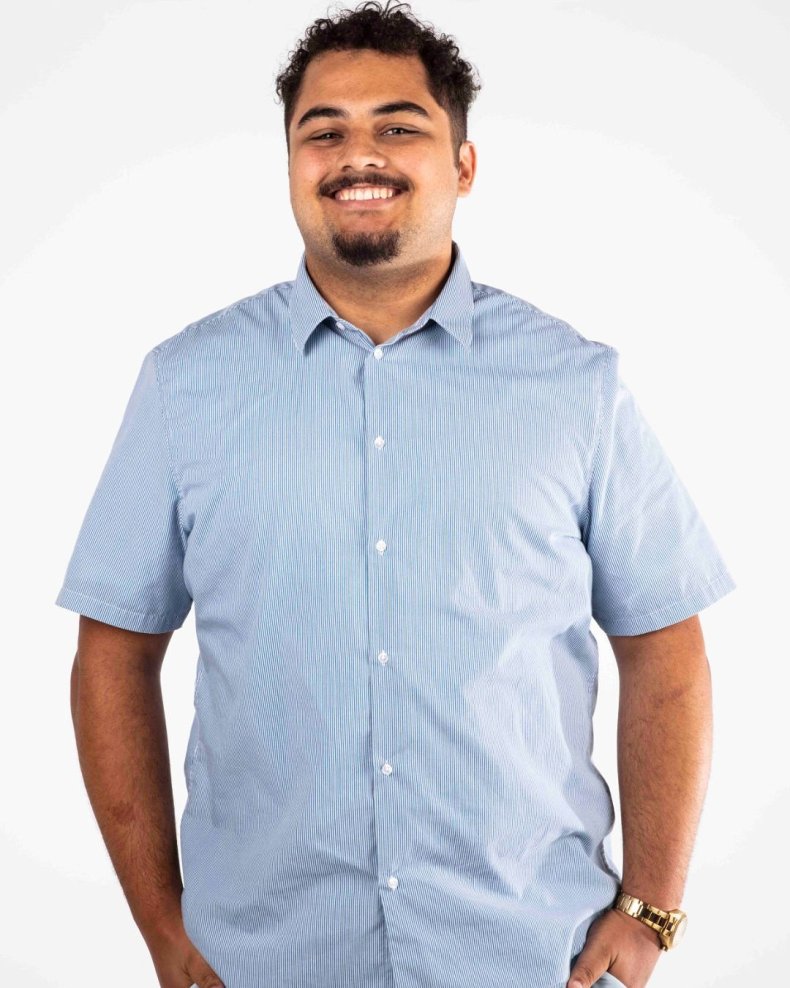 Gerrin Alexander, 21
Gerrin Alexander owns five pro-Trump hats, but has never worn one on campus at the University of Chicago, where she's majoring in political science and public policy. "The red cap is a trigger, so I wear my Trump shirt and socks, instead," she explains. Alexander, 21, keeps a relatively low profile on social media, too, but when she and others from the College Republicans spent a day at the shooting range, and photos were posted online, she was surprised to learn later that liberal students were beating her up behind her back. "Members of the Black organizations couldn't believe I was with the College Republicans. But they weren't saying it to my face, because they don't want to debate. That's what I learned from that experience," she tells Newsweek. "One of my friend's said, 'Wait, you're a Republican?' I said, 'Yes, I told you that.' But that's the other thing about the left: They don't listen." Alexander's profile, though, is about to grow exponentially, as she's a co-founder of the university's upcoming conservative paper, The Chicago Thinker, which will be something akin to The Dartmouth Review, which helped launch the careers of author/filmmaker Dinesh D'Souza and Fox News personality Laura Ingraham. Alexander will be senior opinion editor and hopes her grades won't suffer when her professors, one of them being "conservative" Pulitzer Prize–winning journalist Bret Stephens, learn she's a Trump supporter. "Bret is very vocal about his opinion that Trump is an idiot," she says. "Professors always say they welcome dissenting voices, but their style of teaching—I should say 'preaching'—doesn't feel like it. It's a whole bandwagon effect of bashing Trump," she said (the University of Chicago declined to comment). "When one professor found out I wasn't a fan of Obama, he completely freaked out and asked me if my parents knew. Of course they do." She adds: "I grew up in a Christian household. My parents weren't always political, but they grew frustrated with the world and its stupidity. There are things we will not vote for, and abortion is one; and we will always vote for the right to protect ourselves. At the end of the day, everything goes back to God's word."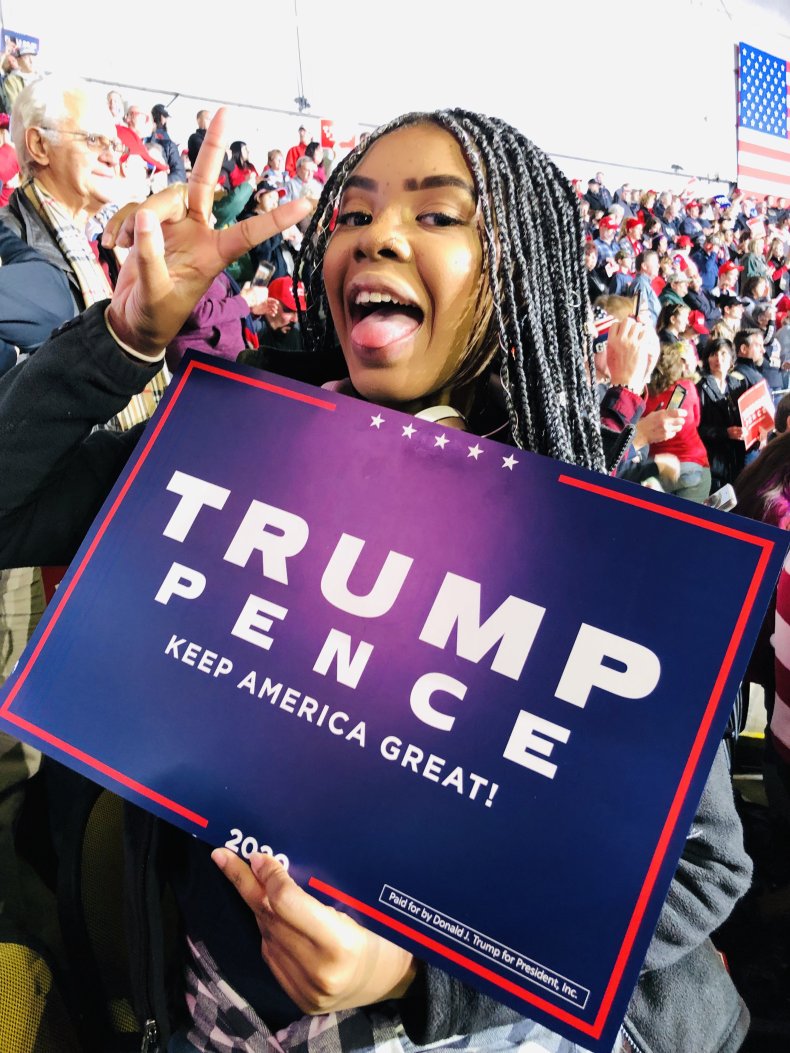 Omarr C. Peters, 23
Usually young conservatives complain about liberal bias in the classroom. But Omarr C. Peters, 23, says it was his political science professor, Glen J. Antizzo at Mississippi College, who turned him right. "He's a conservative who is unbiased in his teaching. He holds everyone accountable," said Peters, who was chairman of the College Republicans while a student. After graduating with a bachelor's degree in political science he worked as a field representative for the Leadership Institute, a nonprofit organization founded in 1979 by conservative activist Morton Blackwell, and he now works full time representing TPUSA in middle and south Georgia. Raised by parents who used to run their own church, Peters said an early brush with "cancel culture" was in June when he defended New Orleans Saints quarterback Drew Brees after he faced backlash for criticizing NFL players who kneel during the national anthem. "Someone I thought of as my own sister canceled me. Many people canceled me over Drew Brees. They called him a racist even though he has poured millions of dollars into Black communities in Louisiana. It's ridiculous," he said. "I get a lot of hate online. I was called an 'Uncle Tom,' a 'coon' and I just got my first death threat over supporting Trump." In the future, he intends on running for office. For now, he's working on initiatives designed to encourage college kids to think outside their liberal comfort zones, such as one involving a "Free Speech Ball," a gigantic beach ball that is passed around campus for students to sign. "It's our way to fight against 'free speech zones,' which shouldn't exist on colleges because the entire campus should be a free speech zone," he said. "I view TPUSA as a gateway to conservatism because we focus on economics. Trump's policies of growth and opportunity are helping Black and brown people," says Peters, who's also passionate about school choice and is a convert to the pro-life position. It all started with Antizzo, his former professor: "We'd have long conversations before class. He introduced me to College Republicans and TPUSA. It was transformative."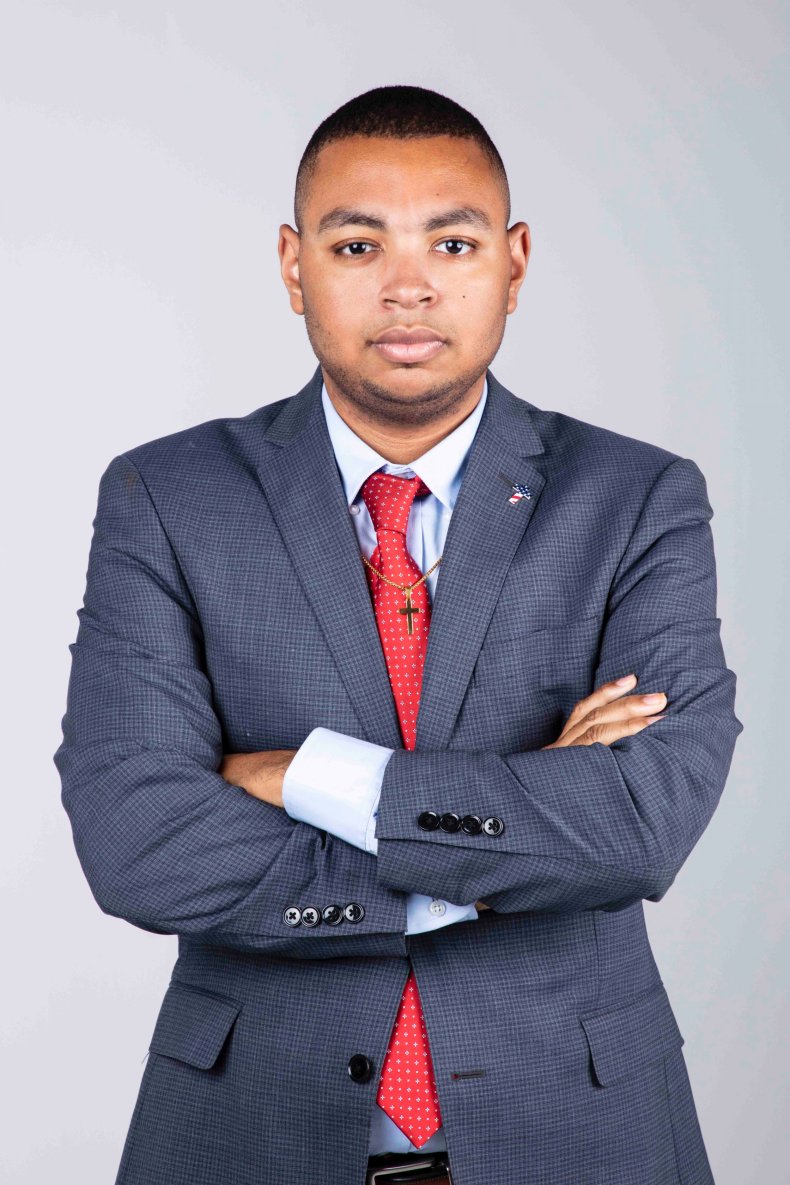 Daela Fraser, 23
On the surface, Daela Fraser seems like a conservative enigma—casting her ballot for Hillary Clinton in 2016, the first time she was old enough to vote, and joining clubs usually associated with the left, such as Gay-Straight Alliance and True Colors Gay Rights. She says, though, that she voted against Trump because she caved in to pressure from family and her professors at Elizabeth City State University in North Carolina. "Everyone told me a vote for Trump was a vote against Black America, and I believed it, even though I supported every position he spoke about." At 21, Fraser became the youngest member of the Pasquotank GOP and at 23 she's knocking on doors as a volunteer for Black Voices for Trump while also working full time at TPUSA as its urban engagement representative, a position that has her traveling nationwide to bring the conservative message to historically Black colleges and universities. "Small-government policies are not racist," she says. "I truly believe I was born conservative. I was raised by my grandparents, we went to church on Sundays and I was encouraged to read and have an open mind," she says. One initiative she brings to campuses is a big poster board with an image of Bernie Sanders, drawing in his supporters then debating them. "Liberal professors romanticize socialism. Our message is taxation is a form of theft," she says, adding that she'll be casting her presidential vote in November with more confidence than she had four years ago. "I cannot wait to vote for Trump. I'm so excited. No one can sway me this time."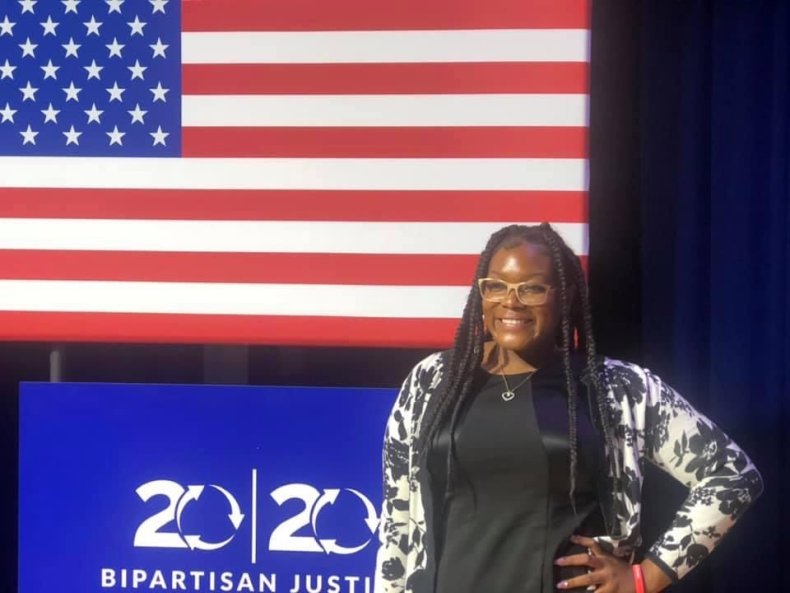 Cristian Clementi, 24
"I'm from Northern California, so I saw Berkeley burning and everyone going insane when Milo Yiannopoulos and other conservatives spoke there," says Cristian Clementi, a passionate proponent of free speech. While a junior at Grand Canyon University, he helped found a TPUSA chapter and eventually became its president. After the group hosted an event with Black conservative Brandon Tatum dubbed the Kanye Effect—"basically saying that Blacks are not victims and they can make their lives into whatever they choose"—it set off a yearlong battle between him and administrators, who made him sign a "social contract" stipulating they approve "prepared questions" and to make sure future speakers "respect the culture" of GCU, according to the document. "They kept that contract over our heads. They told us we crossed a line, but they never defined where the line was," he said (GCU acknowledged two staffers no longer with the college placed "overly restrictive conditions" on TPUSA that have since been rescinded). After graduating with a bachelor's degree in sports management, he took a full-time job with TPUSA as a senior field representative in south Florida, where he sets up chapters at colleges and high schools and books events—like one starring Charlie Kirk that drew 500 students at Florida State University. "I grew up very inquisitive. Whenever I asked my parents something, they said, 'Look it up yourself.' So when Trump ran for president and the media totally bombed, I looked up his platform and discovered he was on the money," he told Newsweek. Beyond his parents, he also credits his lifelong passion for wrestling for turning him right. "It taught me personal responsibility," he says. "I discovered in high school I was conservative, and didn't think much about it. Then I found out it was against the grain and wasn't cool, especially for a Black person." Unlike others on this list, though, he doesn't catch a lot of flack for being a political rebel. "I spend a lot of time speaking of freedom and liberty at colleges and the students who disagree just say nasty things as they walk by and won't stop for a discussion," he says. "Hey, I walked down the Hollywood Walk of Fame and posed for a photo on Donald Trump's star wearing a pro ICE immigration shirt and no one said a word."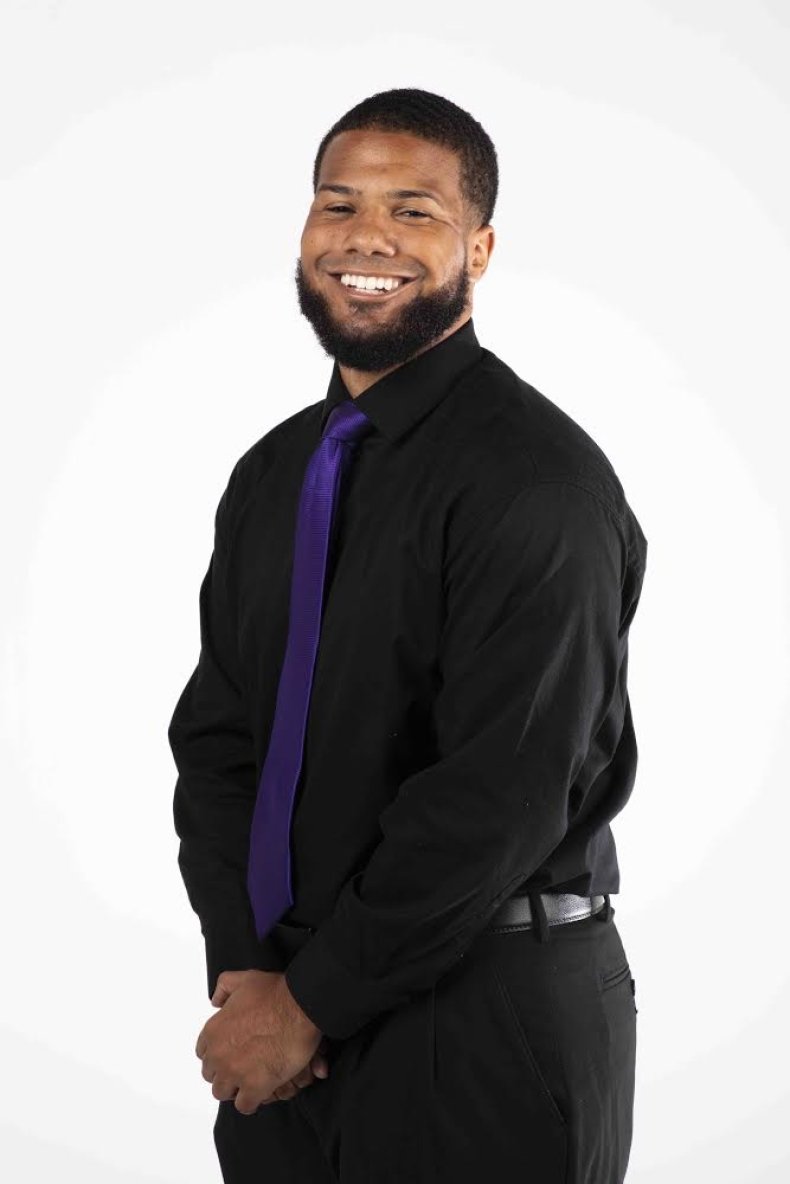 October 15: Story updated to include response from GCU and some of TSU's articles of impeachment.