Did Anyone Win Mega Millions $1.28BN Jackpot on Friday? Results Revealed
People across the United States will be frantically checking their tickets after Friday night's huge $1.28 billion Mega Millions draw, one of the largest prizes in the competition's history.
At 11 p.m. Friday's numbers were revealed to the public, after Tuesday's draw failed to produce a jackpot.
The five white balls were 13, 36, 45, 57 and 67, which were drawn alongside yellow ball 14.
A Megaplier of two was also selected, doubling the winnings of non-jackpot winners who purchased this option.
And one lucky winner from Illinois has walked away with the jackpot.
The winner, who matched all six balls, will be able to choose whether to receive the estimated $1.28 billion over the next 30 years, or an immediate cash sum of $747.2 million.
In total 26 users matched five white balls, each winning the second place prize of $1 million.
Six of these players had purchased the Megaplier, pushing their winnings up to $2 million.
Another 375 players walked away with $10,000 each, having matched four white balls and the yellow ball. Of these 68 had the Megaplier, so will see that figure double.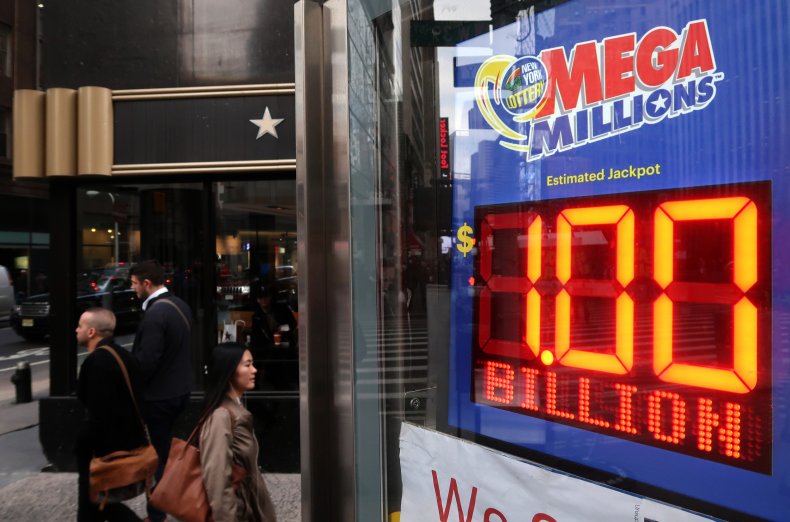 Further down the winnings list 8,517 players collected $500, of whom 1,466 had brought the Megaplier.
An astonishing 3,806,290 players won $4 each, having matched the white and yellow balls. Of these 641,004 will collect $8, having got the Megaplier.
The yellow ball was matched by 9,522,111 players who can claim $2, refunding the ticket price, except for the 1,610,258 who had Megaplier who will see it doubled.
It's been over a year since the last jackpot of over $1 billion was won, in January 2021 by the Wolverine FLL Club of Oakland County, Michigan.
The highest ever jackpot, of $1.5 billion, was picked up in October 2018 by an unnamed player in South Carolina.
If they choose to take their winnings in installments Friday's victor will get more than twice as much wealth as the entire nation of Tonga, which has 100,000 people.
According to IMF figures Tonga had a total GDP of $494,000 million in 2020.
Mega Millions draws take place twice a week, each Tuesday and Friday at 11 p.m. ET., and can be viewed on the official Mega Millions YouTube channel.
Five white balls are drawn, numbered from 1 to 70, along with a yellow ball with a number between 1 and 25.
Most states also sell Megaplier tickets, which increase any non-jackpot winnings by between two and five times.
Speaking to Newsweek Emily Irwin, managing director of advice and planning at Wells Fargo Wealth & Investment Management, gave guidance on what to do if you win a ticket.
She said: "Research shows that approximately 70 percent of lottery winners spend down their assets—their lottery winnings—and one-third of them even declare bankruptcy."
As a result if you win you should "actually take a pause and do nothing, because there is going to be a lot of chaos that follows if you hold that winning ticket".
Irwin also recommended creating a professional team which "is going to be able to guide you to make the best financial decisions for you and your family".
See the Mega Millions website for more information.