Mega-Wealthy American Billionaires Sign Open Letter Calling for 'Moderate Wealth Tax'
A group of mega-rich Americans have signed an open letter calling for a "patriotic" wealth tax on the wealthiest one percent of the population, arguing that such a "moderate" tax would strengthen "American freedom and democracy."
The letter, which was signed by billionaire investor and philanthropist George Soros, Disney heiress Abigail Disney, Facebook co-founder Chris Hughes and co-founders of the Blue Haven Initiative Liesel Pritzker Simmons and Ian Simmons among others, was first reported and published by The New York Times on Monday. In total, it was signed by 18 individuals representing 11 wealthy families.
"America has a moral, ethical and economic responsibility to tax our wealth more. A wealth tax could help address the climate crisis, improve the economy, improve health outcomes,fairly create opportunity, and strengthen our democratic freedoms. Instituting a wealth tax is in the interest of our republic," the letter argued.
At the start of the letter, the wealthy Americans state plainly that they support "a moderate wealth tax on the fortunes of the richest 1/10 of the richest 1 percent of Americans," pointing out that it would include them as well. They addressed their proposal to all 2020 presidential candidates, but specifically pointed to a plan put forward by Democratic 2020 contender Senator Elizabeth Warren of Massachusetts.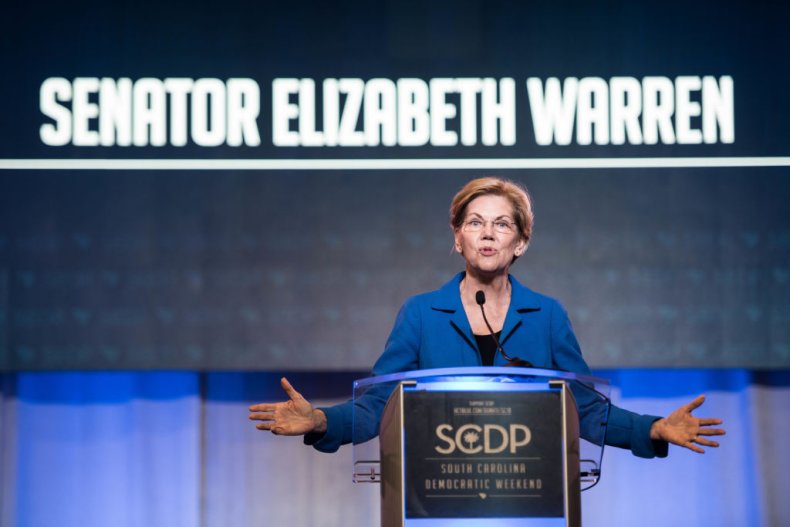 "The first specific candidate proposal, introduced by Senator Warren, would provide millions of families with a better shot at the American dream by taxing only 75,000 of the wealthiest families in the country," the letter said. It also pointed out that 2020 candidates Mayor Pete Buttigieg of South Bend, Indiana and former Representative Beto O'Rourke of Texas have voiced support for such a proposal.
While many Republicans and right-wing pundits have criticized increasing taxes on the wealthiest Americans, arguing that it would hurt the economy and slow growth, an analysis by the Federal Reserve recently found that the bottom half of Americans have seen their wealth decline by about $900 billion in the past 30 years, while the wealthiest one percent have seen their networth grow by $21 trillion.
Warren's goal is to manage this inequality by implementing a wealth tax on individuals and families with $50 million or more in assets. According to the senator's projections, the moderate tax would raise some $2.75 trillion in additional revenue for the government over 10 years. Warren's proposals would use this additional money to pay for a range of programs, such as drastically reduced healthcare and education costs, which includes student loan debt forgiveness for millions of Americans.
While many economists have supported Warren's proposals, others have argued that the wealthiest Americans will simply begin hiding their assets offshore. They've said that Warren's proposal did not take this into account, meaning the amount of taxes collected could be less than predicted. But others have argued that the tax could actually bring in even more revenue than predicted, also saying that the government simply needs to crack down on wealthy Americans finding loopholes to hide their assets.