Megan Fox's Engagement Ring Designed To Hurt Her if She Takes It Off
Machine Gun Kelly has revealed that the engagement ring he gave Megan Fox has been designed to "hurt" whenever she takes it off.
The stars announced their plan to marry in Instagram posts last week, sharing images of the proposal "beneath the same branches we fell in love under" and the sparkling Stephen Webster emerald and diamond ring.
In a new interview with Vogue, the 31-year-old musician has explained that thought went into how the ring would feel on Fox's hand, as well as how it would look.
"It's a thoroughbred Colombian emerald, with no treatment," said Machine Gun Kelly—real name Colson Baker. "It was just carved into the teardrop, straight out of the mine. And the diamond was directly from Stephen.
"The concept is that the ring can come apart to make two rings. When it's together, it's held in place by a magnet. So, you see how it snaps together? And then it forms an obscure heart. And you see this right here? The bands are actually thorns. So if she tries to take it off, it hurts..."
"Love is pain!" the "Rap Devil" performer added in the joint interview with his 35-year-old fiancée.
Elsewhere in the interview, Machine Gun Kelly said the footage of the proposal—which included multiple angles and closeups—was captured by his phone as it sat on a cup.
When asked by their interviewer if they had anticipated their engagement becoming such big news, Transformers star Fox said: "I don't really look at social media or anything, so I don't know."
Explaining why they opted to share their intimate moment on social media, the rapper said they would rather the images came from them.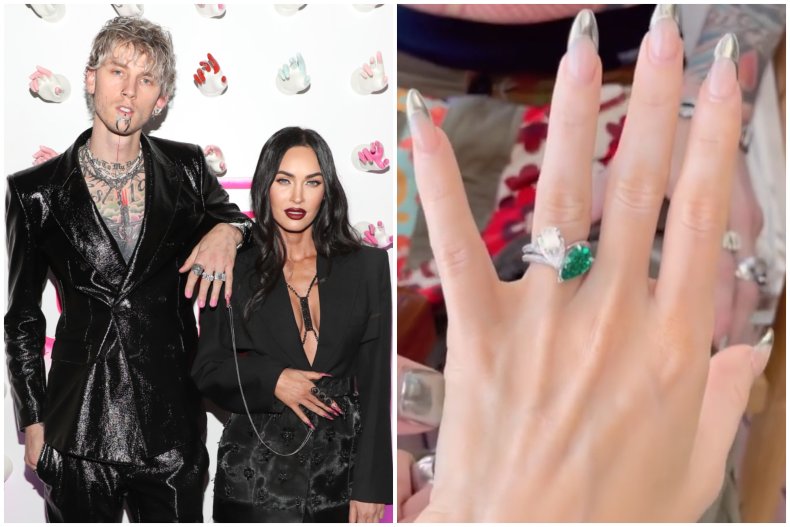 "We released it to control the narrative," he said. "As opposed to someone just catching a weird cell phone picture of a ring on our hand and being like, whoa! But yeah, I didn't expect [the big reaction].
"I just recorded it on my cell phone. And it wasn't like we had photographers or anything. It was just like me setting my phone against a cup."
Machine Gun Kelly posted a video of his fiancée's jewel-adorned ring finger with the caption: "'yes, in this life and every life' beneath the same branches we fell in love under, i brought her back to ask her to marry me."
He added of the ring: "i know tradition is one ring, but i designed it with Stephen Webster to be two: the emerald (her birth stone) and the diamond (my birth stone) set on two magnetic bands of thorns that draw together as two halves of the same soul forming the obscure heart that is our love. 1-11-2022."
Fox also mentioned the significance of the proposal's location in her Instagram caption.
She wrote: "In July of 2020 we sat under this banyan tree. We asked for magic. We were oblivious to the pain we would face together in such a short, frenetic period of time.
"Unaware of the work and sacrifices the relationship would require from us but intoxicated off of the love. And the karma.
"Somehow a year and a half later, having walked through hell together, and having laughed more than I ever imagined possible, he asked me to marry him.
"And just as in every lifetime before this one, and as in every lifetime that will follow it, I said yes."
Her caption ended with a statement that set off an avalanche of social media jokes: "...and then we drank each other's blood."
The couple met on the set of their movie Midnight in the Switchgrass, which began filming in March 2020. They went Instagram official in July 2020.
Fox's split from Brian Austin Green was confirmed in May 2020 after 10 years of marriage. They have three sons—Noah Shannon, 9, Bodhi Ransom, 7, and Journey River, 5.
Machine Gun Kelly is the father of a 12-year-old daughter, Casie, with Emma Cannon.