Megan Rapinoe Decries Legislation Banning Transgender Kids From Sports, 'Hurts Everyone'
U.S. soccer star Megan Rapinoe denounced the recent legislative push across the country to ban transgender kids from participating in school sports, writing in a new op-ed that "discrimination hurts everyone."
In the piece published in The Washington Post on Sunday, Rapinoe, who identifies as a member of the LBGTQ community, called legislation meant to discriminate against trans athletes an "intense political assault on LBGTQ people."
"Transgender kids deserve the same chances to enjoy sports; to gain confidence, self-respect and leadership skills; and to learn what it means to be part of a team. When we tell transgender girls that they can't play girls' sports — or transgender boys that they can't play boys' sports — they miss out on these important experiences and opportunities. And we lose the right to say we care about children," she wrote.
"Discrimination hurts everyone. We're stronger as teams, and as a country, when all people who love sports have a chance to have their lives changed for the better, just like I did," she added.
Rapinoe also said that a number of women's organizations – including the Women's Sports Foundation, National Women's Law Center and Gender Justice, and sports icons Billie Jean King and Candace Parker – also agree that transgender girls and women belong in sports and should be able to participate alongside other girls and women.
"I want every transgender kid out there to know that they can live their dreams and be true to who they are. For them to realize those dreams, they need to be allowed to play," she wrote.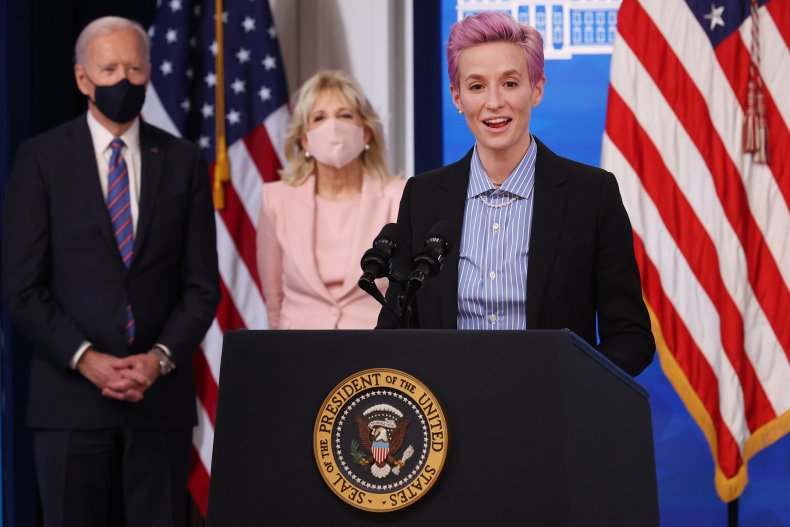 Rapinoe plays soccer in the National Women's Soccer League and the U.S. Women's National Team. She is also an Olympic gold medalist, two-time FIFA Women's World Cup champion, and an activist for equal pay opportunities in sports.
Her op-ed comes amid growing support for legislation to ban transgender students from participating in athletic programs. According to the American Civil Liberties Union, 25 states have so far introduced bills to ban transgender women and girls from participating in women's sports.
Those in favor of preventing trans women from competing in women's sports often suggest that male hormones that develop through puberty would give trans women an unfair advantage because of the strength they confer.
Last month, members of Congress debated the rights of trans individuals through the Equality Act, a bill that is meant to expand LBGTQ rights by prohibiting discrimination based on sexual orientation and gender identity.
Representative Marjorie Taylor Greene of Georgia was among several GOP lawmakers to oppose the act, by echoing concerns that it would "completely violate and destroy the rights of girls and women."
But in her op-ed, Rapinoe rejected that claim and said that the true threats to women's and girls' athletics are lack of funding, resources and media coverage, sexual harassment, and unequal pay.
"We can celebrate all girls and women in sports while ensuring trans people aren't discriminated against. That is why all women must stand up and demand that exclusion is not done in our name," Rapinoe wrote.
The U.S. soccer star was also invited to meet with President Joe Biden this past Wednesday during an "Equal Pay Day" event, in which she discussed facing pay discrimination based on gender identity.
"Equal pay, and equality in general, is a deep and personal passion of mine," she said during the event, Yahoo! Sports reported.
"What we've learned, and what we've continued to learn, is that there's no level of status, there's no accomplishment or power, that will protect you from the clutches of inequality. One cannot simply outperform inequality, or be excellent enough to escape discrimination of any kind," she added.
Newsweek contacted the White House for additional comment, but did not hear back in time for publication.