U.S. Women National Team star Megan Rapinoe praised Colin Kaepernick for protesting against racial inequality and police brutality, despite knowing he could put his own career in jeopardy.
The then-San Francisco 49ers quarterback became a global icon in 2016 when he refused to stand for the national anthem and took a knee to highlight the issue of racial discrimination and the police treatment of African Americans.
The gesture split public opinion and became a thorny political issue for the NFL when President Donald Trump publicly condemned Kaepernick's protests and urged team owners to fire players who refused to stand during the anthem.
Speaking at the opening of the ESPYs ceremony on Sunday, Rapinoe praised the former Nevada alumnus for "not shying away" from crucial social issues, even though his conduct may well have cost him the chance to play in the NFL.
"Colin Kaepernick never shied away," Rapinoe said in the introductory monologue. "He knew that discomfort was essential to liberation, and that fighting the oppression against Black people is bigger than sports.
"So will it be uncomfortable? Yes. In speaking up, will we make mistakes? Yes. That cannot stop us from trying, and not just for a few days or for a few [Instagram] posts."
Rapinoe was among the athletes to support Kaepernick's protests and took a knee herself before USWNT games, prompting the U.S. Soccer Federation to pass a rule requiring all players to stand for the national anthem.
Introduced in 2017, the requirement was repealed earlier this month when U.S. Soccer admitted the "policy was wrong and detracted from the important message of Black Lives Matter." The NFL introduced a similar policy a year later, requiring all players to stand during the national anthem or be given the option to stay in the locker room.
The policy drew criticism from a number of players as the NFL introduced it without consulting the NFL Players Association.
While the NFL is yet to follow into the footsteps of the U.S. Soccer Federation, it has drastically changed its stance over protests against racism and police brutality in the wake of the nationwide protests sparked by the death of George Floyd while in police custody on May 25.
Earlier this month, NFL commissioner Roger Goodell condemned racism and acknowledged the league had not done enough to heed black players' calls for justice.
While Goodell did not address Kaepernick nor the anthem issue directly, he backed players to "protest peacefully," which was interpreted as a green light for players to kneel during the anthem.
Last week, the NFL commissioner was even more conciliatory, directly encouraging teams to sign the former 49ers quarterback.
"If he wants to resume his career in the NFL, then obviously it's going to take a team to make that decision," Goodell told Mike Greenberg of ESPN.
"But I welcome that, support a club making that decision and encourage them to do that.
"If his efforts are not on the field but continuing to work in this space, we welcome him to that table and to help us, guide us, help us make better decisions about the kinds of things that need to be done in the communities."
Rapinoe's message on Sunday was echoed by Seattle Seahawks quarterback Russell Wilson, who co-hosted the ESPY along with the USWNT star and WNBA great Sue Bird.
Sporting a Black Lives Matter T-shirt, Wilson said the U.S. still had a long way to go in its quest to eradicate racism.
"Our country's work is not anywhere close to done. We need justice," he said.
"I look at my children and I pray for a better future. A world where the color of their brown skin doesn't stop them from their calling, from their purpose and from their destiny.
"I pray for a world where I don't have to fear for my children from systemic racism due to hundreds of years of oppression. The only thing that must die is racism. Black Lives Matter."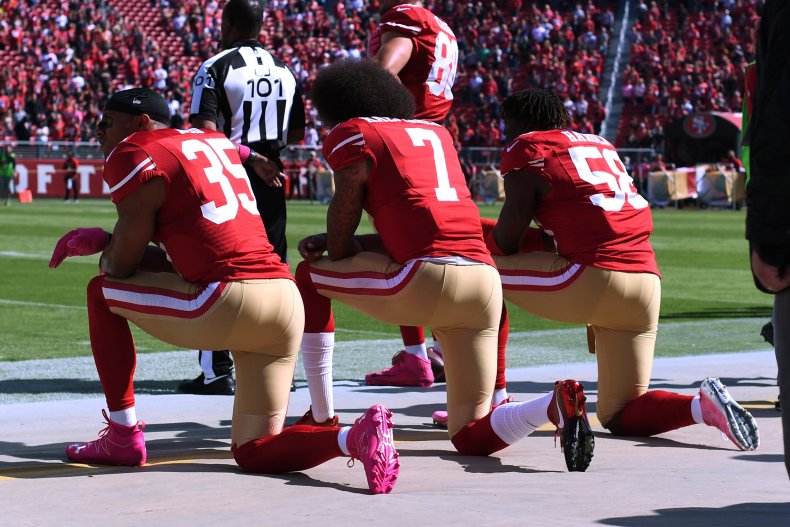 About the writer
Dan Cancian is currently a reporter for Newsweek based in London, England. Prior to joining Newsweek in January 2018, he was a news and business reporter at International Business Times UK. Dan has also written for The Guardian and The Observer.