Megan Thee Stallion Blasts Music Exec J Prince After He Called Her Out
Megan Thee Stallion is standing her ground after she was blasted by music executive J Prince for allegedly breaching her contract with her first music label.
Megan started her career with the indie label 1501 Certified Entertainment, started by former baseball pro Carl Crawford, though as a public social media argument escalated, Megan stated "If you wanna be real[...], I developed 1501."
Late on Tuesday night, J Prince wrote a lengthy Instagram post, explaining the situation between the label and Megan as he sees it, and accused the rapper of multiple breaches in contract. This led "WAP" singer Megan to speak her mind on Twitter, throwing multiple accusations of her own at J Prince and Crawford.
Megan Thee Stallion originally signed with 1501 Certified Entertainment in early 2018. By 2020 she announced that she was attempting to renegotiate her contract with 1501 and delayed the release of her debut album as a result.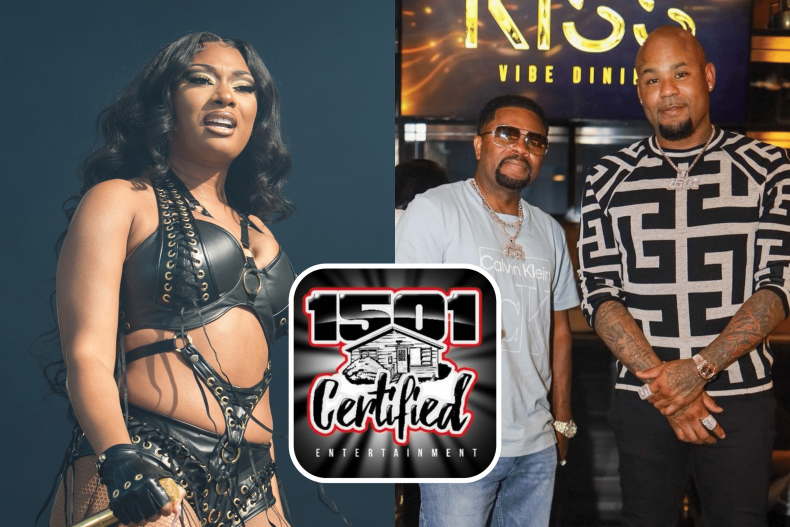 In speaking out, she used the hashtag "#FreeTheeStallion" claiming that she did not understand some of the "verbiage" in the initial contract when she first signed. J Prince took issue with Megan's claims against the contract in his lengthy Instagram post.
"For years we have stood by quietly as Megan Thee Stallion (MTS) and her [management] at Roc Nation (RN) has lied about Carl Crawford and his 1501 label," Prince wrote.
"From 1501's earliest agreement with Megan, long before MTS was a household name ; 1501 generously agreed to give Megan 40% of its PROFITS which is substantially more than the customary record royalty that a new artist receives from a record label." Prince continued, "Any attempt by MTS or RN to portray a contract that provides a new unknown artist with 40% of the label's PROFITS as unconscionable or unfair is blatantly false and contrary to the customs or norms in the music industry."
He went on to claim that any statements made by Megan or Roc Nation suggesting that the 1501 contract is "unconscionable" are "blatantly false." He went on to state that Megan has "consistently and intentionally breached her 1501 contract" for years in "ways that are too numerous to list here." He did in fact list a number of ways in which he believes Megan had breached her contract with 1501, and finished with a recent accusation made against the label.
Prince stated that Megan is now "falsely alleging that 1501 leaked her album when the album was always intended by Megan to be released on 8/19 and where the leak actually hurt 1501 as much, if not more than Megan."
After her second studio album Traumazine leaked earlier in August, she once again went on a Twitter tirade, taking aim at her label and writing "let me gooo lol."
J Prince's Instagram message was written alongside a picture of himself and Crawford. A following picture featured the words, "Every lie we tell incurs a debt to the truth and sooner or later that debt must be paid."
Not long after Prince had made his statement on Instagram, Megan replied over on Twitter.
"Im so over these grown ass men trying to take credit away from the work me and my mama put into the beginning of my career," she wrote, the first of 13 tweets sent on Tuesday night. "Me and my mom "developed" my career I was already known for free styling and I was already working on Tina snow before I got to 1501."
Tina Snow, which is now Megan's Twitter name, is the name of her second EP which was released with 1501 Certified.
She said the founders of 1501 Certified "who just started a label for the FIRST time were not gonna be able to manage me PROPERLY so I got with Roc [Nation]."
"By this time I was a bigger artist and I asked to renegotiate... NOT LEAVE what was wrong with that ? That man is GREEDY," Megan continued, explaining the dispute to her fans from her perspective.
"Like for this man to keep getting on the internet with his back up to talk like he made me is ridiculous... was you writing my songs ? Were you with me in my dorm room recording me rapping ? What abt all that rapping out side my mamma car ? Think cyphers?? I ain't even know YOU."
She went on to point out that other people who signed with 1501 will have the same story as each other. She pointed out that in her opinion, Crawford is "fake" and "talked so much s***" about J Prince.
The 1501 Certified Twitter account got involved in the dispute too, referring to the tweet about Crawford and Prince. "Now she sending out tweets tryna cause division between me and J," the tweet read, which was then reposted by Crawford on his Instagram account.
Newsweek has reached out to Megan Thee Stallion, Roc Nation, J Prince and Carl Crawford for further comment.
Megan is embroiled in a legal back-and-forth with 1501, and recently amended legal documents, obtained by Variety, revealed she wants $1 million in damages from the label.
She is also asking the Harris County District Court for her 2021 release, Something for Thee Hotties, to be defined as an album. If the judge rules in her favor, it's believed she will have completed her contractual obligations to 1501 and will be able to leave the label.
Correction 08/24/22 11:30 a.m. EDT: This article was updated to correct the spelling of the EP from "Three" to "Thee."