'Voice' Star Meghan Linsey Defends Her National Anthem Knee Despite Backlash From Country Fans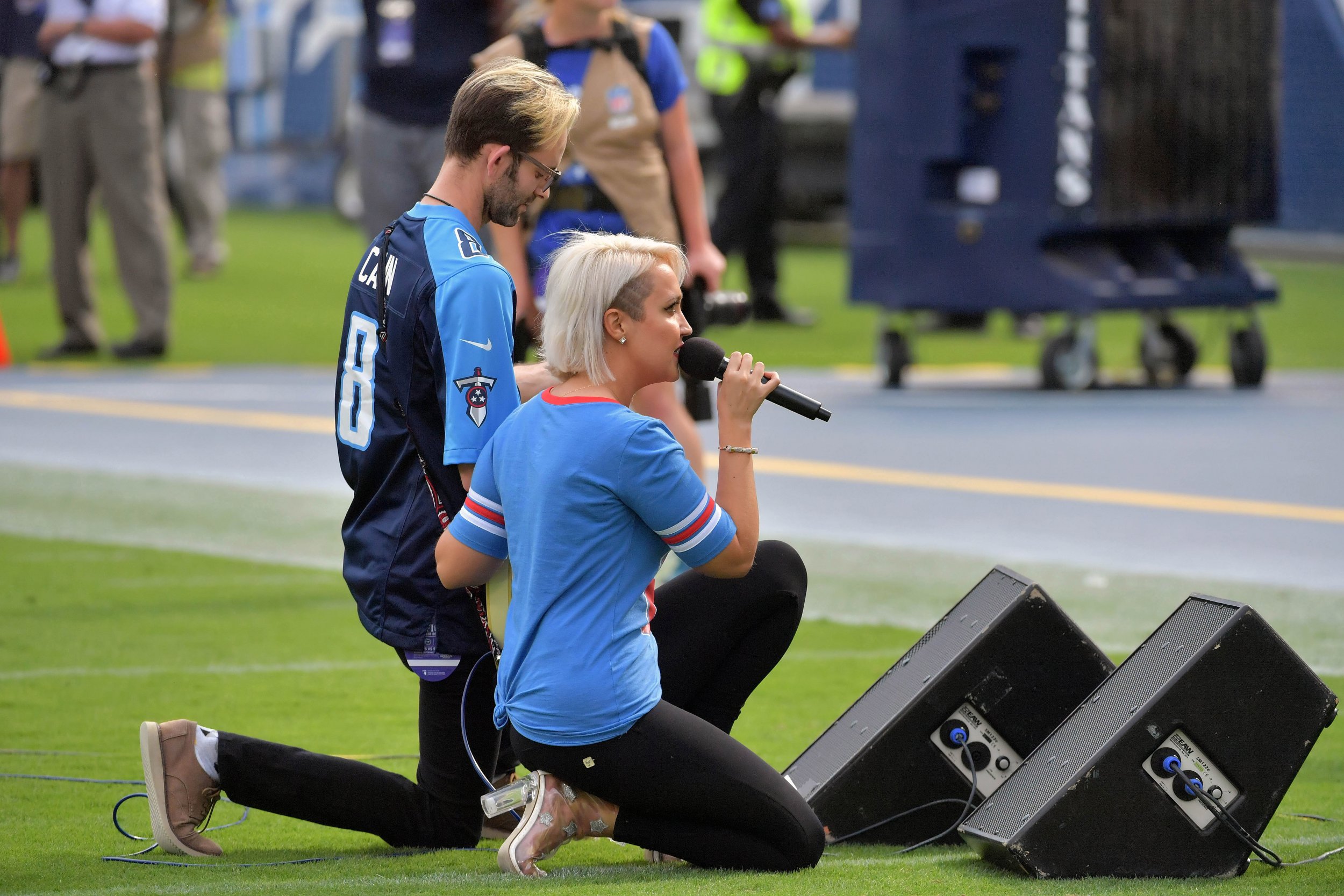 UPDATED | Country star Meghan Linsey, who angered some fans when she took a knee after her rendition of the national anthem on Sunday in Nashville, fired back at critics, saying her peaceful one-woman protest against President Donald Trump's rhetoric "was the right thing to do."
Both the Seattle Seahawks and the Tennessee Titans remained in their locker rooms rather than participating in the national anthem, so Linsey and her guitarist, Tyler Cain, performed on a nearly empty field. Linsey, a former finalist on The Voice in Season 8, was slammed by some fans for taking a knee in support of NFL players, but Linsey said she knew what she was doing.
"I am a white, blonde, privileged woman in the music industry, and I knew the weight it would carry, and I knew I had to do it," Linsey told Newsweek. "I wanted to take a stand for people of color facing police brutality. Yesterday was not a demonstration against anyone, it was purely in support and solidarity with the NFL players."
The Louisiana native made a name in country music—an audience she knows is generally supportive of President Donald Trump—but she said kneeling at the end of the anthem was done "out of love" for the country and a desire to show solidarity with people of color facing police brutality.
"No one is doing it, especially in Nashville," Linsey told Newsweek. "Tennessee is a red state. People are scared to voice their opinion, and a lot of country music stars are Republican and conservative. I've gotten a lot of negative comments, but I've also had people reach out and say I gained new fans."
The singer's protest thrust her to the center of the political conversation in country music, an industry that has long feared the retribution that occurred when the Dixie Chicks spoke out against President George W. Bush in 2003 and were accused of being unpatriotic by their country-loving base. Radney Foster, a singer and songwriter, told Billboard that "the Dixie Chicks' black cloud looms over the entire industry in Nashville."
On Twitter, Linsey was compared to the Dixie Chicks and quickly criticized by Fox News host Todd Starnes, who pinned a tweet: "If you are so offended by the #NationalAnthem - why did you agree to sing it?" and said Linsey tried "to disrespect Gold Star Mothers & Families. Shame on you."
Linsey did not engage with critics on Twitter but retweeted a comment that defended her: "No she kneeled to protest Trump condemning football players while staying silent about white nationalists."
She told Newsweek, "I didn't realize how much hate there was in the world. I'm a proud American and I do love this country, it wasn't a stand against anyone. I had a platform and I had to do what's right."
Linsey's guitarist, Tyler Cain, posted on Facebook that his father and grandfather in the military taught him to stand up for what's right, and that respect for the national anthem means supporting the freedom it represents to take a knee.
"Meghan and I made the decision to take a knee after the performance as a show of support to those who deal with social injustice and oppression" Cain posted. "After 15 years grinding in the Nashville music business, I would not be able to sleep at night if we didn't use this opportunity to peacefully promote social equality."​
Linsey made the decision early Sunday morning, after seeing President Trump lash out at athletes who silently protested police brutality by kneeling during the national anthem. The president denounced the action as "very disrespectful to the flag" and called on NFL fans to boycott the games. Linsey said she was in a position to take a stand against racism and white supremacy.
"I love America. I'm not unpatriotic. I appreciate our men and women in uniform. That's not the issue. I think the issue is the things that are happening around us with racism, and Trump will come out and openly condemn NFL players for peacefully protesting, but then these white national terrorists bring their tiki torches and cause this violence, and then he has nothing to say," Linsey told Yahoo.
Stevie Wonder, John Legend and other artists got down on one knee during concerts over the weekend to show solidarity with the players. Players in the NBA, NFL and even Major League Baseball joined the protests.
Linsey said she built her music platform on empowerment and loving people "whatever color, whatever sexual orientation" they are, and that the day she sang the national anthem, she knew she had to stand by those beliefs.
"You're making a choice when you walk out there, however you handle it," she said. "If you don't take a knee, it's like, what do you stand for? For me, anything else wasn't an option."
The Voice returns to NBC for its 13th season Monday night.