Meghan Markle's Archetypes Trademark 'Builds a Castle' Around Her Brand
The audio arm of Meghan Markle and Prince Harry's media output, Archewell Audio, has filed an application to trademark the word Archetypes according to the United States Patent and Trademark Office database, signaling their "serious intent" to build a "market leading podcast" Newsweek has learned.
The application was filed two days after the announcement of Meghan's forthcoming podcast with Spotify using Archetypes as its title, last month.
In a trailer for the podcast due to be released this summer, Meghan states that the aim of the series is to "dissect, explore and subvert the labels that try to hold women back," and will form a part of the Sussexes' multi-million dollar deal with Spotify signed in 2020.
If the trademark filing made by Archewell Audio is successful, the word Archetypes would be protected for use in entertainment services namely podcasts, audio and visual web series, on-demand streaming media and live stage performances.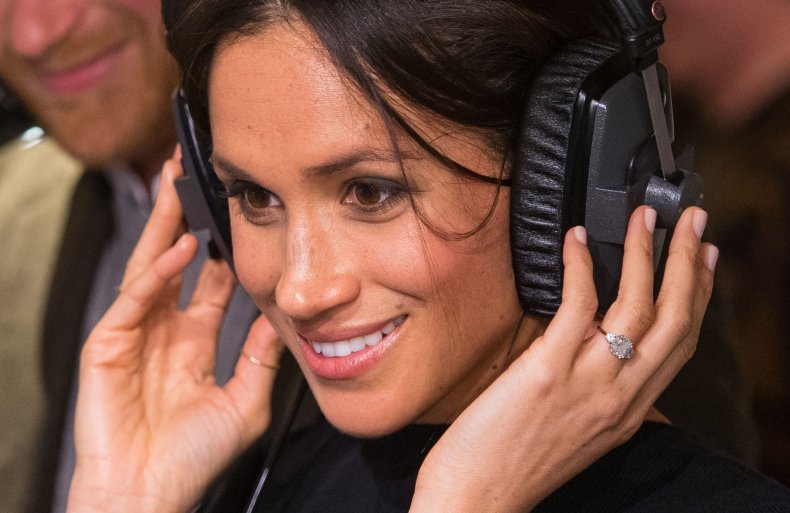 The filing of the trademark application has prompted criticism of Meghan who is undertaking the Archetypes podcast as a solo endeavor. The Daily Mail has called the move a bid by the duchess "to stop anyone else using the word—which first appeared in the English language 470 years ago—after deciding to use it for the title of her Spotify podcast."
In contrast, Kate Cheney, Director of Trademarks with the legal firm Clarke Willmott, told Newsweek that the filing of such an application by Archewell Audio on behalf of Meghan's podcast "makes very good commercial sense."
She continued: "It should be [standard practice for any brand]. We always advise clients however big or small they are to file a trademark as soon as possible because in most jurisdictions it's a 'first to file' system. So whoever gets there first with their trademark application would get their trademark registered."
In terms of why trademarking the word Archtypes is so important to Meghan's building her podcast into a successful brand, Paul Mackman, Managing Director of Mackman Branding & Marketing Agency told Newsweek:
"Trademarking is an important element of building and protecting a brand. The Duke and Duchess of Sussex are signaling serious intent to invest and build 'Archetypes' into a market leading podcast."
He continued: "The benefits to trademarking brands are all about protection and defense. The Sussex royals are building a castle around their brand assets by trademarking. It helps to prevent others impersonating or stealing brand assets."
There is no guarantee that the Archewell Audio filing of a trademark application for Archetypes will be accepted though, as Cheney told Newsweek.
"The application could easily not go through," Cheney said. "In the U.S, trademark applications are rejected if there is a mark already on the register that is the same or similar covering the same or similar goods or services. It's not an automatic process"
There is therefore a chance that the application could be rejected as there are similar trademarks for variations on Archetype which are currently live belonging to—among others—venture capitalist companies and a computer game entertainment operation.
So far as the initial filing is concerned though, Mackman believes that Meghan and Harry are doing everything practical to protect themselves, the podcast and its potential growth into a powerful brand. He told Newsweek: "Their action shows that they are taking the process of building a credible brand entirely sensibly."
Archetypes podcast is scheduled for release exclusively through Spotify this summer with Meghan as its host, produced by Archewell Audio in partnership with Gimlet Media.