Meghan Markle says fears for Baby Archie pushed her away from controversial topics and towards "straight forward" subjects "like exercising your right to vote."
The Duchess of Sussex said she would not be able to "feel proud of myself as a mom" without trying to make the world "a better place" her son.
However, she also said she is "cautious of putting my family in a position of risk" by saying anything too controversial.
Republican Congressman Jason Smith last week called on the British Government to stop Meghan and husband Prince Harry interfering in the election.
It followed a backlash among British commentators when Meghan urged Americans to vote in a message for a Michelle Obama-backed registration drive.
In an interview with Fortune, Meghan said yesterday: "You go, every single day, how can I make this better for him? How can I make this world better for Archie?
"And that is a shared belief between my husband and I. At the same time I am cautious of putting my family in a position of risk by certain things.
"I try to be very clear with what I say and to not make it controversial but instead to talk about things which seem fairly straight forward, like exercising your right to vote.
"I think that is as simple as it comes and as necessary as it comes.
"As a parent, I can enjoy all of the fun and silliness and games with my son but I wouldn't be able to feel proud of myself as a mom if I didn't know that I wasn't doing my part to make it a better place for him."
Meghan first urged young Americans to vote in a video for graduating students of Immaculate Heart, her old Los Angeles high school, in June.
However, the backlash began in August when she called for "the change we all need and deserve" and said "we all know what's at stake this year" in comments for Michelle Obama's When We All Vote.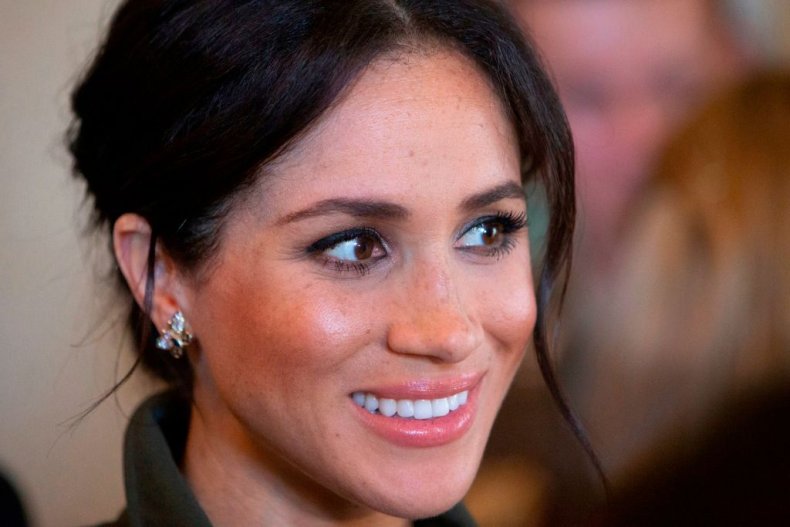 The duchess has not declared support for any presidential candidate but did say she was "so excited" about Kamala Harris' bid as a woman of color to become vice president.
Calls for Meghan and Harry to be stripped of their titles began among British commentators but last week Smith, who represents Missouri, wrote to the British ambassador in Washington.
In the letter, posted on Twitter, he wrote: "As you know, the British Royal Family has long observed a policy of strict neutrality in regard to political matters.
"I am therefore concerned by the Duke and Duchess of Sussex's recent comments regarding the United States Presidential Election, especially given international conversations surrounding foreign interference in our elections and the Duke's status as a guest of the United States."
He added: "I respectfully request the British Government ensure The Duke and Duchess of Sussex no longer attempt to interfere in our election or be stripped of all titles, styles, and privileges which they currently retain."
Counter terror police were called in after Meghan was sent white powder alongside a racist letter claiming the substance was anthrax in 2018.
The note was intercepted during a routine security sweep but specialists were called in to test the powder, which turned out to be harmless.
During her talk for Fortune's Most Powerful Women summit, Meghan compared social media to drug addiction.
She said: "I have for my own self preservation not been on social media for a very long time. I had a personal account years ago which I closed down.
"Then we had one through the institution and our office that was in the UK. But that wasn't managed by us. That was a whole team.
"That comes with the territory for the job that you have.
"I have made a personal choice to not have any account, so I don't know what's out there and in many ways that's helpful for me.
"I have a lot of concerns for people who have become obsessed with it. It is so much a part of our daily culture for so many people.
"It is an addiction, like many others. There are very few things in this world where you call the person who's engaging with it 'a user'.
"People who are addicted to drugs are called users and people who are on social media are called users."