Harry and Meghan Documentary: Meghan Markle's 'Stiff Upper Lip' and Royal Pressure Admissions Win Over Viewers
Meghan Markle's frank admissions about how negative stories in the tabloid press have affected her, as well as her struggles adjusting to motherhood, won over the U.K. television audience on Sunday night.
U.K. broadcaster ITV aired its documentary special, Harry & Meghan: An African Journey, filmed in late September and early October during the royals' African royal tour, during primetime Sunday—four days before it airs on ABC in the U.S.
In the documentary, fronted by ITV journalist Tom Bradby, the Duchess of Sussex made several honest remarks, including the toll that the negativity of the British press has taken her on her. "Any woman, especially when they're pregnant, you're really vulnerable," said Markle. "So that was made really challenging. And when you have a newborn... it's a lot. You add this on top of being a new mom or trying to be a newlywed." Markle thanked Bradby for asking if she's OK, saying, "Not many people have asked if I'm OK."
Meghan Markle shuns British "stiff upper lip"
In another enlightening moment in the documentary, Markle spoke about the pressure of living under public scrutiny, particularly from the tabloid media. "It's not enough just to survive something," Markle said. "That's not the point of life. You've got to thrive. You've got to be happy."
"I really tried to adopt this British sensibility of a stiff upper lip. I tried. I really tried. But I think that what that does internally is probably really damaging," said Markle.
The former Suits actress also revealed that she was told by her British friends not to date Prince Harry because "the British tabloids will destroy your life."
"I very naively [said]—I'm American, we don't have that there—'What are you talking about? That doesn't make any sense, I'm not in tabloids.' I didn't get it. It's been complicated."
Markle's honesty in the ITV special inspired a lot of sympathy for the royal, who earlier this month announced she would sue a major British newspaper for publishing private information.
"Diana would've loved Meghan because she is an amazing person," said one Twitter user referring to Prince Harry's late mother, Princess Diana.
"Whew, we just might have to go get Meghan, Harry and that baby. I'm not seeing it for England," tweeted Saeed Jones.
"If you don't feel any sympathy for Meghan Markle after that interview, I suggest you go check if you still have a pulse," said another tweet. "It even baffles me, as a born and bred British man, that so many British people can be so unabashedly cruel and vindictive."
Another person tweeted: "This full chat with Tom and Meghan is so raw. A remarkable, intelligent, compassionate woman who deserves absolutely none of this abuse. Listen to her, how can anyone even try and justify it?"
One viewer, Kayleigh Walsh, tweeted: "I really find Meghan so breathtaking. She's captivating, intelligent and so genuine. I think she's doing a brilliant job at adapting to her new life and role."
"Dunno how you can watch this and not feel a slither of sympathy. I couldn't go through what Meghan's been subjected to now, never mind throughout pregnancy & whilst becoming a new mom. Absolutely mind blowing," said another viewer.
The graphic below, provided by Statista, illustrates public opinion on the press coverage of the royal family.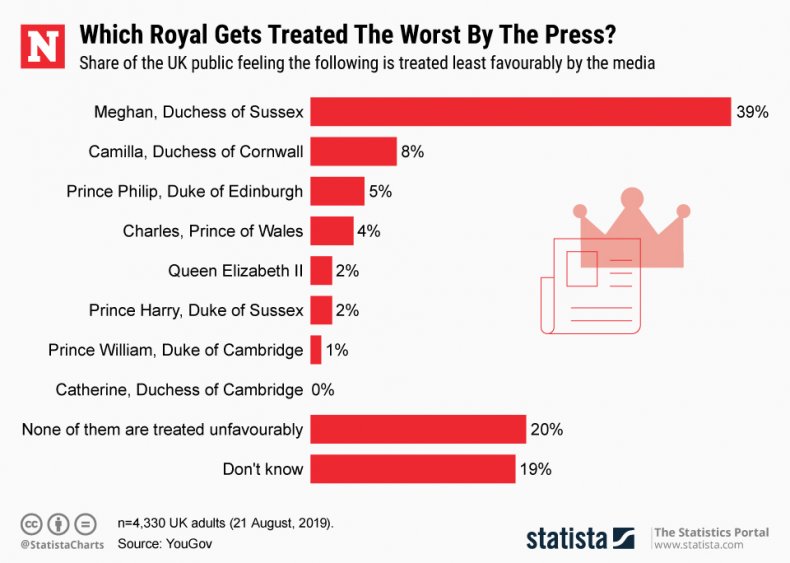 Harry & Meghan: An African Journey airs on Wednesday at 10 p.m. on ABC.
This article was updated to include an infographic.