Meghan Markle Interviews 'Increasingly Hard to Defend,' Says Piers Morgan's Former Co-Star
Meghan Markle is facing criticism for participating in a new interview with Ellen DeGeneres, as Piers Morgan's former co-star lashed out at the former royal.
Susanna Reid of Good Morning Britain said that Meghan Markle is becoming "increasingly hard to defend" after the U.K. breakfast time show aired a trailer of the upcoming interview.
"Now, the last time we saw...," Reid paused, before clearing her throat and saying: "So slightly discombobulated... the last time we saw Meghan on a chat show she was doing the big reveal on Oprah," Reid said, when discussing the DeGeneres interview on Thursday's episode of the ITV show.
"Goodness me, she put a rocket under practically everything frankly, from the royal family to this program.
"Well, shall we have a little listen to what Meghan says?" Reid said, adding: "You would imagine that they would put out a clip perhaps about Harry, or perhaps her feelings about the royal family, or perhaps about everything that has happened in the wake of that. But no, we go right back to her humble, hard-working roots... let's have a look."
DeGeneres shared a trailer for the interview on her Twitter account, and the clip chosen shows Markle discussing her former career as an actress and sharing an anecdote about attending auditions in Hollywood in her old, run-down car.
Describing the "very, very old" Ford Explorer Sport, Meghan Markle said that the key had stopped working in the driver's side door.
"I would open the trunk and climb in and then pull it shut behind me and crawl over all my seats to get out, that's how I would come to and fro," she said.
When asked if anyone ever saw her unique way of exiting her car, Meghan Markle replied: "No, I would play it off. I'd go like, 'Oh, I'm just looking for my resume and my highlighters or my script.'"
DeGeneres captioned the trailer saying that "a lot has changed" in the Duchess of Sussex's life since those days.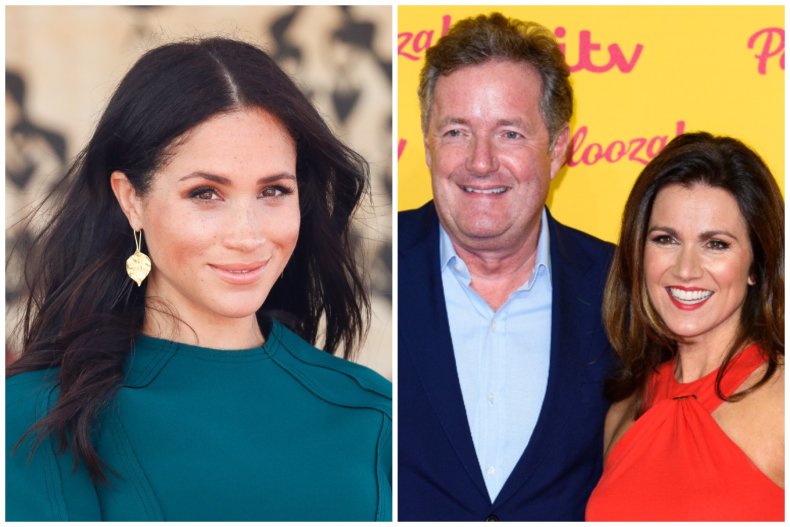 However, Reid found the trailer distasteful and remarked that Meghan Markle has since gotten used to private jets—a far cry from an old Ford Explorer.
"There we go – let's never mind the private jets," Reid said, adding that the Duchess of Sussex's TV appearances are becoming "increasingly hard to defend" after she and Prince Harry asked for privacy from the press.
Following Meghan Markle's interview with Oprah Winfrey earlier this year, Reid's former Good Morning Britain co-host Morgan attracted a severe backlash when he said he didn't "believe a word she said" about having suicidal thoughts after joining the royal family.
That led to Morgan's departure from the show.