Meghan Markle Praised for Breaking Miscarriage Taboo: 'Beautiful, Powerful, Personal'
Meghan Markle's powerful story of losing her second child to a miscarriage has been praised as a "beautiful, powerful, personal essay."
The Duchess of Sussex wrote an article titled "The Losses We Share" for the New York Times in which she described losing her second child as she held baby Archie in her arms.
Meghan told how following the tragedy, in July, she and husband Prince Harry learned "that in a room of 100 women, 10 to 20 of them will have suffered from miscarriage."
She added: "Yet despite the staggering commonality of this pain, the conversation remains taboo, riddled with (unwarranted) shame, and perpetuating a cycle of solitary mourning."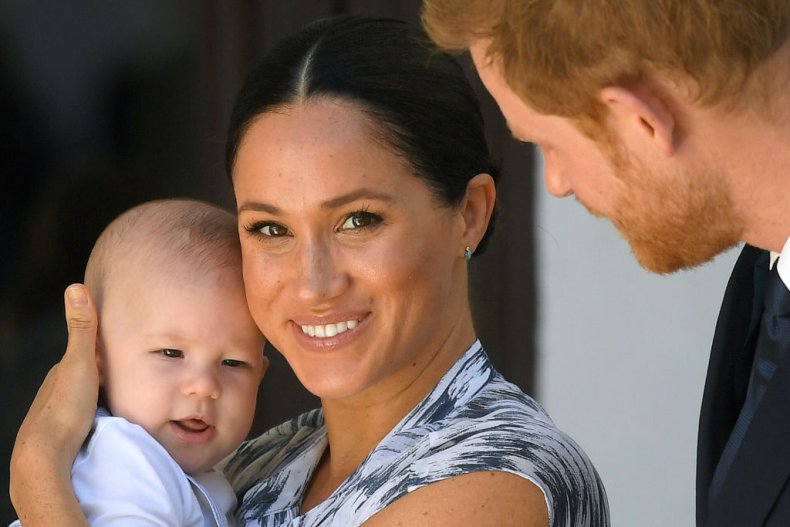 As news of her experience spread this morning, Meghan was praised for being brave enough to share her heartbreak.
Long-standing supporter Professor Kate Williams, of the University of Reading, wrote on Twitter: "'When one person speaks truth, it gives licence to all of us to feel the same'—beautiful, powerful, personal essay on miscarriage and loss by the #DuchessofSussex #MeghanMarkle."
New York Times bestselling author Matt Haig wrote: "To people saying: 'why is Meghan Markle sharing her story if she doesn't want negative media attention?' It is very simple: there is a difference between sharing your own pain, and having others cause it.
"You have a right to your own truth. And a right to tell it.
"My wife went through a miscarriage two years ago. We were in Australia and felt alone. It was so traumatic.
"To grieve a future that wasn't there. It also felt difficult to talk about. A strange taboo. It is so healthy and healing when anyone talks about this topic so openly."
Meghan spoke in moving terms about how the tragedy struck on a seemingly normal day in July when she was changing Archie's diaper at their home in Santa Barbara.
She wrote: "It was a July morning that began as ordinarily as any other day: Make breakfast. Feed the dogs. Take vitamins. Find that missing sock.
"Pick up the rogue crayon that rolled under the table. Throw my hair in a ponytail before getting my son from his crib.
"After changing his diaper, I felt a sharp cramp. I dropped to the floor with him in my arms, humming a lullaby to keep us both calm, the cheerful tune a stark contrast to my sense that something was not right.
"I knew, as I clutched my firstborn child, that I was losing my second."
Miscarriage charities also rallied to support the duchess for having the bravery to share her experience of a private and deeply personal tragedy.
Britain's Miscarriage Association wrote on Twitter: "We're so very sorry to hear of the Duchess and Duke of Sussex's miscarriage.
"The Duchess of Sussex, Meghan Markle, has shared their story in the New York Times.
"She writes about how important it is for us all to reach out and ask others, 'Are you OK?'."
Clea Harmer, chief executive at Sands, Britain's leading stillbirth and neonatal death charity, told Newsweek Meghan's essay "sums up the pain" of losing a child "perfectly."
She said: "We are so very sorry to hear that Meghan and Harry went through the pain of losing their second baby in July.
"Our hearts go out to them and all who have been affected by this cruellest of bereavements.
"Meghan sums up the pain of pregnancy and baby loss perfectly when she says, 'Losing a child means carrying an almost unbearable grief, experienced by many but talked about by few.'
"The sad reality is that stigma surrounding pregnancy loss and baby death leaves many parents feeling isolated, so it helps enormously when someone in the public eye speaks out as it lets everyone affected know they are not alone."
She added: "Many people simply don't know what to say when a baby has died. And because it is an 'invisible' loss many mothers go through miscarriage and may never reveal what happened to even their family or closest friends."
The Women's Organisation, a U.K. non-profit aimed at helping women economically, posted on Twitter: "Respect to Meghan Markle for using her own tragic experience as a platform to speak up about the collective grief & loss we have felt this year—to Covid-19, as well as the tragic deaths of Breonna Taylor & George Floyd.
"Loss and pain have plagued every one of us in 2020."