Meghan Markle and Prince Harry's Mail on Sunday Lawsuit Explained: Will Thomas Markle Testify Against His Daughter?
There is more royal drama surrounding Meghan Markle and Prince Harry, with U.K. media reports suggesting that Meghan's father, Thomas Markle, could testify against his own daughter in a court case involving tabloid newspaper the Mail on Sunday.
In October, Meghan and Harry sued the newspaper for publishing the contents of a letter Meghan wrote to her father following her marriage to the Duke of Sussex in May 2018. Meghan and Harry claimed the publication of the letter was misuse of private information, copyright infringement and a breach of the U.K.'s Data Protection Act.
However, the Mail on Sunday filed its defense to the high court in London Tuesday, which the BBC, Sky News and The Guardian say appears to rely on evidence from Thomas Markle. The apparent co-operation between Meghan's father and the newspaper has led to speculation Thomas Markle could give evidence if the case reaches trial.
In its defense filings, the Mail on Sunday justified publishing contents of Meghan's letter by arguing there is "huge and legitimate public interest" in the private lives of the royal family. According to The Guardian, the documents contend that the royal family "rely on publicity about themselves and their lives to maintain the privileged positions they hold" and Meghan does not "have a reasonable expectation of privacy that the contents of the letter were private and would remain so."
The documents filed by the Mail on Sunday and its publisher Associated Newspapers include text messages sent between Meghan and Thomas Markle before her May 2018 wedding, report the BBC and The Guardian.
The newspaper also argued that the publication of the letter, accompanied by an interview with Thomas Markle, in February 2019 was in response to Meghan allegedly authorizing friends to speak to People magazine about her relationship with her father. The subsequent article was "one-sided," the court documents said.
The Mail on Sunday said Thomas Markle had a "weighty right to tell his version of what had happened between himself and his daughter including the contents of the letter."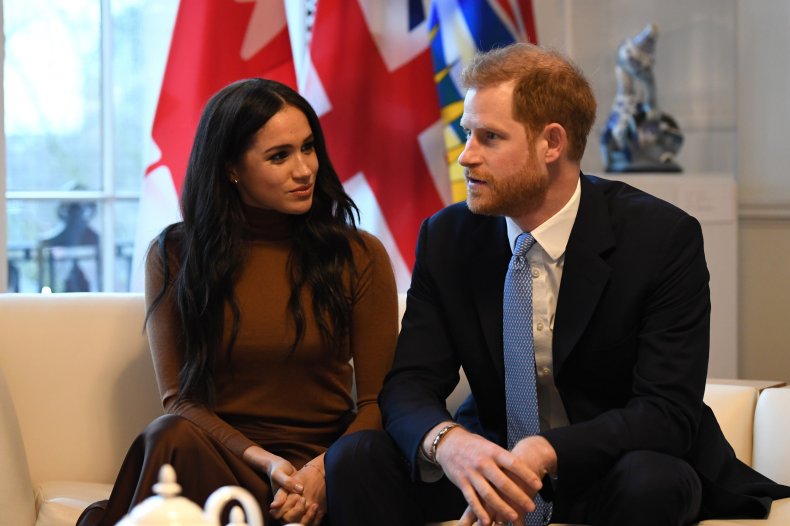 Meghan and Harry's lawsuit against the Mail on Sunday explained
Meghan and Harry filed their lawsuit against the Mail on Sunday and Associated Newspapers last October.
Harry released a fiery statement against various U.K. newspapers for what he described as a relentless attack on Meghan while she was pregnant with their first child, Archie.
Harry said that Meghan "has become one of the latest victims of a British tabloid press that wages campaigns against individuals with no thought to the consequences—a ruthless campaign that has escalated over the past year, throughout her pregnancy and while raising our newborn son."
"There is a human cost to this relentless propaganda, specifically when it is knowingly false and malicious, and though we have continued to put on a brave face—as so many of you can relate to—I cannot begin to describe how painful it has been," Harry continued.
Harry claimed: "The contents of a private letter were published unlawfully in an intentionally destructive manner to manipulate you, the reader, and further the divisive agenda of the media group in question. In addition to their unlawful publication of this private document, they purposely misled you by strategically omitting select paragraphs, specific sentences, and even singular words to mask the lies they had perpetuated for over a year.
"There comes a point when the only thing to do is to stand up to this behavior, because it destroys people and destroys lives. Put simply, it is bullying, which scares and silences people. We all know this isn't acceptable, at any level. We won't and can't believe in a world where there is no accountability for this."
The Sussexes are being represented by law firm Schillings in the case.
At the time, the Mail on Sunday said it "stands by the story it published and will be defending this case vigorously."
What did Meghan say in private letter to her father?
The emotional letter sent by Meghan to Thomas Markle in August 2018 came after her father failed to attend her wedding to Harry three months earlier, claiming he was recovering from heart surgery.
Prior to the wedding, Thomas Markle and his daughter Samantha Markle admitted to staging paparazzi photographs for money.
The letter addressed the estranged relationship between father and daughter, as well as the incidents before her wedding.