Meghan and Harry Popular with Ethnic Minorities but Not White Brits—Poll
Meghan Markle's net approval rating is 45 points higher among "ethnic minority" groups than white Brits while Harry's is 38 points higher, new polling shows.
The Duke and Duchess of Sussex are overall viewed more negatively than positively in the U.K. but the trend appears to arise predominantly from attitudes among the white population.
Meghan was viewed positively by 41 percent and negatively by 29 percent among people classed under the heading "ethnic minority group" by pollster Ipsos Mori, giving her a net rating of +12.
However, 21 percent of respondents described as "white ethnic group" felt positively about her compared to 54 percent who felt negatively, giving her a net figure of -33.
Harry was viewed positively by 45 percent and negatively by 25 percent of "ethnic minority" respondents, giving him a net of +20 in the same data, collected by Ipsos Mori between March 24 and 25.
He was viewed positively by 27 percent and negatively by 45 percent of "white ethnic" people, giving him a -18 net rating.
The figures follow their bombshell Oprah Winfrey interview in March 2021 when Meghan described an unnamed royal expressing concerns about her unborn child's skin color.
The duchess said: "In those months when I was pregnant, all around this same time, so, we have in tandem the conversation of 'he won't be given security, he's not going to be given a title' and also concerns and conversations about how dark his skin might be when he's born."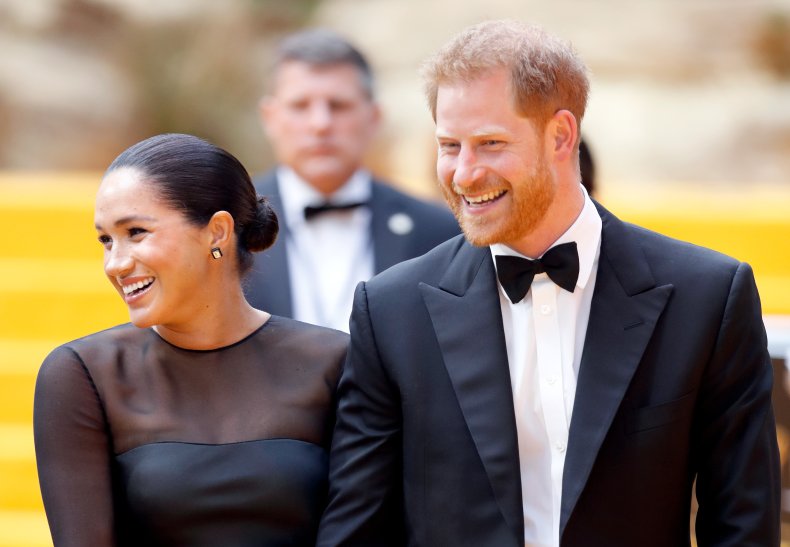 Harry gave a slightly different time frame for the conversation, suggesting it happened at the beginning of her introduction to royal life.
He told Oprah the question asked was: "What will the kids look like?"
The Sussexes later told their host that neither Queen Elizabeth II nor Prince Philip made the remark.
YouGov polling in March 2021, after the interview, 43 percent of ethnic minority voters believed the royals to be racist while 27 believed they were not, U.K. newspaper The Times reported.
This compared to 55 percent of the total population who felt they were not racist compared to 20 percent who thought they were.
The March data from Ipsos Mori shows the royal family as a whole are viewed positively by 40 percent of "minority ethnic" respondents and negatively by 27 percent, with a net of +13.
This was slightly lower than the "white ethnic group," among whom they were viewed positively by 52 percent and negatively by 20 percent, with a net of +32.
For more royal news and commentary check out Newsweek's The Royal Report podcast: