Meghan Markle, Prince Harry and SVB—What We Do Know, What We Don't
The collapse of Silicon Valley Bank (SVB) after customers ran to withdraw deposits and investments exposed a large vulnerability in the financial sector, with potential repercussions for other companies and institutions.
The Californian bank precipitated a run by its customers and investors after it had to sell a $21 billion bond portfolio to meet withdrawal requests from depositors, subsequently announcing it needed investors to fill a $1.75 billion gap left from the loss-making sale.
Its collapse, the biggest since the 2008 global financial crisis, has triggered anxieties that further banking and corporate failures may come. Reuters reported on Monday that several market indicators of credit risk were showing signs that investors fear contagion.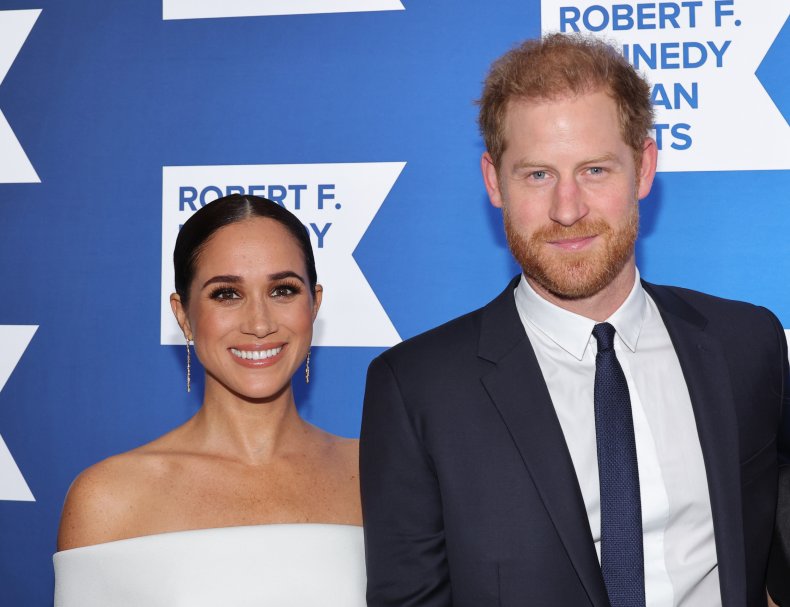 This disaster has also inspired a series of rumors drawing attention to some of the public figures who could be damaged by the crisis—in particular, speculation has landed at the door of Prince Harry and Meghan Markle.
Having both settled and made business connections in California, rumors appeared online suggesting that the couple may be exposed to the SVB collapse too.
After Harry and Meghan stepped back as senior members of the Royal Family in 2020, they no longer received funding through the Sovereign Grant, a payment made to the Royal Household by the U.K. government every year.
This independence led to scrutiny of their financial arrangements. The possibility that any wealth or income they have amassed since 2020 could be at risk through the SVB collapse is a tantalizing prospect for the pair's critics and journalists.
But what we can say about the claims?
Of those to spring up online over the past few days, most are speculative, examining the possibility that Harry and Meghan could be swept up by the SVB collapse as many others have.
One tweet, posted by user @amuse, who has previously posted dubious claims online, said: "The only positive news coming out of the Silicon Valley Bank collapse is that Prince Harry had his worldwide privacy tour and book advance in the bank - for now he's completely broke."
The tweet by @amuse, viewed more than 100,000 times, referenced another account, @isource_news, which on March 11, 2023, posted: "BREAKING: HARRY AND MEGHAN STAND TO LOSE MILLIONS IN COLLAPSE OF SVB BANK
"Sources tell iSN the couple set up accounts following the advice of friends in Silicon Valley. 'This is a major blow,' said our source, 'They had all of Harry's money there.'"
That tweet, viewed 4.7 million times, does not provide any evidence at all to support its claims beyond unnamed "sources". Furthermore, @isource_news made a misleading claim about the couple in the same thread about SVB.
An accompanying tweet which shows a picture of Harry behind the wheel of a car stated: "EXCLUSIVE: GRIM LOOKING HARRY SPOTTED DRIVING AWAY FROM MONTECITO FOLLOWING COLLAPSE OF SVB. 'He didn't seem his usual self,' said an onlooker."
However, the photo used was not taken after the collapse of SVB. It was taken in 2022 as the couple was driving to visit Oprah Winfrey, shows a report by the Daily Mail.
On the deposit side, the U.S. financial authorities have said all depositors with money at SVB would be "fully" protected.
"Depositors will have access to all of their money starting Monday, March 13," said a joint statement from the Treasury, Federal Reserve, and Federal Deposit Insurance Corporation.
So even if the couple had money deposited with SVB—and it is not clear that they did—that cash is protected by the financial authorities; Harry and Meghan will lose nothing they had deposited at SVB.
Other speculation on social media connected the business links of Harry and Meghan to SVB.
One tweet by user @TheWantonWench, posted on March 11, 2023, viewed 24,000 times, asked "what impact the collapse of SVB will have on Prince Harry and Megan Markle's partnership with investment bank Ethic.
"Rumours abound, that they have the vast majority of their wealth banked with them."
It's true Meghan and Harry joined as "impact partners" at investment company Ethic Inc, in 2021, according to a report by the New York Times' Dealbook.
Ethic, which completed a $50 million seed funding round in late 2022, did have shares in parent company SVB Financial Group, valued at $881,206 as of December 2022. They are now worth nothing.
While such a write-off is not insignificant, Ethic's total holdings as of December 2022 came to more than $1.85 billion, of which SVB Financial Group represented 0.05 percent.
If Ethic any had cash deposits at SVB, as stated previously, those are protected by the financial authorities. So, given its relatively small investment, it does not appear that Ethic is impacted substantially by the collapse of SVB.
By extension, while the finer details of Harry and Meghan's financial involvement with Ethic are not publicly known, it follows that they, too, will not feel any substantial impact.
Newsweek has contacted Ethic through its website to ask for further details about the "impact partner" arrangement and what advice it was providing its investors following SVB's collapse.
Put together, the lack of evidence to support any claims of Ethic's vulnerability suggests these rumors ought to be treated with skepticism, at least for now.
Another line of inquiry is the couple's involvement in the mental health startup, BetterUp, where Harry became "Chief Impact Officer" in 2021. In 2019, BetterUp announced that it received a $103 million funding round from a number of companies, which included SVB.
The company has raised even greater sums since then, according to its press releases, from investors unaffiliated with Silicon Valley Bank. BetterUp does not appear to be immediately exposed by SVB and has had a wide range of investors.
BetterUp's SEC filings do not reveal any holdings or investments with SVB either.
Again, it's not clear what financial arrangements Harry has as "Chief Impact Officer" with BetterUp, and there does not appear to be any evidence to suggest the SVB collapse has hit his finances as a result of this relationship.
Newsweek has asked BetterUp's press office if its SVB funding was secured and of the potential consequences following the bank's collapse.
Harry and Meghan have also created 11 companies across a wide variety of ventures including two publishing firms and entertainment companies, the Daily Mail reported.
None of these companies have publicized connections to SVB; most of the firms apart from Baobob Holings LLC, set up in February 2021, are not investment vehicles so the likelihood of immediate exposure to SVB does not seem apparent.
These companies could have been depositors with SVB, but this is not known. Neither Harry nor Meghan has spoken about investments or deposits in SVB. Regardless, depositors in SVB are protected anyway.
SVB's downfall may well have an indirect impact on Harry and Meghan via their other investments as the broader financial and economic fallout unfolds in the coming weeks, similar to anyone else.
However, of what little information is available, none amounts to proof that the Sussexes' wealth has been drained as a result of the crisis at SVB.
Newsweek has contacted a representative for Harry and Meghan for comment.