Meghan and Harry Share Sweet Moment With Royal Kids at Queen's Jubilee
Meghan Markle was seen sharing a playful moment with some royal children as thousands watched Queen Elizabeth II's Platinum Jubilee kick off in style.
The Duke and Duchess of Sussex kept a low profile as they flew in from California ahead of Trooping the Colour, the queen's birthday parade on Thursday.
Prince Harry and Meghan were barely visible as the full pomp and ceremony of the royal family and the British Armed Forces were on full display for adoring crowds outside Buckingham Palace. However, the couple was briefly pictured through a window at the former office of the Duke of Wellington, where they had been watching the military parade and planes and helicopters fly past.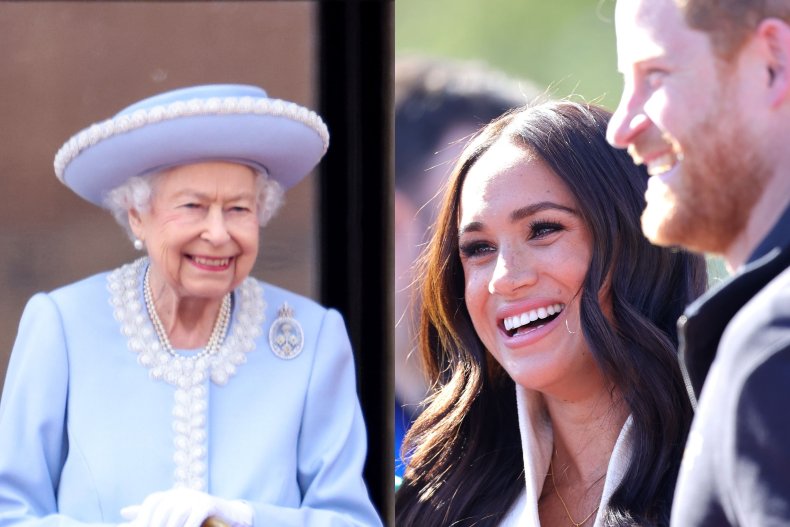 Meghan put a hand up to her mouth and Harry put a finger to his lips as they shared a joke with Savannah Phillips, the daughter of Peter Phillips, and Mia and Lena Tindall, the daughters of Zara Tindall.
The three girls are all great-grandchildren of the queen but did not get a spot on the balcony because their parents are not working royals.
Omid Scobie, the co-author of the Harry and Meghan biography Finding Freedom, wrote on Twitter: "Prince Harry and Duchess Meghan were photographed at the Major General's Office, Horse Guards Parade earlier. The couple were seen chatting with the Duke of Kent, and Meghan was spotted playing with Savannah Philips, Mia and Lena Tindall."
Shola Mos-Shogbamimu, a prominent activist on race and gender in Britain, posted on Twitter: "You just know the kids think Harry and Meghan are the coolest Uncle & Aunty. I had one of those too as a kid! Now watch British media twist & tarnish this innocent playful bonding for profit."
Meghan was also seen chatting with the Duke of Kent, the queen's cousin, who got a starring role in the ceremony as he joined Elizabeth to take the salute from the palace balcony.
The queen would ordinarily take the salute from the parade ground but recent health problems left that privilege to Prince Charles, who was accompanied by Prince William and Princess Anne.
Meghan and Harry brought their children, Archie and Lilibet Mountbatten-Windsor, to Britain, though if they were at the parade they stayed indoors and out of sight.
Lilibet celebrates her first birthday on June 4 and the trip will be her first opportunity to meet her great-grandmother. Archie, 3, has not seen the monarch, 96, since he was less than one year old.
Harry and Meghan will be at a Service of Thanksgiving for the Queen's Reign at St. Paul's Cathedral in London on Friday, which Prince Andrew will also attend.
It is yet to be seen whether they will bring their children with them.