Meghan Touchingly Wears Queen's Favorite Shade of Nail Polish for Funeral
Meghan Markle paid a touching tribute Monday to her late grandmother-in-law, Queen Elizabeth II, when she attended the monarch's state funeral wearing a special shade of pink nail polish.
The Duchess of Sussex attended the funeral alongside her husband, Prince Harry, and her royal in-laws. Among them were the Princess of Wales (with her two eldest children, Prince George and Princess Charlotte) and King Charles III with his wife, Camilla, the Queen Consort.
Meghan was dressed in traditional royal mourning attire: a black dress that covered her shoulders and a large black, wide-brimmed hat. Her nails were painted in a pale pink hue that was known to be a favorite of the late queen's.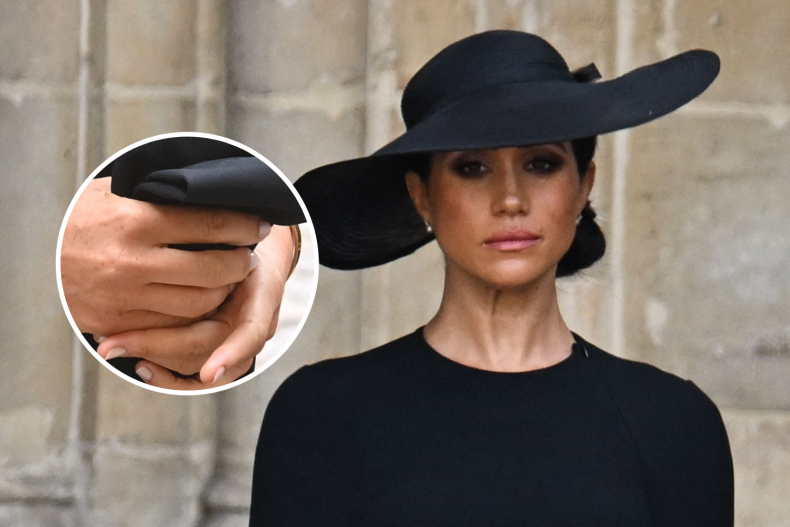 The monarch, who died September 8 at age 96, was known to favor a shade of polish known as "ballet slipper" from the cosmetics company Essie, which she wore consistently starting in the 1980s.
Though this had been widely reported, Essie appeared to confirm the rumors in 2017. A company spokesperson told the Today show: "This always elegant lacquer was born in 1982 and received royal blessings from the Queen of England, just seven years after its birth, when Elizabeth II's hairdresser sent [the brand's founder] Essie Weingarten a letter requesting the shade to be directly delivered to Buckingham Palace in London."
The monarch was known to dislike garish nail colors and kept her nails either natural or simply colored with the near-nude shade of ballet slipper pink.
It appears that Meghan shares the late queen's taste, as she wore the same shade favored by the monarch on her wedding day in 2018. With her simple, lined Givenchy silk boat-neck gown and a diamond tiara loaned to her by the queen, the bride opted for a muted makeup look, which included delicate, pale pink–shaded nails.
The choice of polish was not the only tribute Meghan paid to the queen during her appearance Monday at the state funeral.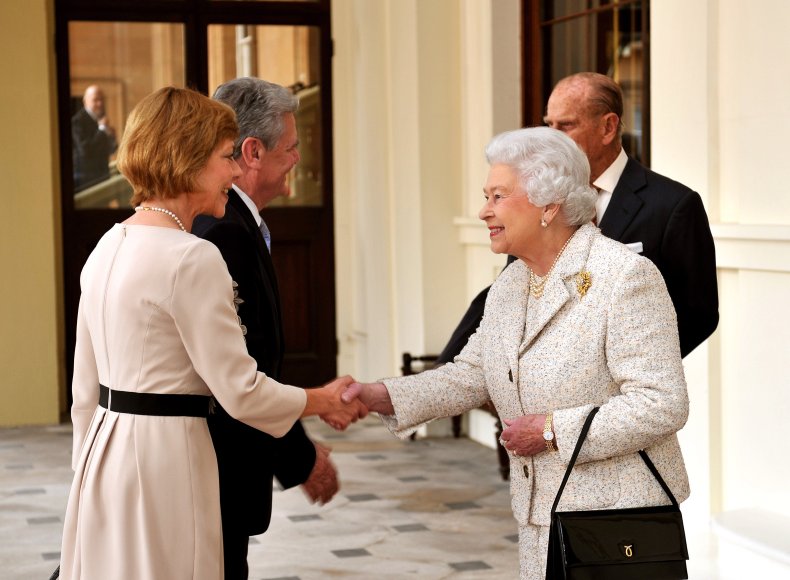 The duchess also wore a pair of diamond and pearl earrings that had been a gift given to her by the queen on the morning of their first solo engagement together. The memory of the day she received them made such an impression on the duchess that she recounted it to Oprah Winfrey during their landmark 2021 interview.
"[The queen] has always been wonderful to me," Meghan said during the interview, in which she also discussed feeling unsupported by the royals while a working member of the family.
"We had one of our first joint engagements together. She asked me to join her, and...we had breakfast together that morning, and she'd given me a beautiful gift and I just really loved being in her company."
Asked by Winfrey what the gift was, Meghan replied: "She gave me beautiful pearl earrings and a matching necklace. And we were in the car going between engagements, and she has a blanket that sits across her knees for warmth. And it was chilly, and she was like, 'Meghan, come on' and put it over my knees as well."
She continued, "It made me think of my grandmother, where she's always been warm and inviting and really welcoming."
In addition to the polish and pearls, Meghan's outfit itself had a link to the queen. The caped midlength dress in black echoed a navy blue version that was worn to London's Royal Albert Hall in 2018 for a concert celebrating the queen's 92nd birthday.
Following the funeral service at Westminster Abbey, Meghan and Harry accompanied members of the royal family back to Windsor Castle for a more intimate ceremony, after which the queen will be laid to rest at St. George's Chapel.