Meghan Markle Slammed By Journalist Featured in 'Archetypes' Soundbite
Meghan Markle has been slammed by an Australian broadcast journalist whose coverage of the duchess' 2018 royal wedding was used as a soundbite in the latest Archetypes podcast episode.
Allison Langdon, an anchor with the TODAY show on Australia's Nine network, voiced confusion at hearing herself on Meghan's latest podcast episode in which the royal discussed her dislike of being told she was "lucky" that Harry chose to marry her around the time of her engagement.
During the podcast's interview with actress and comedian Mindy Kaling about the "archetype" label of "singleton" when applied to women in modern day society, Meghan said:
"When I started dating my husband, we became engaged and everyone was just like, 'Oh my God, you're so lucky he chose you.'"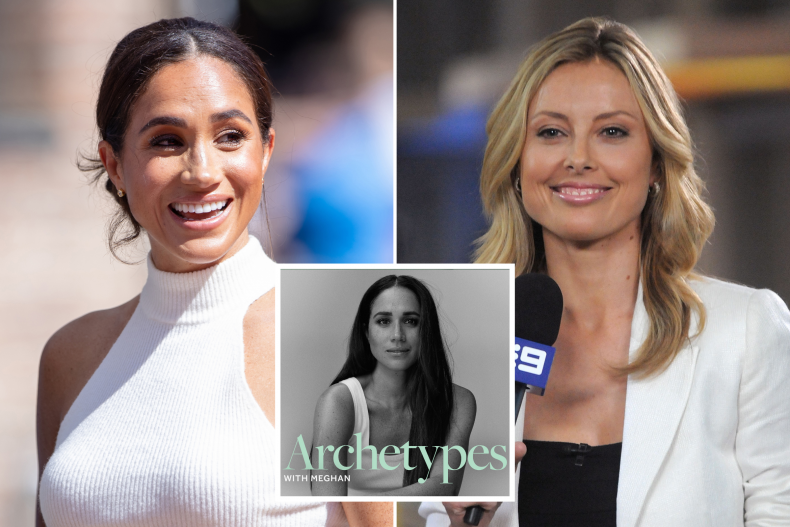 After this, a short clip taken from TODAY show coverage of the 2018 royal wedding was played in which Langdon is heard over a cheering crowd saying: "The happy couple has enchanted the world with their real life fairy tale."
Then, Meghan is heard to continue: "And at a certain point, after you hear it a million times over, you're like, 'Well, I chose him too!'
"But thankfully, I have a partner who was countering that narrative for me and going, 'They've got it all wrong. I'm the lucky one 'cause you chose me.'
"But it's, it is gendered and it's archetyped and it's stereotyped that…you're so lucky. And it just feeds into this idea that you're waiting for someone to tell you that you're good enough, as opposed to knowing that you're good enough on your own."
It is unclear whether the clip of the Australian anchor was used to illustrate Meghan's specific point or whether it was simply included to provide context for the time period she was discussing.
When played the clip live on air for the first time, Langdon's response was one of frustration.
"Steam out my ears!" she said. "What part of that was saying Harry [was lucky]?"
"She's basically been taken downtown by Meghan," co-anchor Karl Stefanovic responded, adding "whatever side of the fence Ally [Langdon] is on this story she gets smashed by Meghan."
"You tell me in anything that I just said, which was me saying that she was 'lucky' because of Prince Harry?" Langdon continued.
"All I know is that I had a lot of mates who liked Meghan for a long time and none of them do anymore," she concluded.
The insight into her personal feelings about news coverage surrounding her early relationship with Harry is the latest in a line of personal revelations provided by Meghan through the Archetypes podcast, an endeavor she stated would "dissect, explore, and subvert the labels that try to hold women back."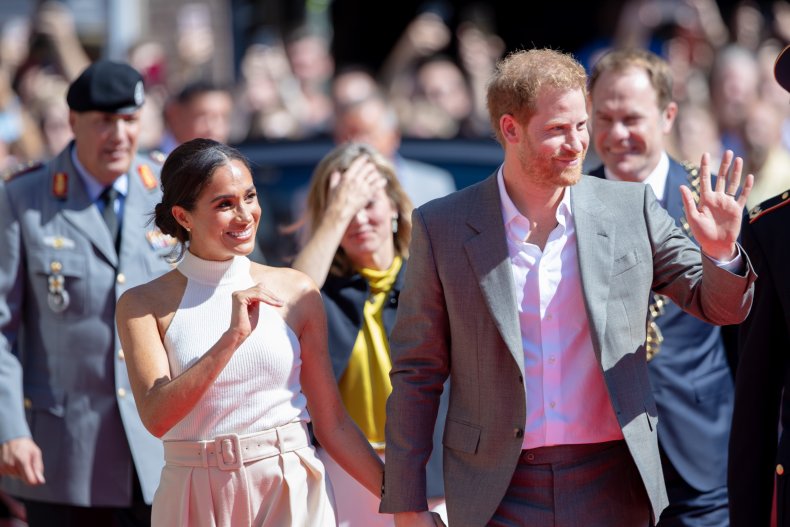 In the same episode, during a conversation with Kaling, the duchess revealed she believed that she was not attractive when she was younger and was a "loner" as a teenager.
When asked by Kaling if she didn't feel like "the pretty one" growing up, the duchess responded: "No. Oh God, no. Ugly duckling.
"Not conventional beauty as in, now maybe that would be seen as beautiful. But massive frizzy curly hair and a huge gap in my teeth. I was the smart one, forever and ever and ever and ever and then just sort of grew up."
"If you're not the pretty one growing up you just, like, 'oh what can I learn? What can I do? I want the A+,'" she said.
"I grew up in L.A. and I went to Hollywood School House and then I went to Immaculate Heart," Meghan continued. "But I never had anyone to sit with at lunch. I was always a bit of a loner and really shy and didn't know where I fit in."
Earlier episodes of Archetypes also revealed insights into her royal life, including that there had been a fire in son Archie's nursery during an official tour of South Africa where the couple had to continue with engagements regardless.
The fourth episode of the podcast looking at the "Dragon Lady" "archetype" is scheduled for release next Tuesday and will include a conversation with comedian Margaret Cho.
Newsweek approached representatives of Langdon and Meghan Markle for comment.