Meghan Markle Talks About 'Upsetting the Hierarchy' in New Interview
Meghan Markle discussed leaving the United Kingdom and "upsetting the hierarchy" in a new interview that was released on Monday.
Speaking to the New York magazine affiliate, The Cut, Markle shared some thoughts as she reflected on what it was like to be a royal after meeting Prince Harry.
"I​​ was an actress," she said. "My entire job was 'Tell me where to stand. Tell me what to say. Tell me how to say it. Tell me what to wear, and I'll do it.' And I'll show up early, and I'll probably bake something for the crew."
The Duchess of Sussex described the criticisms that came from the press, with some accusing her and Prince Harry of living on taxpayer's funds. In an effort to squash the voices, the couple suggested to the Firm, the royal family's institution, that they be able to work and make money on their own, still on behalf of the monarchy—a suggestion that was denied.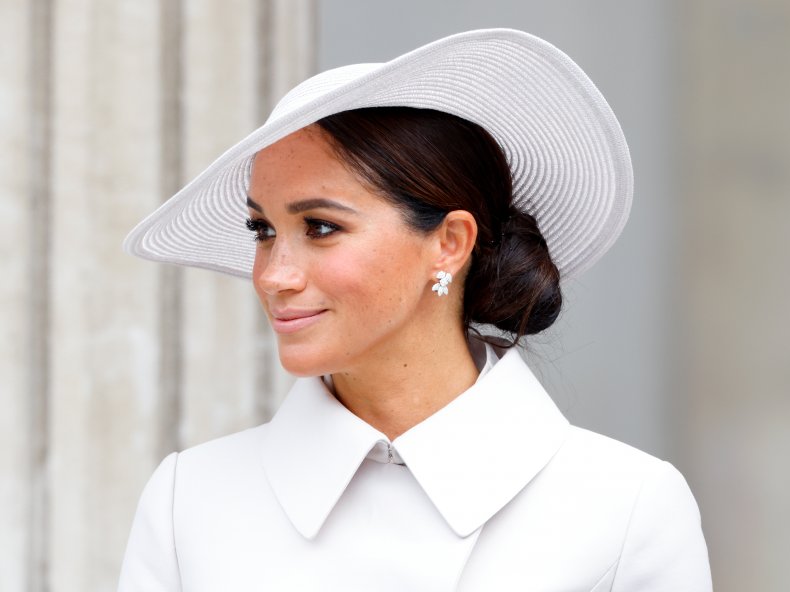 She added that several other members of the family were in a similar agreement with the Firm, telling the magazine that what they had been asking for wasn't "reinventing the wheel."
"...Just by existing, we were upsetting the dynamic of the hierarchy," she said. "So we go, 'Okay, fine, let's get out of here. Happy to.'"
Without being on the royal family's terms, the couple launched their own company, Archewell, in October 2020 and now have a nonprofit, Archewell Foundation, and Archewell Productions, which oversees a Netflix deal. The couple also has Archewell Audio, which oversees a deal with Spotify that Markle has already begun. Her new podcast, Archetypes, officially debuted last week.
In Monday's interview, Markle also revealed that she's now throwing around the idea of joining Instagram again, especially to promote her podcast. Prior to meeting Prince Harry, she had a personal account with 3 million followers, but like many other things, she had to give it up.
She was permitted to join a joint account with Harry, Prince William, and Kate Middleton, but found she was uncomfortable with the way it had to be run.
"There's literally a structure by which if you want to release photos of your child, as a member of the family, you first have to give them to the Royal Rota," she said. The Royal Rota is the U.K. press pool in charge of covering the royal family. She said that often, the press would publish pictures of her family before she could.
"Why would I give the very people that are calling my children the N-word a photo of my child before I can share it with the people that love my child?" she asked in the interview. "You tell me how that makes sense and then I'll play that game."
The new interview is only the second public criticism of the monarchy Markle has made since her interview with Oprah Winfrey last March, though some criticisms emerged last November through a case at the U.K. Court of Appeal.
Markle previously sued The Mail on Sunday, a British tabloid, for publishing letters she sent to her father, Thomas Markle, in which she asked him to stop talking to the media.
The criticism in Monday's interview follows the first public criticism since then when—in the first episode of Archetypes—she revealed last week that she was forced to continue on a 2019 royal engagement tour after their son, Archie's nursery caught fire while they were in South Africa.
Newsweek reached out to a representative for Markle for comment.